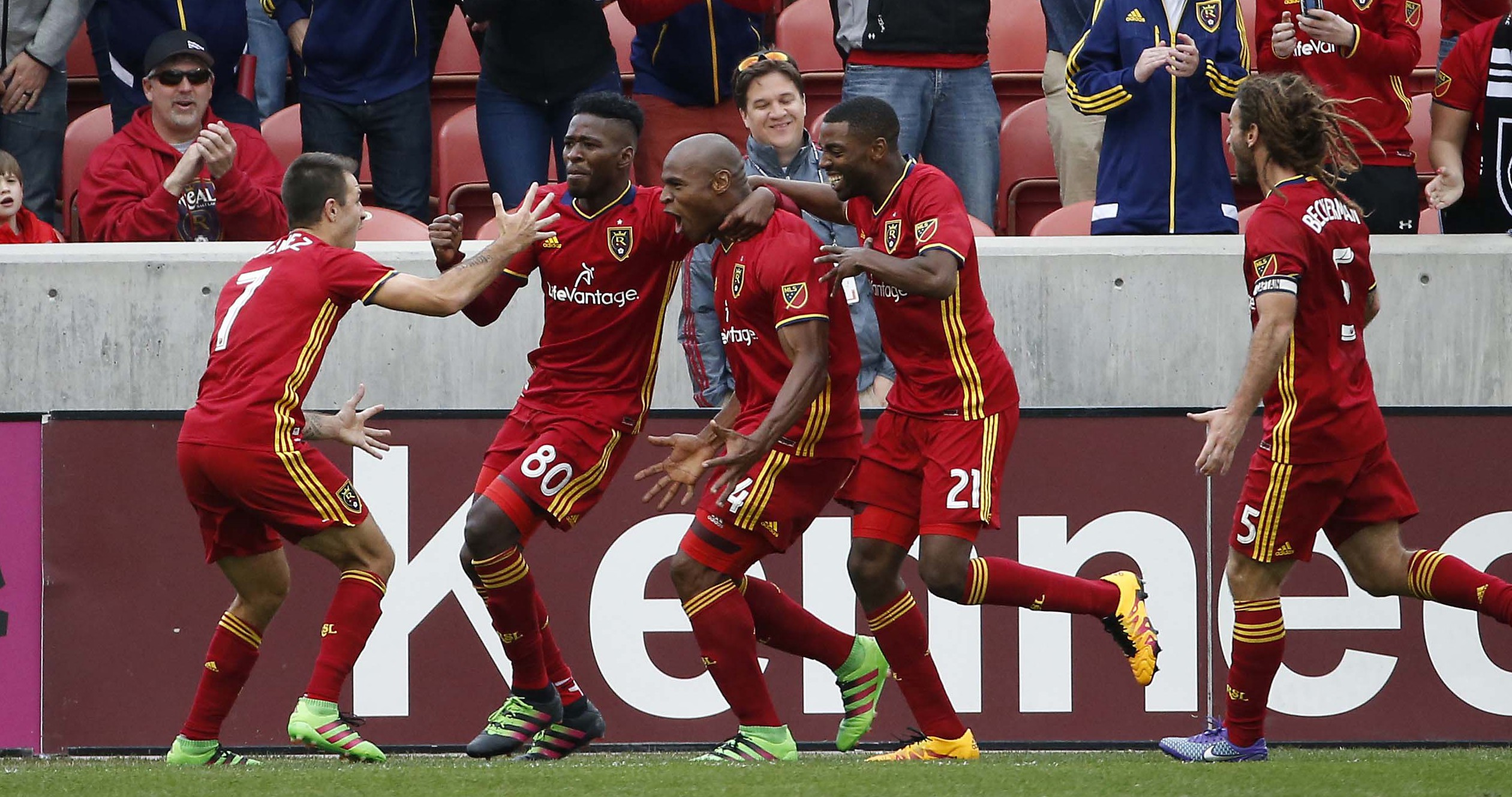 Real Salt Lake went through some serious growing pains in a new formation in 2015, but the patience the club has demonstrated in its 4-3-3 setup has bore immediate fruit at the start of this year.
RSL is off to a strong start in the 2016 MLS season, going 3-0-2 en route to becoming the final team to have a zero in the loss column. The undefeated club has gotten results in a number of ways thus far, whether it be by counting on a reserve-filled lineup to go on the road and stun a top Western Conference team or by seeing one of its stars capitalize on an error to squeak out a win.
There is no big secret to how Real Salt Lake has managed to have so much success, though. The club has gotten back to the basics of playing as a collective unit, and that is a result of the players feeling more at ease in the 4-3-3 look that was introduced last year.
"I think this year everyone is more comfortable this year in our formation," RSL head coach Jeff Cassar told SBI. "We had to introduce a lot last year when you change a formation. It's not just what you do attacking wise, it's what you do defending wise, it's how you are in transition, and there's a lot of components every game.
"Where last year we were trying to address all of them at the same time, this year we're much more clear in what we want to accomplish, the guys seem much more focused on what we want to have accomplished, and then they're going out and doing it. It's really good to see everyone on the same page."
Cassar was criticized plenty last season for the tactical change, especially since RSL had enjoyed so much success in its trademark 4-4-2 diamond setup in the years prior. Still, he remained convinced that the 4-3-3 formation was the right one for the personnel he had and stuck with what he believed in rather than change things. Some coaches might not have done the same, especially after missing the playoffs, but Cassar was confident that his players would respond.
They have.
Led by Joao Plata in the attack but also receiving notable contributions from role players like 19-year-old defender Justen Glad and backup goalkeeper Jeff Attinella, Real Salt Lake has started the year by picking up wins against several Western Conference foes – the Colorado Rapids, Seattle Sounders, and Sporting Kansas City – while tying Orlando City and reigning MLS Cup champions, the Portland Timbers.
RSL's record could be even better had the club not let two-goal leads slip away from them against Orlando City and the Timbers, but Cassar is mostly pleased with what he's seen so far.
He knows there is room to grow as a team, however.
"We're doing well on both sides of the ball right now, and what's even more is exciting is we can do better," said Cassar. "We can get more efficient with the ball, we can make sure that we're collectively defending as a group of 11 players. That's exciting, because everyone, myself, we all think we can improve, and if we're where we're at right now and we can improve that's exciting for the rest of the season."
One area that has been talked about as needing improvement is possession. RSL beat the Rapids in that category this past weekend by a 58-42 mark, but lost 63-37 and 67-33 in that department in the two games prior against Sporting KC and the Timbers, respectively.
Even so, Cassar is not overly concerned about that statistic. He has seen Real Salt Lake go undefeated despite not always winning the possession battle, and thinks his side can keep grabbing results so long as it continues to perform as well as it has during the opening rounds of the season.
"Possession is a tricky stat, because you can pass it along the back all you want and rack up a lot of possession," said Cassar. "We want to have positive possession, getting the ball forward at the right times, turning at the right times, and trying to create numerical advantages in certain areas. Every team wants to control the game, but you can also control the game with how you play.
"We want to play aggressive, we want to play positive, and sometimes you can do that in one pass and sometimes you can do that in eight passes. We want to be able to play all those ways. We want to be able to possess when it's time to possess, we want to be able to attack when it's time to attack, and also when we have to defend, we all defend as a unit."