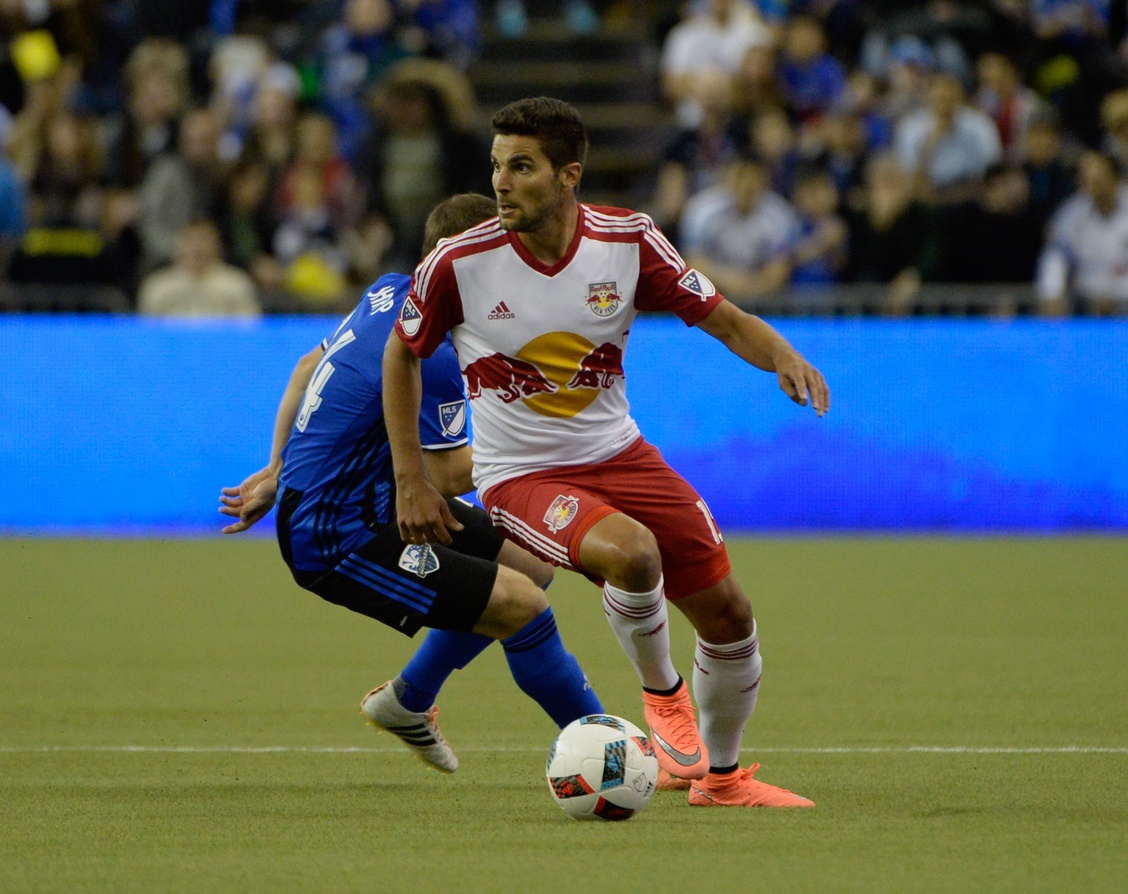 Fresh off of their second win of the season on Sunday night, the New York Red Bulls had some extra pep in their step at Wednesday's training session.
The team's win over Orlando City SC was also the second time this season where the Red Bulls had a multi-goal performance. While that was certainly an encouraging sign for an attack that seemed to lack a bit of confidence heading into the match, head coach Jesse Marsch said that defensively is where the team is more concerned about tightening things up.
"It's good to see our team take on the personality that I know it has," Marsch said. "Most of that came in the form of aggressively making plays in the attack and scoring some goals. Ultimately our success will be dictated by how we defend and cutting out chances and goals. 17 goals is too many. We know that, and against a good attacking team like Dallas coming in here it's not going to be an easy task. We need to find a way to pick up some clean sheet."
The Red Bulls currently lead the league in goals conceded, having given away 17 in eight matches. Injuries at the centerback position in particular have definitely attributed to their defensive struggles, but the team is finally getting close to full-strength again.
FC Dallas comes into Friday's meeting with the Red Bulls as not only one of the hottest attacks in MLS, but arguably as the best team overall. Led by Michael Barrios, who has four goals in 2016, Dallas is potentially dangerous to most teams because of their attacking depth. In addition to Barrios, Tesho Akindele, Max Urruti and Fabian Castillo each have two or more goals in their nine matches this season.
Despite Dallas' potent attack, Red Bulls defender Sal Zizzo remains confident in his side's chances against the quality opponent.
"I think against Dallas when we have the ball we have to be aware of where their dangerous guys are, like Dias, Castillo and Barros," Zizzo said. "There's a lot of guys that can hurt you in transition if you give sloppy balls away. We just have to know where they are at all moments and keep a keen eye when we lose possession."
KEY PAIR NEARING RETURN TO FIELD
Gonzalo Veron and Gideon Baah have each been sidelined with hamstring injuries since the Red Bulls 4-3 victory over the Houston Dynamo back in mid-March, but the duo are readying themselves to return.
Both players were involved fully in training on Wednesday, with Jesse Marsch saying he's optimistic that Veron and Baah will figure into Friday night's home clash with Western Conference leader FC Dallas.
"They're both looking really good out there," Marsch said. "Both Gonzalo and Gideon are day-to-day and potentially can play Friday. They probably won't be out there from the start, so we're factoring in how to use them. We just need to be smart and cautious not to risk an re-injury, so both guys are close."