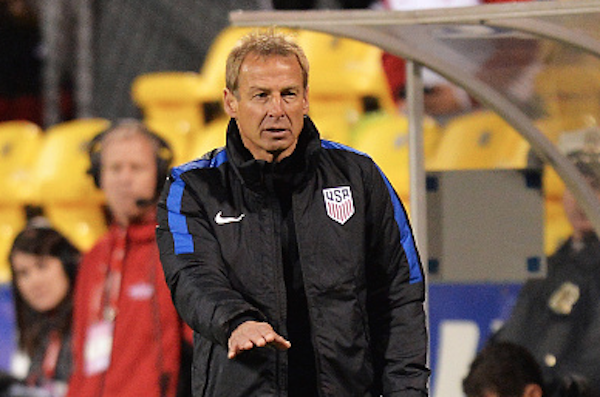 Jurgen Klinsmann's current task is preparing the U.S. Men's National Team for the upcoming Copa America, but rumors have emerged linking the USMNT head coach with a surprise move to the Premier League.
ESPN TV announcer Ian Darke sparked the latest rumor regarding Klinsmann on Wednesday, revealing that he is hearing "persistent rumors" linking Klinsmann to English Premier League club Everton.
https://twitter.com/IanDarke/status/720192693654196229
The Toffees currently sit 14th in the Premier League under current manager Roberto Martinez, who has come under increased scrutiny as Everton has seen its season fall apart.
Klinsmann has been linked to Everton before, having been named as a potential successor to David Moyes back in 2013.
Both Klinsmann and Martinez have faced their share of criticism for their sides' recent performances. Klinsmann's USMNT recently overcame Guatemala after losing to the Central American nation for the first time in nearly 30 years. Martinez has been rumored to be on his way out amid Everton's continued struggles — the Toffees have won just nine Premier League games all season.
Klinsmann's contract with U.S. Soccer was extended in 2013, with the German-born head coach signing through 2018.
What do you think of the report? Believe Klinsmann could be heading to Everton? Do you expect him to remain with the USMNT through the 2018 World Cup?
Share your thoughts below.