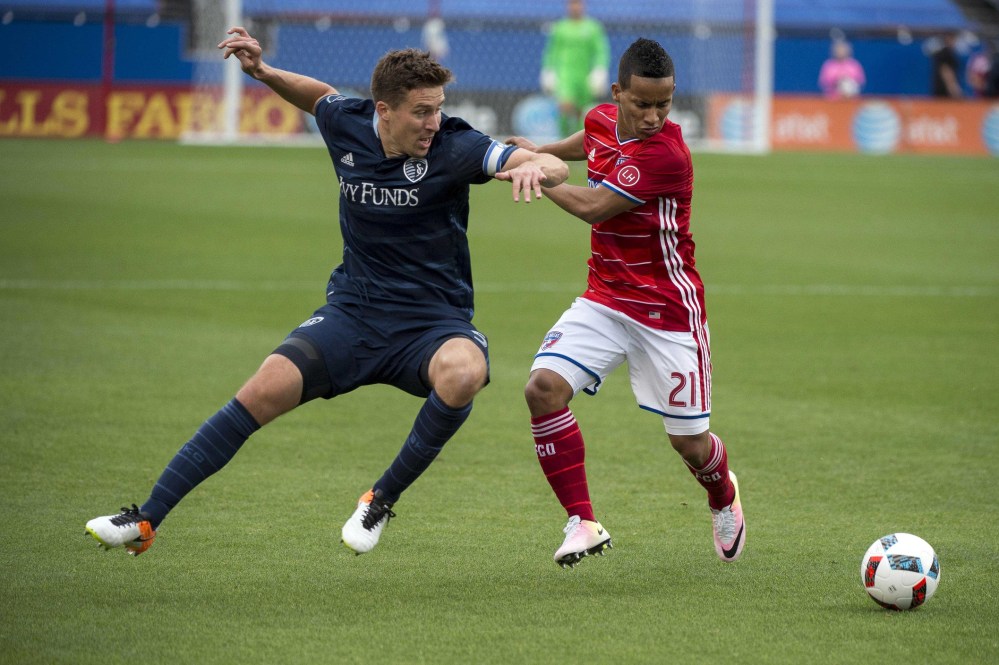 FC Dallas completed a comeback win against Sporting Kansas City on Sunday, thanks to a quality free kick from second-half substitute Mauro Rosales.
Lawrence Olum gave Sporting Kansas City the early lead, but Michael Barrios and Rosales responded to hand FC Dallas a 2-1 win against Sporting KC at Toyota Stadium. The win propels FCD into first place on the Supporters' Shield table.
Missing Mauro Diaz and Matt Hedges, Oscar Pareja's side went down a goal after Benny Feilhaber's corner kick was finished off by Olum in the 22nd minute. It didn't take FC Dallas long to respond, though, as Kellyn Acosta sent a ball upfield before Maxi Urruti touched it into the path of Barrios.
In the 68th minute, Roslaes curled a free kick up and over the Sporting KC wall to seal the win. The goal came after Sporting KC had a couple of chances to score the go-ahead goal. Most notably, Jimmy Medranda was through on goal in the second half, but Chris Seitz made the save of the evening in a one-one-one situation.
FCD will now play the Vancouver Whitecaps on Saturday, while Sporting KC will play the San Jose Earthquakes a day later.
Man of the Match
Without its playmaker in Mauro Diaz, FC Dallas needed someone to step up. Substitute Mauro Rosales did exactly that, coming off the bench to score the game-winner in the second half. FCD looked unlike its usual self on Sunday, losing possession often, so Rosales took matters into his own hands and curled in a beautiful free kick.
Moment of the Match
Sporting KC looked like the better team for a majority of Sunday's contest, but the ball was just not bouncing its way. That was no more evident than when FC Dallas goalkeeper Chris Seitz stonewalled Jimmy Medranda, who was through on goal in the 60th minute.
Match to Forget
Some fingers may be pointed at the Sporting KC front line, which failed to put away a few good chances, but Amadou Dia was the one who fouled Maxi Urruti just outside the box before Mauro Rosales netted the game-winner. FCD had not been creating much from the run of play, so giving up a dangerous set-piece chance was brutal.