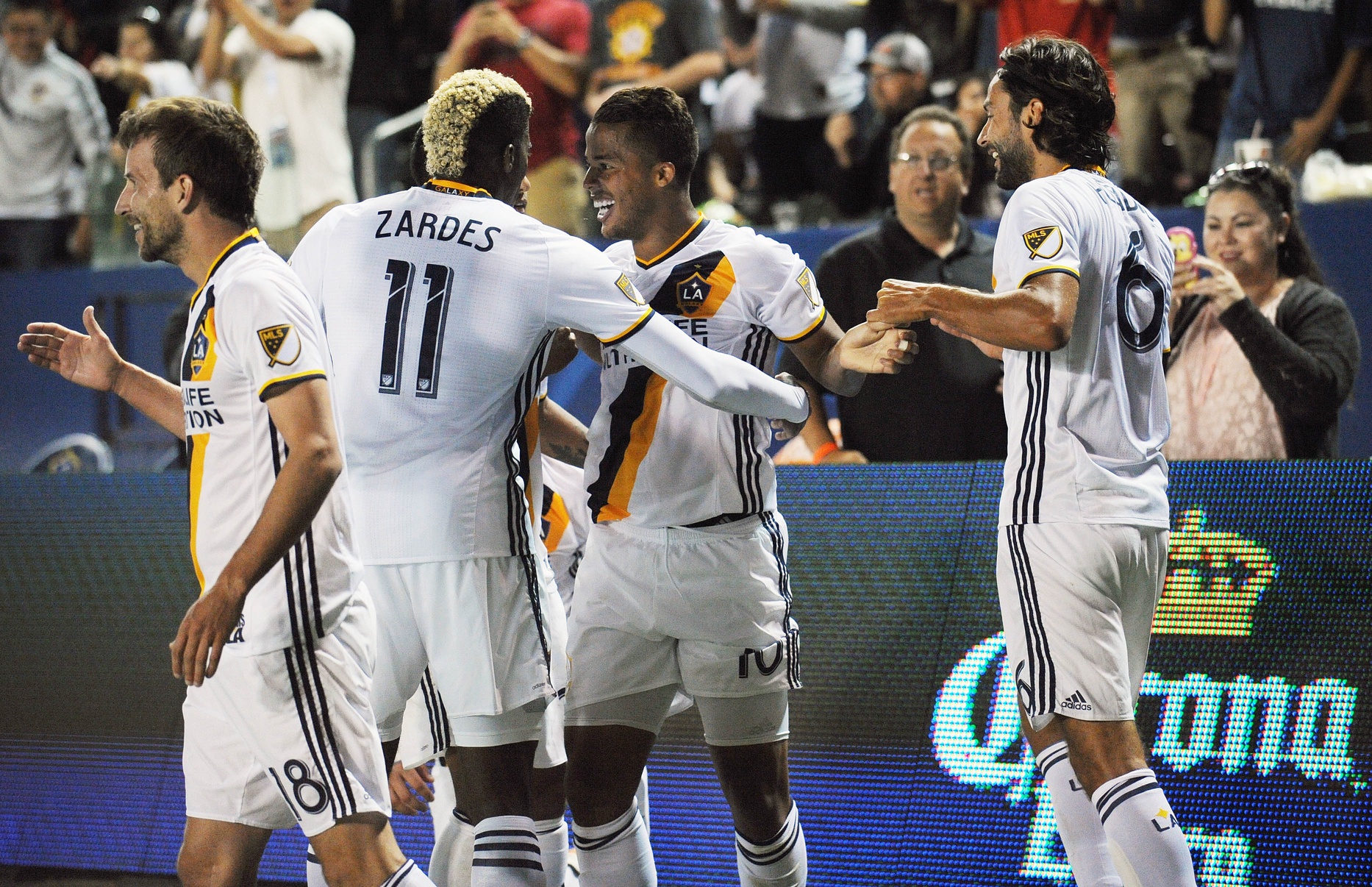 In a week that saw no ties across MLS, several contenders faltered while a few struggling teams emerged with big-time wins.
Previously-unbeaten Real Salt Lake was thrashed by the LA Galaxy, while the Montreal Impact, Sporting KC and FC Dallas each fell to defeat. In their stead, teams like the LA Galaxy and Colorado Rapids picked up statement wins to assert themselves in the Western Conference standings.
In the East, the New York Red Bulls finally put things together in a controversial win over Orlando City. The Columbus Crew and D.C. United also appear to be on the right track as each added their second wins of the campaign.
Here's a closer look at this week's Power Rankings:
4. (2) FC DALLAS (5-2-2)


LAST WEEK: Lost, 3-0, to Vancouver Whitecaps on Saturday
THIS WEEK: At New York Red Bulls on Friday
OUTLOOK– In a game that's scoreline is slightly misleading, FC Dallas was swarmed by a previously-struggling Whitecaps team. While slightly sloppy defensively, FC Dallas' issues came on the attacking end as David Ousted stopped shot after shot. Going forward, FCD will need to be a bit crisper in the final third if they hope to get on any real run.
————————-
5. (8) PHILADELPHIA UNION (4-3-0)


LAST WEEK: Defeated NYCFC, 2-0, on Saturday
THIS WEEK: vs. San Jose Earthquakes on Saturday
OUTLOOK– The Union have quietly moved atop the Eastern Conference with Saturday's defeat of NYCFC. C.J. Sapong is playing at a top, top level, while Tranquillo Barnetta has proven to have the skill the Union need to pull the strings. There's still a long way to go, but it looks like the Union have some legitimate pieces together to make some noise in the Eastern Conference.
———————–
6. (13) TORONTO FC (3-2-2)


LAST WEEK: Defeated Montreal Impact, 2-0, on Saturday
THIS WEEK: At Portland Timbers on Sunday
OUTLOOK– Sebastian Giovinco was phenomenal as usual, leading TFC to a statement victory over the Impact. TFC was certainly the better side throughout this past weekend's clash and appear to be hitting their stride. With just one game remaining on the team's season-opening road trip, TFC looks set for more success in the coming weeks with a return to BMO Field imminent.
————————-
7. (10) SAN JOSE EARTHQUAKES (4-2-2)


LAST WEEK: Defeated Sporting KC, 1-0, on Sunday
THIS WEEK: at Philadelphia Union on Saturday
OUTLOOK– Chris Wondolowski continues to lead the way, with Sunday's effort coming from the penalty spot. The Earthquakes have proven unbeatable at Avaya Stadium, but now face a difficult stretch of road games that could determine where exactly they fit in a rapidly-evolving Western Conference.
————————-
8. (3) MONTREAL IMPACT (4-3-0)


LAST WEEK: Lost, 2-0, to Toronto FC on Saturday
THIS WEEK: at New York City FC on Wednesday; vs. Colorado Rapids on Saturday
OUTLOOK– In Didier Drogba's first start of the season, the Impact were outplayed by their Canadian rivals. The Impact were dominated in the center of the field as Drogba was all but held in check throughout the entire contest. The performance will be a bit of a letdown, but the Impact now have a double game week to raise spirits.
————————-
11. (9) PORTLAND TIMBERS (2-3-2)

LAST WEEK: BYE
THIS WEEK: at New England Revolution on Wednesday; vs. Toronto FC on Sunday
OUTLOOK– Following a bye, the Timbers now have a difficult double game week ready to greet them. The week off came at the best possible time, as the Timbers hope to see several key pieces recover from injury in the near future.
–————————-
12. (14) COLUMBUS CREW (2-3-2)


LAST WEEK: Defeated Houston Dynamo, 1-0, on Saturday
THIS WEEK: at Seattle Sounders on Saturday
OUTLOOK–  The Crew finally have their mojo back. Although the win over the Dynamo was far from the team's best, the Crew have now won two straight after an abysmal start to the season. Now back in the mix, the Crew appear to have emerged from their rough patch following what looked to be an extended MLS Cup hangover.
————————-
13. (16) VANCOUVER WHITECAPS (3-4-1)


LAST WEEK: Defeated FC Dallas, 3-0, on Saturday
THIS WEEK: vs. Sporting KC on Wednesday; at NYCFC on Saturday
OUTLOOK– The Whitecaps ended their goal drought in a major way, exploding to a 3-0 win over FC Dallas. Kekuta Manneh played his best game of the season, while David Ousted continued to provide a series of highlight-reel saves to keep things scoreless. Carl Robinson will hope Saturday's victory will serve as a springboard that allows the Whitecaps to put their attacking woes behind them.
————————-
14. (18) D.C. UNITED (2-3-3)


LAST WEEK:Defeated New England Revolution, 3-0, on Saturday
THIS WEEK: at Chicago Fire on Saturday
OUTLOOK– Two weeks after a four-goal performance, D.C. United hung three on the Revs. Luciano Acosta's chip was as pretty a goal as one could score, and served as a signature moment from a signature win. Defensively, D.C. will always be solid, but Ben Olsen's team will need to keep scoring goals if they hope to continue to move up the rankings.
————————-
15. (11) SEATTLE SOUNDERS (2-4-1)

LAST WEEK: Lost, 3-1, to Colorado Rapids on Saturday
THIS WEEK: vs. Columbus Crew on Saturday
OUTLOOK– Playing without Clint Dempsey and Nelson Valdez, the Sounders could not overcome a surging Rapids team. Jordan Morris looked good for the second week in a row, but, overall, the Sounders could muster little on Saturday. Brad Evans was sent off as frustrations boiled over for a team that still hasn't put it all together.
————————-
16. (20) NEW YORK RED BULLS (2-6-0)
LAST WEEK: Defeated Orlando City, 3-1, on Sunday
THIS WEEK: vs. FC Dallas on Friday
OUTLOOK–  After giving up a goal early, the Red Bulls appeared destined for another loss. However, fortunes finally turned at Red Bull Arena. Bradley Wright-Phillips netted twice, while helping to end the Red Bulls' woes in the process. The reigning Supporters' Shield winners are far from back, but Sunday was a great first step.
————————-
17. (15) CHICAGO FIRE (1-2-3)


LAST WEEK: BYE
THIS WEEK: vs. D.C. United on Saturday
OUTLOOK– With a week off to regroup, the Fire bring their strong defensive record to Toyota Park for a clash with suddenly surging D.C. United.
————————-
18. (12) NEW ENGLAND REVOLUTION (1-2-5)

LAST WEEK: Lost, 3-0, to D.C. United on Saturday
THIS WEEK: vs. Portland Timbers on Wednesday; vs. Orlando City on Saturday
OUTLOOK– Through eight games, the Revs have collected just one win, and it's time to be concerned. While Saturday's scoreline was probably a bit harsh, the Revs just haven't had it click on the attacking end to this point. The Revs need something to change before the team digs a hole for themselves prior to the summer months.
————————