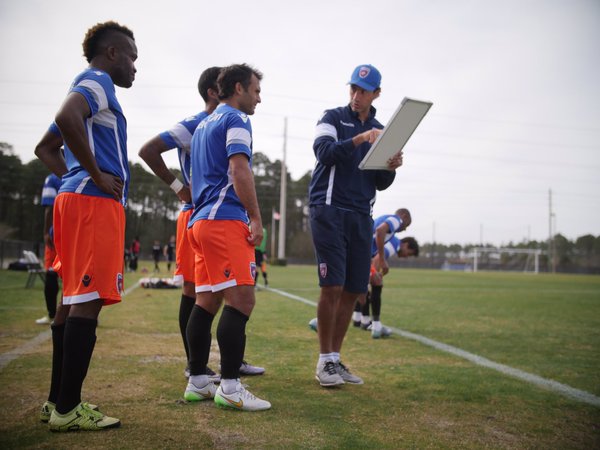 Under the guidance of one of the game's greatest defenders, Miami FC is finally set to kick off its first season of NASL play.
Former AC Milan and Italian national team defender Alessandro Nesta leads Miami FC into its inaugural season, and the former centerback has put together a combination of pieces to help his side succeed in its first season.
Headlined by English Premier League veteran Wilson Palacios, Argentinian goalscorer Dario Cvitanich and captain Jonathan Borrajo, Miami FC has assembled a roster with players from all over the world in pursuit of first-year success.
"The NASL is a tough league with some competitive teams but I am confident in what we are building here in Miami FC," Nesta told NASL.com. "My team will be ready and competing for the NASL Championship. We are determined to make a statement in our inaugural year."
Here is a closer look at Miami FC for the 2016 season:
2016 MIAMI FC PREVIEW
2015 FINISH: N/A
HEAD COACH: Alessandro Nesta, First Season
KEY ACQUISITIONS: Wilson Palacios, Dario Cvitanich, Dane Richards, Jonathan Borrajo, Matuzalem, Mason Trafford, Pablo Campos
KEY DEPARTURES: N/A
NEWCOMER TO WATCH: Wilson Palacios. The Premier League and Honduran national team veteran provides an instant presence in Miami FC's midfield. With two World Cups on his resume, Palacios gives Miami FC a high-level defensive presence to patrol the center of the field. With chemistry still being developed, Palacios may prove vital in protecting a back line full of players still learning each others' tendencies.
PRESSURE IS ON: Dario Cvitanich. The Argentine striker has scored goals at every stop he's made, and he will be expected to do just that with Miami FC. Most recently of Mexico's Pachuca, the 31-year-old forward has experience at France's Nice, Dutch club Ajax and Argentine powerhouse Boca Juniors. Cvitanich will lead the line for a still-developing Miami FC team and the attack will likely go as far as the forward can carry them.
OUTLOOK
In constructing the team's inaugural roster, Nesta and Miami FC built a team using a variety of different pieces from a variety of different places.
With so many pieces to add, Nesta and company searched far and wide for talent. The team began its inaugural offseason by announcing the signings of Premier League veteran Palacios, former New York Red Bulls midfielder Dane Richards and former Atlanta Silverbacks forward Jaime Chavez. The trio proved to be a sign of things to come as Miami FC added a unique combination of international veterans, experienced North American stars and newcomers to the U.S. soccer scene.
"I started to work and find players from everywhere," Nesta told Deporte Total. "I watched video to understand this league, because I come here and this isn't my country. When I started, I found a lot of problems difficult, but now it is OK.
"The key to success for me in this league is that you have to have players that know this league because it is different."
As expected with any Nesta-coached team, Miami FC's foundation has been built from the back. The Italian legend's squad is comprised of several capable centerbacks including former Chicago Fire defender Adailton, ex-Ottawa Fury FC star Mason Trafford, NASL veteran Brad Rusin and former Mjøndalen IF defender Rhett Bernstein.
Fullback Jonathan Borrajo will serve as the team's inaugural captain. Previously a member of the Fort Lauderdale Strikers and San Antonio Scorpions, Borrajo will lead a fairly experienced Miami FC back line into its first season.
"From when I first started speaking with Miami FC, I just felt from the get-go that they were really trying to do things professionally," Borrajo told NASL.com "They have a lot of experience in soccer and worked with big clubs in Europe. That was a big part of my decision coming here: I wanted to be a part of an organization that wanted to do things the right way.
"They said they want to win and want to be able to compete from day one. It's one thing to talk the talk, but it seems they've walked the walk from day one."
The midfield in front of them will be patrolled by Palacios, while Serie A veteran Matuzalem adds even more experience to the center of the field. Adding depth are twins Calvin and Connor Rezende, as well as newcomers Sergio van Kanten and Roberto Alterio.
On the wings, Miami FC will look to the speed of Richards, while Cuban international and former Charleston Battery winger Ariel Martinez joins the club after spending a majority of his career in his home country.
Miami FC will have several options atop the field, including the presence of NASL veterans Chavez and Pablo Campos. The latter, the 2012 NASL Golden Ball winner, will be looking to capture past form while adding MLS Cup-winning experience to the new roster.
While Chavez and Campos provide depth, much of the goal-scoring load will fall to Argentine veteran Cvitanich, who will be looking to bounce back from a 2015 campaign with Pachuca marred by a knee injury.
"What's exciting about this team is that it's a blank slate," Cvitanich said upon his signing. "There is so much opportunity for growth and development and that's why I believed Miami FC would be a good a fit for me. Working together with Nesta and my teammates to bring this team to life is something I'm ready to invest myself in."
With the pieces in place, Nesta is hoping that his unique blend of experience and hunger can propel Miami FC to a successful inaugural season.
With legends like Nesta and owner Paulo Maldini involved, the pressure will always be high. Yet, Miami FC is embracing that pressure and those expectations as the team looks to set a tone in Miami for years to come.
"Without pressure, you can't work. I need pressure," Nesta told Deporte Total. "All my life, I had pressure everyday, every match, every training. This is our life. Without pressure, you can't do a good job.
"Our owners, Paulo Maldini and Ricardo Silva, they want to win the league and win the cup. They want to win everything. It's difficult, but we have to try. Every single player knows this. We will start with fresh legs for the first game. If we win four or five games in a row, we can play in the playoffs."
PROJECTED LINEUP
———-Chavez——–Cvitanich———-
Richards–Matuzalem–Palacios–Martinez
Corralles–Adailton–Bernstein–Borrajo
———————Vega———————-