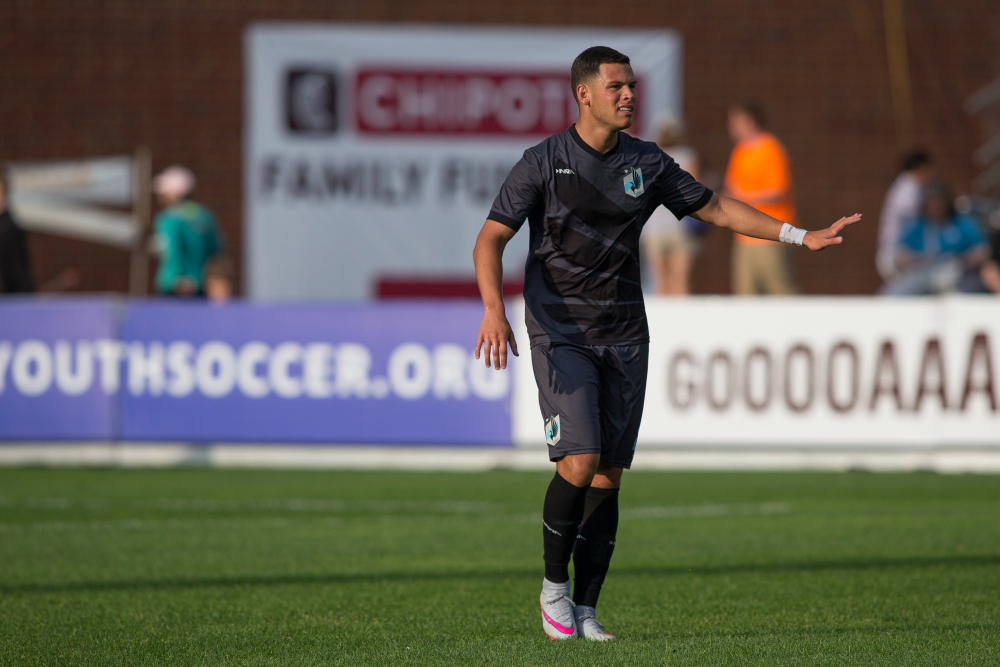 A future in MLS remains on the horizon for Minnesota United, but a busy offseason has the Loons in a position to emerge from the 2016 NASL season with trophies in hand.
Under the leadership of first-year head coach Carl Craig, Minnesota United spent the offseason bringing in some heavy hitters. Reigning NASL Golden Ball winner Stefano Pinho and former FC Edmonton star Lance Laing join the Loons after dominating in 2015, while MLS veterans like Danny Cruz, Ben Speas and Bernardo Anor add even more talent to an already high-level attack.
The series of high-profile additions join a roster that had four NASL Best XI selections in 2016, as the Loons have reloaded and retooled for one more run before joining a new league.
"I think the lads themselves have high expectations," Craig told SBI. "It's not really been an issue. The club has done reasonably well over the past six years or so, so I think most of the guys know that they're coming to an organization where the expectation is that we perform and get positive results."
Here's a closer look at Minnesota United ahead of the 2016 season:
2016 MINNESOTA UNITED
2015 FINISH: Overall — 15-4-11, 53 points (3rd in Combined Standings); Spring Season — 3-2-5, 14 points (4th in Spring Season); Fall Season — 11-3-6, 39 points (2nd in Fall Season)
HEAD COACH: Carl Craig, First Season
KEY ACQUISITIONS: Stefano Pinho, Lance Laing, Danny Cruz, Ben Speas, Damien Lowe, Bernardo Anor, Kristian Nicht
KEY DEPARTURES: Pablo Campos, Khalif Alhassan, Geison Moura
NEWCOMER TO WATCH: Stefano Pinho. The reigning NASL Golden Ball winner joins a Minnesota United team already loaded with plenty of attacking talent. Given the chance to create around players like Christian Ramirez, Lance Laing, Danny Cruz and Ben Speas, Pinho turns into a real weapon. He may not match his gaudy numbers of last season, but Pinho will be given every chance to rack up some legitimate goal and assist statistics in a very deep Minnesota United team.
PRESSURE IS ON: Christian Ramirez. The Minnesota United forward is certainly among the NASL's very best; the challenge now lies in taking that next step. At just 24 years old, Ramirez has legitimate talent and hunger to become an elite striker in North America. Snubbed for several awards last season, Ramirez enters the 2016 campaign with a chip on his shoulder as he looks to validate his place in the league while also pushing onto the next level, whatever it may be.
OUTLOOK
After several seasons working alongside Manny Lagos, Craig has assumed the head coaching role at Minnesota United. With it, the Newcastle-born manager inherits a roster that looks poised to make a run through an expanding NASL.
Having been such a big part of the previous regime, Craig's transition has been seamless. Rather than reinventing the wheel, Craig is merely adding several tweaks to an already successful program while letting his unique personality shine in a leadership role.
Craig's transition into the head coaching role will see him assume control of a squad that's as talented as any in the league. Among the Loons' manager's new pieces are Pinho and Lance Laing, giving Minnesota United six members of last season's NASL Best XI.
"Stefano has been dealing with injuries, so he's only just coming back. We've only seen flashes of him," Craig told SBI. "He's very quick, gets around corners and likes to get in behind the opponent. He's a clever finisher. The energy level is really high, which is different than Christian (Ramirez). Christian is a bit more of a laid-back type of guy. Stef is a bit of a live wire, especially when he's on the field.
"Lance is very laid back. He's really calm, really quiet. With that said, he's a big powerful man. When that kid is flying, he's flying. Look for him to scare a few opponents with his free kicks and his deliveries because that's a powerful fella."
With the star duo alongside Ramirez, the Minnesota United forward is expected to take another leap forward in 2016. Already one of the league's most talented goalscorers, Ramirez is expected to develop the next part of his game that maybe doesn't show up on the stat sheet as much as the 12 goals he scored last season.
"I want him to get more involved in the buildup sort of stuff," Craig said. "I know he's a striker and he puts the ball in the back of the net, but a big fella like Christian, certainly, our team is not the youngest. We'll rely on a hold-up man on occasion, and when Christian brings that into his game and learns the physicality a little better, that will tip the balance for him.
"He's a good finisher, he's a good technician. I'm looking for him to give us a little more tactically when we need to hold the ball and allow guys to get beyond him. When he gets that part of it and adds that to his game, he'll really start to progress."
Alongside the attacking trio of Pinho, Laing and Ramirez, the Loons feature an unbelievable amount of depth and competition for those advanced positions.
Recently returning from injury, Sporting KC loanee Bernardo Anor is expected to provide power and intelligence on the ball while showcasing his ability to beat players one-on-one. Danny Cruz is a player that Craig rates highly on either wing, with the head coach citing the former Philadelphia Union star's work-rate as something that has really impressed him.
But Ben Speas has possibly proven to be the team's most needed addition, as the former Crew midfielder plus a long-unfilled gap in the Loons lineup.
"I would say for the first time in a long time, we have a true No. 10, which is necessary," Craig said. "We have Ibson and we like to play him there, but Ibson liked to come back and get the ball. Ben is a true No. 10. He likes to play between the lines and get on the ball. He's got a heck of a shot on him, he's an intelligent player. It's an addition we've never had. In that sense, it's absolutely a positive.
"We've struggled to have a real No. 10 in our squad the last few years, to be honest. We kind of shoehorned No. 6s and No. 8s into that position, so Ben is a true No. 10."
Speas' addition allows Ibson to drop back and marshall the midfield ahead of a defense that boasted two Best XI selections last season.
Fullback Justin Davis contributed five goals and two assists last season, while his counterpart, Kevin Venegas, added two goals and six assists of his own. Centerbacks Tiago Calvano, Aaron Pitchkolan and Brent Kallman all return, while former New York City FC fullback Jeb Brovsky helps add to a now-deep defensive unit.
"I think even though we got guys on the Best XI, I thought we were a little sloppy defensively," Craig said. "Even though, yes, they are back-line players, a lot of great work is being done going forward. We have a great emphasis on defense and that part of the game right now. Three of last year's four back have been starting so far this preseason.
"We've added a young lad in Damien Rowe that gives us a bit more speed. It's tuning him in a bit more. Yes, we're still working on the offensive side, but there's a great emphasis on the defense, given the issues we had last year."
With a potentially improved defense and an attack as lethal as any in the league, the Loons are expected to once again compete for an NASL crown. Under new leadership, the goals haven't changed. The team is still expected to be among the league's elite.
Craig isn't so quick to anoint his team just yet, though. Despite a wildly successful offseason that has the team in place to contend, Craig is ready to find his team's place in the NASL hierarchy on the field.
"We brought a lot of players in and maybe in the past we could run away with it," Craig said. "New York is going to be very tough as usual. Rayo is looking interesting with what they're doing down there. They have deep pockets down in Tampa, and Miami have been a nice addition to the clubs that are already in, and owners that are wheeling and dealing and shuffling in top players in addition to the ones that are already in the league.
"I think it's going to be a heck of a season."
PROJECTED LINEUP
————–Ramirez———–
Pinho——–Speas——–Laing
——–Ibson——Jordan——-
Davis–Lowe–Calvano–Venegas
————-Ndjock————-