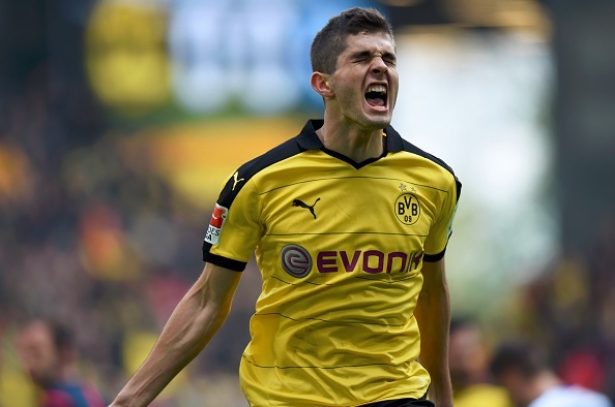 The hype train continues to roll for Christian Pulisic, who scored his second German Bundesliga goal in as many games for Borussia Dortmund on Saturday.
Due to his recent goal-scoring performances — especially playing for one of Germany's and Europe's top sides — many U.S. Men's National Team supporters are wondering what his role will be this summer as the U.S. competes in the Copa America Centenario.
Pulisic made his Bundesliga debut for Dortmund in January, and he has been given plenty of minutes to shine for his side since then. The 17-year-old attacker from Hershey, Pennsylvania, has made eight league appearances and three UEFA Europa League appearances for Dortmund this year.
He earned his first USMNT cap in a World Cup qualifier against Guatemala in March, cap-tying him to the U.S. He came on as a late substitute in that 4-0 win on March 29, but he looked comfortable playing with and against players much, much older than himself.
He has continued to prove that through his appearances for Dortmund. Pulisic has started three games and scored his first and second Bundesliga goals since making his USMNT debut. The pressure of playing for his country at the young age of 17 has apparently not disrupted his play for his club team.
USMNT head coach Jurgen Klinsmann has also previously given young players chances to play in big moments. For example, DeAndre Yedlin and Julian Green were surprise inclusions on Klinsmann's World Cup roster in 2014, but they each played important minutes for the team in high-pressure situations. The U.S. coach also recently said Pulisic was strengthening his case for inclusion in the USMNT's Copa America roster.
Despite Klinsmann's history of using young players in big matches and Pulisic's recent form for Dortmund, some USMNT supporters will say it is still too early to use the 17-year-old midfielder in the Copa America this summer. Freddy Adu, as an example, was dubbed the "next Pele" early in his career. Adu signed an MLS contract at the age of 14, but he did not live up to the high expectations set for him. The U.S. supporters who have followed Adu's career do not want to see those same high expectations crush another American prospect's career.
With all that in mind, here is the SBI Question of the Day: What will Pulisic's USMNT role be at the Copa America?
Cast your vote here, and feel free to share your vote, and reasoning, in the comments section below.
[polldaddy poll=9395304]