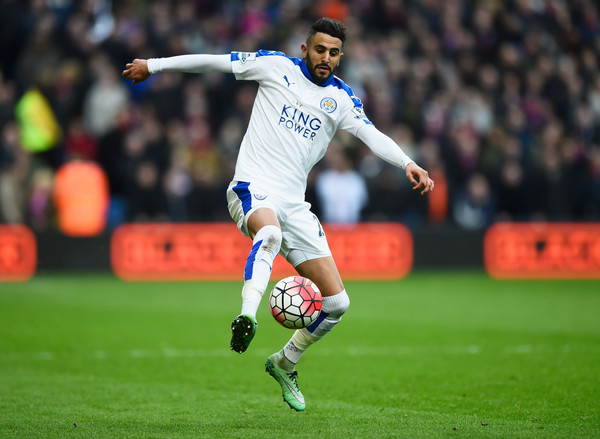 Leicester City will be without Jamie Vardy on Sunday, but the English Premier League leader will press on without him.
The Foxes host Swansea City at King Power Stadium to headline action in the English Premier League, while Crystal Palace and Watford will battle it out at Wembley Stadium for the chance to progress to the English FA Cup final.
Across the Atlantic, New York Red Bulls-Orlando City SC, FC Edmonton-Ottawa Fury, and Puebla-Chiapas are all matchups to keep an eye on.
If you will be watching today's soccer, please feel free to share your thoughts, opinions and some play-by-play in the comments section below.
Enjoy the action (Today's TV schedule is below):
MAJOR LEAGUE SOCCER
3:30 p.m. — ESPN/ESPN Deportes/MLS Live — San Jose Earthquakes vs. Sporting Kansas City
7:30 p.m. — Fox Sports 1/Fox Sports Go/Fox Deportes/Fox Soccer 2Go — New York Red Bulls vs. Orlando City SC
NASL
4 p.m. — WatchESPN/ESPN3/NASL Live — FC Edmonton vs. Ottawa Fury
ENGLISH PREMIER LEGUE
9:05 a.m. — NBCSN/NBC Sports Live Extra/Telemundo — Sunderland vs. Arsenal
11:15 a.m. — NBCSN/NBC Sports Live Extra/Telemundo — Leicester City vs. Swansea City
ENGLISH FA CUP
11 a.m. — Fox Sports 2/Fox Sports Go/Fox Deportes/Fox Soccer 2Go — Crystal Palace vs. Watford
SPANISH LA LIGA
6 a.m. — beIN Sports Connect — Levante vs. Athletic Bilbao
10 a.m. — beIN Sports USA/beIN Sports en Español/beIN Sports Connect — Sevilla vs. Real Betis
12:15 p.m. — beIN Sports USA/beIN Sports en Español/beIN Sports Connect — Getafe vs. Valencia
2:30 p.m. — beIN Sports en Español/beIN Sports Connect — Villarreal vs. Real Sociedad
ITALIAN SERIE A
6:30 a.m. — beIN Sports Connect — Frosinone vs. Palermo
9 a.m. — beIN Sports Connect — Atalanta vs. Chievo Verona
9 a.m. — beIN Sports Connect — Bologna vs. Genoa
9 a.m. — beIN Sports USA/beIN Sports Connect — Sampdoria vs. Lazio
9 a.m. — beIN Sports Connect — Torino vs. Sassuolo
2:45 p.m. — beIN Sports USA/beIN Sports Connect — Fiorentina vs. Juventus
GERMAN BUNDESLIGA
9:30 a.m. — Fox Soccer 2Go — Borussia Mönchengladbach vs. Hoffenheim
11:30 a.m. — Fox Soccer 2Go — Eintracht Frankfurt vs. Mainz 05
FRENCH LIGUE 1
8 a.m. — beIN Sports Connect — Marseille vs. Nantes
11 a.m. — beIN Sports Connect — Saint-Étienne vs. Lorient
11 a.m. — beIN Sports Connect — Gazélec Ajaccio vs. Bastia
11 a.m. — beIN Sports Connect — Guingamp vs. Caen
3 p.m. — beIN Sports Connect — Stade Rennes vs. AS Monaco
PORTUGUESE PRIMEIRA LIGA
3:30 p.m. — Univision Deportes — Rio Ave vs. Benfica
MEXICAN LIGA MX
6 p.m. — Univision Deportes/Univision — Puebla vs. Chiapas
SCOTTISH PREMIER LEAGUE
7:30 a.m. — Fox Soccer 2Go — Inverness CT vs. Kilmarnock