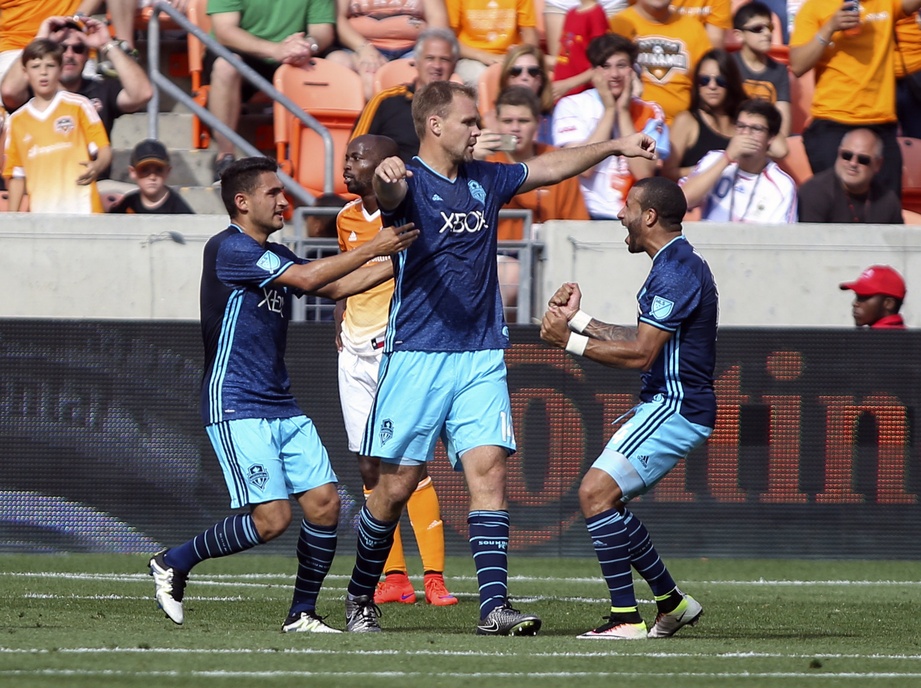 Chad Marshall saved the Seattle Sounders from yet another defeat to start the 2016 MLS season.
The defender scored with the last kick of the game to help the Sounders salvage a 1-1 tie against the Houston Dynamo at BBVA Compass Stadium on Sunday.
Sounders substitute Oalex Anderson fired a low cross towards the six-yard box as time ticked past the allotted three minutes of second-half stoppage time. Dynamo defender Raul Rodriguez was unable to clear the ball from the box at the back post, and Marshall simply passed the ball by goalkeeper Joe Willis in the 94th minute.
In the first half, Jalil Anibaba sent a cross into the path of Giles Barnes, who deftly flicked the ball up and over goalkeeper Stefan Frei in the 35th minute. The Dynamo proceeded to sit back following that go-ahead goal, absorbing pressure put on by the Sounders.
Willis made two key saves to keep the advantage alive in the second half. A diving stop to deny Aaron Kovar came early after the break, while a save on Anderson was made with close to 20 minutes remaining.
Up next, the Dynamo will host the LA Galaxy on Friday, while the Sounders will head back to Seattle to play the Philadelphia Union a day later.
Here are the highlights of Sunday's 1-1 tie:
Man of the Match
Chad Marshall scored arguably the most important goal of the game on Sunday, but Giles Barnes deserves heaps of praise for his clever flick in the first half. Completing 85 percent of his passes on the day, the Jamaican forward also kept putting the Dynamo defense under pressure and had five total shots in the outing.
Moment of the Match
The Sounders were mere seconds from recording their fourth loss of the campaign through five games, but Chad Marshall's 94th-minute goal helped the club earn at least a share of the points on the road in Texas.
Match to Forget
As the forward in a 4-2-3-1 formation, Sounders rookie Jordan Morris was given the task of scoring, but the U.S. Under-23 Men's National Team forward was unable to record a single shot before being substituted off in the 79th minute. The bad news: Herculez Gomez looked better in just over 10 minutes played than Morris did in 79.