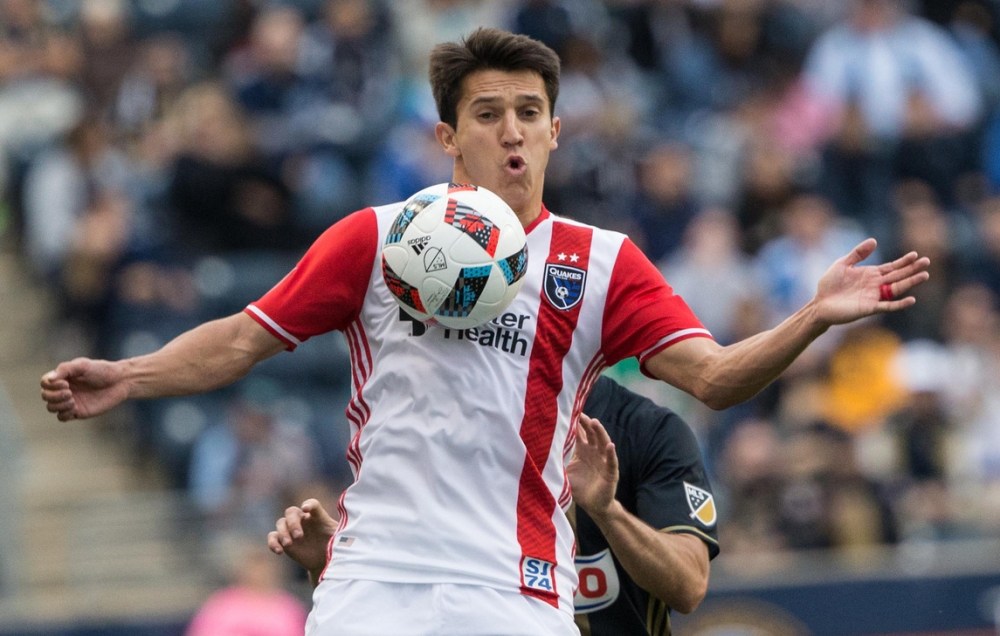 CHESTER, PA — The San Jose Earthquakes didn't look like they were a man down during the final 30 minutes of their 1-1 draw with the Philadelphia Union on Saturday.
The Earthquakes received a boost from their substitutes and a formation tweak to come back and earn a valuable point on the road.
Simon Dawkins netted the lone Earthquakes tally in the 83rd minute as he eluded a few defenders on the edge of the penalty area. Shea Salinas and the rest of the squad urged the Jamaican to shoot more based off what they've seen in practice.
"It just fell to me at the edge of the box," Dawkins said. "And I was gonna shoot and then faked to shoot, and it just opened up for me. Thankfully, it just went in."
"Simon's an unbelievable player," Salinas said. "He does that in practice all the time, and we always tell him to take more guys on and shoot more in games. That was pretty sweet. By the time he shot the ball, I think there were three or four guys on the ground, so it was pretty cool." 
The Earthquakes were able to dictate the pace in the closing stages of the contest despite being down a man following Anibal Godoy's second yellow in the 59th minute.
Dawkins drifted into a central role behind Chris Wondolowski, while Salinas and Matias Perez Garcia attacked through the wings against a tiring Union defense that held firm for 60 minutes.
"We were down to 10 men, so we had to change something," Dawkins said. "Shea was doing well to beat his man wide. So the manager put me in the (No.) 10 role, and I just tried to do the best I can. It was good for us."
"I tried to get (Simon) more on the ball," Earthquakes boss Dominic Kinnear said. "Obviously the red card makes it a little bit more difficult. Shea Salinas came in too at that particular point and opened the game for us with his running. It kind of gave Simon more freedom underneath too."
Salinas, who has been coming off the bench this season, looked forward to playing a role against his former side.
"As a competitor, you always want to be in the starting lineup," Salinas said. "You always want to play as many minutes as possible. Once you know that you're a sub, you have to prepare mentally to come on and give that 40-30 minutes and sprinting as hard as you can to help the team out whatever it might be.
"Coming off the bench Dom told me to run at them and be aggressive," Salinas said. "That's my favorite thing to do. Every time I got the ball, I tried to be dangerous." 
The former Union man admitted the Earthquakes entered Talen Energy Stadium with plenty of confidence and left the East Coast with the same mindset.
"We had a lot of confidence coming into the game," Salinas said. "We thought we could come out of here with three points and then once you go down a man and down a goal, you try to get a point of this. We fought hard, and Simon scored a great goal, and we got the point." 
"It's big for us," Salinas said. "We have a tough road game in Seattle (on Saturday), so I think this gives us a little bit more confidence going into that game. We've been tough on the road all year, so it was nice to get something out of this and go back home and get ready for Seattle."