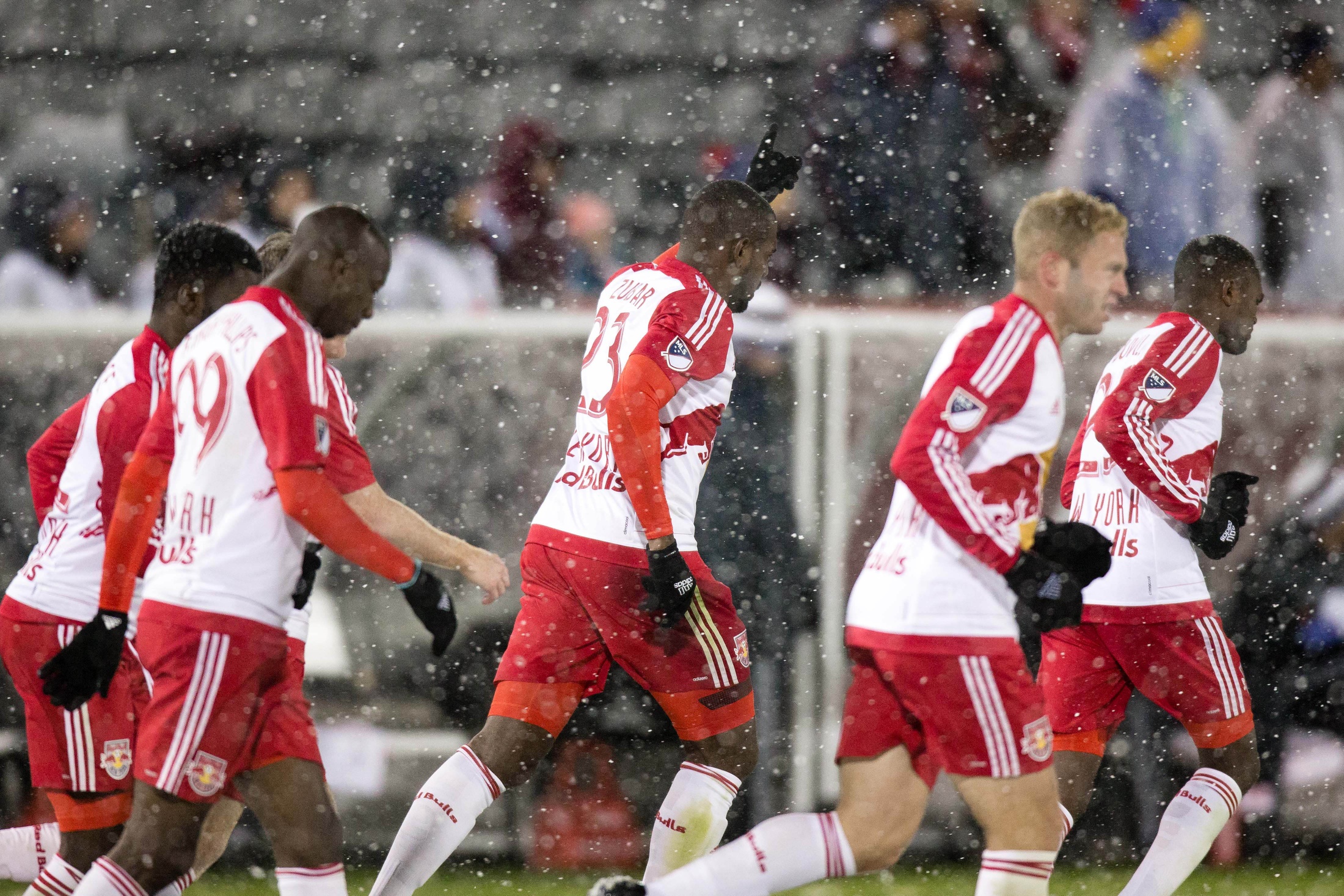 The 2015 New York Red Bulls were a perfect storm. A perfectly-assembled roster, with the perfect coach to lead them, produced a Supporters' Shield in a season originally projected for disaster.
Now, the Red Bulls are experiencing another perfect storm, one of failure, and for a variety of reasons.
To date, the Red Bulls have claimed just three points from the first seven games and currently sit last in the overall table. One of the league's best on both sides of the ball last year, the defending Supporters' Shield champions have netted just five times while conceding 15, both league worsts.
On the attacking end, former MLS Golden Boot winner Bradley Wright-Phillips has sputtered, to say the least. In 7 games played, Wright-Phillips has fired 25 shots, but just 12 of those have hit the target.
In comparison to his past few seasons, Wright-Phillips is firing 3.57 shots-per-game with 1.7 of them coming on target. In 2015, the first season of the post-Thierry Henry era, the forward fired 3.32 shots-per-game with 1.67  of them testing the goalkeeper. In the former, Wright-Phillips has netted zero goals to this point, while the 2015  season produced three in that same time span.
But what does it mean? Statistically speaking, Wright-Phillips is generating the same amount of opportunities and testing the goalkeeper just as often in years past. But, the forward is sorely lacking in soccer's ultimate stat: goals.
A veteran of the game, Wright-Phillips has experienced rough patches before, including a five-game scoreless run last season. The forward will come good because, statistically, he has to given the number of chances he continues to create. Head coach Jesse Marsch has every reason to stick with the forward, who has proven time and time again that he can score in this league. That ability doesn't just go away, no matter how much a player struggles through the first month-and-a-half of the season.
What remains a bigger concern is defending, an area of the game that numbers cannot truly define.
Heading into the 2016 season, the Red Bulls knew they would be losing Matt Miazga, who usurped the oft-injured Ronald Zubar in the lineup to play alongside Damien Perinelle throughout 2015.
Miazga is long gone and earning time with Chelsea, but those who have replaced him have struggled to say the least. Zubar's injury woes have continued, while Perinelle is sidelined for an extended period of time after suffering a catastrophic injury last season. Newcomer Gideon Baah has been nipped by the injury bug as well, forcing Marsch into pairing Karl Ouimette with everyone from Connor Lade to Kemar Lawrence.
The result? Fifteen conceded goals, or 35 percent of what the team conceded last game in just a fifth of the matches.
The Red Bulls woes are easily diagnosable, but maybe not entirely fixable given the current roster. Getting Wright-Phillips going should be the priority, and one would expect them to do so sooner rather than later.
The team's midfield unit hasn't suddenly become bad, and it's easy to expect them to assert themselves a bit more soon. Have they been figured out by the competition? Possibly, but players like Sacha Kljestan, Dax McCarty and Felipe are too talented to not be able to adjust as teams begin to crack down more on their high-pressure style. Expect the midfield group to lead the charge going forward with a group that has far too many leaders to fail in this way.
With that said, the Red Bulls' early season woes has been a case of everything going wrong all at once. Teams are used to certain areas slumping through various points of the season, but to have most of the starting XI playing well below capabilities has been quite a shock.
Given everything seen from the laundry list of MLS veterans who make up the team's core, that can't be expected to continue, but if it does for even a few more weeks, the Red Bulls may find themselves well and truly buried before entering the dog days of summer.