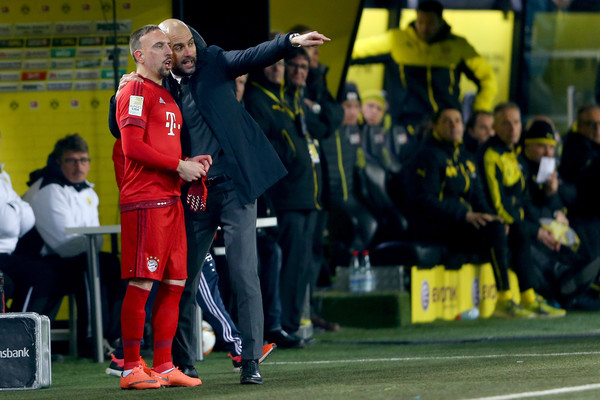 Pep Guardiola is inching closer to his goal of giving Bayern Munich one more Bundesliga trophy in his last run with the team.
Provided with a Borussia Dortmund loss or draw on the road against VfB Stuttgart, Bayern could clinch its fourth consecutive German league title on Saturday should it get past Hertha Berlin at Olympiastadion.
Juventus could accomplish the same against Fiorentina this weekend to win its fifth straight Italian Serie A title if Napoli drops to Roma on Monday on the road.
In Spanish La Liga, however, things are much more complicated as Barcelona is now tied with Atlético Madrid atop the table with 79 points with Real Madrid trailing just one point behind. Each team has a rather light task this weekend in Sporting Gijón, Málaga and Rayo Vallecano, respectively, but any slip-up at this juncture could dash each team's title dreams.
For Leicester City, getting an important draw last weekend at West Ham kept the Foxes in the driver's seat in their chase for the once-improbably English Premier League title. Claudio Ranieri and Co. — minus Jamie Vardy who is suspended — will host Swansea City this weekend holding a five-point lead with second-place Tottenham taking the pitch on Monday against West Bromwich Albion.
Also winding down is the English FA Cup, which will host its semifinals this weekend with Everton-Manchester United taking place on Saturday and Crystal Palace-Watford on Sunday.
Stateside, MLS will see San Jose Earthquakes-Sporting KC and New York Red Bulls-Orlando City SC get national coverage this Sunday with the matches airing on ESPN and Fox Sports 1, respectively.
Here is a rundown of all the soccer action on TV this weekend (all times Eastern):
FRIDAY
SPANISH LA LIGA
3 p.m. — beIN Sports en Español/beIN Sports Connect — Las Palmas vs. Espanyol
GERMAN BUNDESLIGA
2:30 p.m. — Fox Sports 2/Fox Sports Go/Fox Deportes/Fox Soccer 2Go — Hamburg SV vs. Werder Bremen
MEXICAN LIGA MX
9 p.m. — Univision Deportes — Pumas UNAM vs. Tijuana
ENGLISH LEAGUE CHAMPIONSHIP
2:45 p.m. — beIN Sports USA/beIN Sports Connect — Preston North End vs. Burnley
NASL
8 p.m. — WatchESPN/ESPN3/NASL Live — Miami FC vs. Rayo OKC
USL
7 p.m. — ESPN3 — Pittsburgh Riverhounds vs. Orlando City II
SCOTTISH PREMIER LEAGUE
2:45 p.m. — Fox Soccer 2Go — St. Johnstone vs. Aberdeen
NCAA MEN
7:30 p.m. — ESPN3 — Mexico U-20 vs. Notre Dame
SATURDAY
MAJOR LEAGUE SOCCER
4 p.m. — YES Network/MLS Live/MLS Direct Kick — Philadelphia Union vs. New York City FC
4 p.m. — MLS Live — Montreal Impact vs. Toronto FC
5:30 p.m. — MLS Live — D.C. United vs. New England Revolution
7:30 p.m. — MLS Live — Columbus Crew vs. Houston Dynamo
9 p.m. — MLS Live — Colorado Rapids vs. Seattle Sounders
10:30 p.m. — MLS Live — LA Galaxy vs. Real Salt Lake
10:30 p.m. — MLS Live — Vancouver Whitecaps vs. FC Dallas
NASL
7 p.m. — WatchESPN/ESPN3/NASL Live — Fort Lauderdale Strikers vs. Jacksonville Armada
7:30 p.m. — beIN Sports USA/beIN Sports Connect/WatchESPN/ESPN3/NASL Live — Tampa Bay Rowdies vs. Carolina RailHawks
8 p.m. — WatchESPN/ESPN3/NASL Live/One World Sports — Minnesota United vs. New York Cosmos
ENGLISH PREMIER LEAGUE
7:45 a.m. — NBCSN/NBC Sports Live Extra/NBC Universo — Manchester City vs. Stoke City
10 a.m. — NBCSN/NBC Sports Live Extra — Liverpool vs. Newcastle United
10 a.m. — NBC Sports Live Extra — Bournemouth vs. Chelsea
10 a.m. — NBC Sports Live Extra — Aston Villa vs. Southampton
ENGLISH FA CUP
Noon — Fox Sports 2/Fox Sports Go/Fox Deportes/Fox Soccer 2Go — Everton vs. Manchester United
ENGLISH LEAGUE CHAMPIONSHIP
7:30 a.m. — beIN Sports USA/beIN Sports Connect — Derby County vs. Sheffield Wednesday
SPANISH LA LIGA
10 a.m. — beIN Sports USA/beIN Sports Connect — Rayo Vallecano vs. Real Madrid
12:15 p.m. — beIN Sports USA/beIN Sports Connect — Atlético Madrid vs. Málaga
2:30 p.m. — beIN Sports en Español/beIN Sports Connect — Barcelona vs. Sporting Gijón
4:05 p.m. — beIN Sports en Español/beIN Sports Connect — Eibar vs. Deportivo La Coruña
ITALIAN SERIE A
2:45 p.m. — beIN Sports Connect — Inter vs. Udinese
GERMAN BUNDESLIGA
9:30 a.m. — Fox Sports 2/Fox Sports Go/Fox Deportes/Fox Soccer 2Go — Hertha Berlin vs. Bayern Munich
9:30 a.m. — Fox Soccer 2Go — VfB Stuttgart vs. Borussia Dortmund
9:30 a.m. — Fox Soccer 2Go — VfL Wolfsburg vs. FC Augsburg
9:30 a.m. — Fox Soccer 2Go — FC Ingolstadt vs. Hannover 96
9:30 a.m. — Fox Soccer 2Go — Cologne vs. Darmstadt 98
12:30 p.m. — Fox Soccer 2Go — Schalke 04 vs. Bayer Leverkusen
FRENCH LIGUE 1
11:30 a.m. — beIN Sports Connect — Toulouse vs. Lyon
FRENCH COUPE DE LA LIGUE
2:45 p.m. — beIN Sports USA/beIN Sports Connect — Paris Saint-Germain vs. Lille
MEXICAN LIGA MX
6 p.m. — Univision Deportes/Univision — Club América vs. Toluca
8 p.m. — Azteca America — Santos Laguna vs. Tigres UANL
8 p.m. — Univision Deportes — Monterrey vs. Querétaro
9:06 p.m. — NBC Universo — Pachuca vs. Guadalajara
10 p.m. — ESPN Deportes — Dorados vs. Morelia
SCOTTISH LEAGUE CHAMPIONSHIP
7:30 a.m. — Fox Soccer 2Go — Rangers vs. Alloa Athletic
SUNDAY
MAJOR LEAGUE SOCCER
3:30 p.m. — ESPN/ESPN Deportes/MLS Live — San Jose Earthquakes vs. Sporting Kansas City
7:30 p.m. — Fox Sports 1/Fox Sports Go/Fox Deportes/Fox Soccer 2Go — New York Red Bulls vs. Orlando City SC
NASL
4 p.m. — WatchESPN/ESPN3/NASL Live — FC Edmonton vs. Ottawa Fury
ENGLISH PREMIER LEGUE
9:05 a.m. — NBCSN/NBC Sports Live Extra/Telemundo — Sunderland vs. Arsenal
11:15 a.m. — NBCSN/NBC Sports Live Extra/Telemundo — Leicester City vs. Swansea City
ENGLISH FA CUP
11 a.m. — Fox Sports 2/Fox Sports Go/Fox Deportes/Fox Soccer 2Go — Crystal Palace vs. Watford
SPANISH LA LIGA
6 a.m. — beIN Sports Connect — Levante vs. Athletic Bilbao
10 a.m. — beIN Sports USA/beIN Sports en Español/beIN Sports Connect — Sevilla vs. Real Betis
12:15 p.m. — beIN Sports USA/beIN Sports en Español/beIN Sports Connect — Getafe vs. Valencia
2:30 p.m. — beIN Sports en Español/beIN Sports Connect — Villarreal vs. Real Sociedad
ITALIAN SERIE A
6:30 a.m. — beIN Sports Connect — Frosinone vs. Palermo
9 a.m. — beIN Sports Connect — Atalanta vs. Chievo Verona
9 a.m. — beIN Sports Connect — Bologna vs. Genoa
9 a.m. — beIN Sports USA/beIN Sports Connect — Sampdoria vs. Lazio
9 a.m. — beIN Sports Connect — Torino vs. Sassuolo
2:45 p.m. — beIN Sports USA/beIN Sports Connect — Fiorentina vs. Juventus
GERMAN BUNDESLIGA
9:30 a.m. — Fox Soccer 2Go — Borussia Mönchengladbach vs. Hoffenheim
11:30 a.m. — Fox Soccer 2Go — Eintracht Frankfurt vs. Mainz 05
FRENCH LIGUE 1
8 a.m. — beIN Sports Connect — Marseille vs. Nantes
11 a.m. — beIN Sports Connect — Saint-Étienne vs. Lorient
11 a.m. — beIN Sports Connect — Gazélec Ajaccio vs. Bastia
11 a.m. — beIN Sports Connect — Guingamp vs. Caen
3 p.m. — beIN Sports Connect — Stade Rennes vs. AS Monaco
PORTUGUESE PRIMEIRA LIGA
3:30 p.m. — Univision Deportes — Rio Ave vs. Benfica
MEXICAN LIGA MX
6 p.m. — Univision Deportes/Univision — Puebla vs. Chiapas
SCOTTISH PREMIER LEAGUE
7:30 a.m. — Fox Soccer 2Go — Inverness CT vs. Kilmarnock