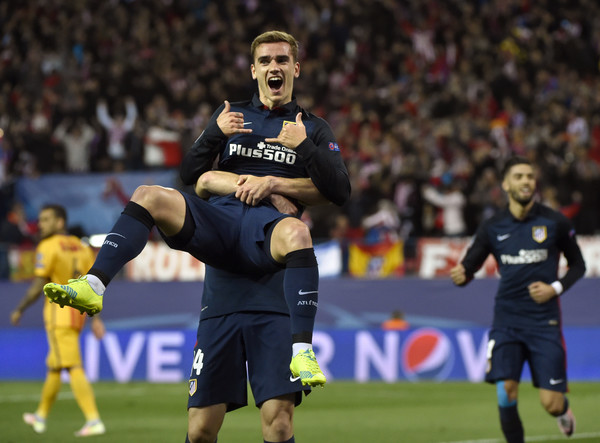 In a game that turned out to be as controversial as it was entertaining, Atletico Madrid toppled Barcelona to reach the Champions League semifinals.
After dropping the away leg, 2-1, Atleti held on at the Vicente Calderon to take down Barcelona by a 2-1 scoreline and 3-2 on aggregate. The victory pushes Atletico Madrid into the Champions League semifinals for the second time in three years after previously slipping past Barca in 2014.
Forward Antoine Griezmann gave Atleti the advantage with a finish in the 36th minute. From that point on Barcelona pressed for an equalizer before Andres Iniesta was called for a blatant handball in the box, yielding Griezmann's second from the penalty spot.
Just moments later and with a chance to send the game to extra time, Barcelona was awarded a free kick following a Gabi handball that was mistakenly called to be outside of the box. Lionel Messi's ensuing shot soared wide, sealing Atletico's passage into the semifinal round.
BAYERN MOVES PAST BENFICA
Bayern Munich could only manage a draw in Wednesday's clash with Benfica, but it proved to be just enough to push the Bundesliga powerhouse into the final four of the Champions League.
Goals from Arturo Vidal and Thomas Muller led the way as Bayern earned a 2-2 draw to move past Benfica, 3-2, on aggregate. The result marks Bayern's fifth straight trip to the semifinal round.
Mexican international Raul Jimenez moved the Portuguese club level early in the first half with a headed effort that equalized the aggregate scoreline. Vidal responded 13 minutes later with a 38th minute missile that gave Bayern a vital away goal.
Muller stepped up to give Bayern a massive advantage just seven minutes into the second half, making Talisca's magnificent free kick little more than a consolation for a beaten Benfica.
With today's results, Bayern Munich and Atletico Madrid join Real Madrid and Manchester City in the semifinal round.