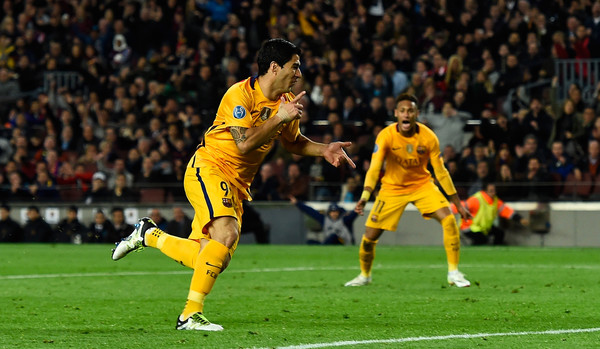 Barcelona looked to be in early trouble in Tueday's UEFA Champions League clash with Atletico Madrid until the Spanish La Liga winners were saved by a brace from their star forward.
Luis Suarez netted two second-half goals, lifting Barca to a 2-1 win over Atleti in their Champions League quarterfinal clash at the Camp Nou.
In the 25th minute, Atleti went ahead through a vital away goal from Fernando Torres, but the forward's controversial dismissal in the 36th minute turned the tide. Atleti maintained its advantage until the 63rd minute when Suarez first struck. The Uruguayan added a second 11 minutes later to seal the win.
The two sides will face off again on April 13 at the Estadio Vicente Calderon.
VIDAL FINISH PUSHES BAYERN PAST BENFICA
For the final 88 minutes of Tuesday's clash, Bayern Munich was held in check by Benfica. However, it was a goal coming within the game's opening moments that made all the difference.
Facing off at the at the Allianz Arena, Arturo Vidal netted in just the second minute to push Bayern past the Portuguese club by a 1-0 scoreline.
The Chilean star took just 109 seconds to find the back of the net on a cross from Juan Bernat. Vidal bested Benfica defender Eliseu to head home in what proved to be the game's lone goal. It wouldn't be for lack of effort, though, as Benfica Emerson goalkeeper made five saves, while forward Jonas missed a penalty kick on the other end.
Following the Bayern win, Benfica returns home for the second leg, which is set for April 13.