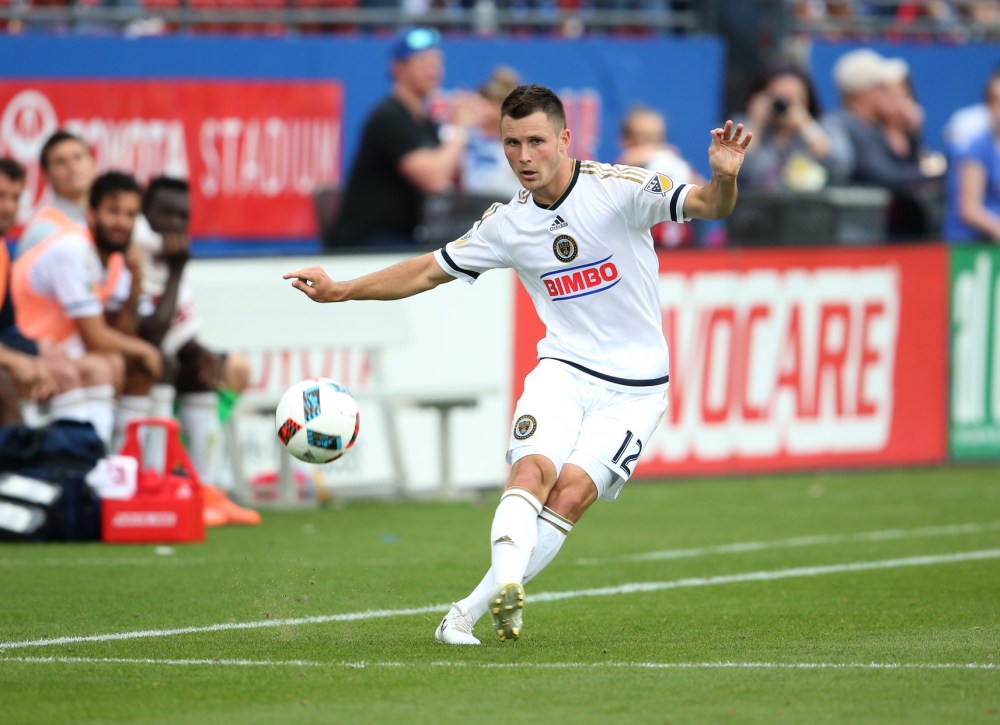 As a former centerback, Philadelphia Union manager Jim Curtin is able to give his young defenders plenty of tips about how to approach certain situations.
However, even the best advice the Union boss can hand out won't be enough to fully prepare the young back line for their second big test in a row against one of the best attackers in MLS.
One week after facing Kaka and Orlando City SC at home, the Union will line up against U.S. Men's National Team star Clint Dempsey and the Seattle Sounder on their home turf at CenturyLink Field.
"You can give advice, but until you're out there playing against those guys, you don't what you're in for," Curtin said during his weekly press conference on Wednesday. "You can do your job for 89 minutes, but if you fall asleep for one, you can get punished and that's gotta be their mindset to get the full 90 minutes right." 
Curtin noted the back-to-back matchups versus world-class forwards is one of the best things for the development of the back four that features Keegan Rosenberry, Ken Tribbett and Richie Marquez.
"It's a good way to grow up quickly," Curtin said. "There's no better way than getting thrown into the fire. That's when you learn the best as a young defender. To play against the best, to deal with guys that are special." 
The Union manager noted how talented Dempsey is around the box and the little things he'll do to get the upper hand.
"Clint has a way of drawing fouls and being really smart around the box," Curtin said. "Anything that bounces around in the box, he tends to get on the end of. You have to really focused and dialed in." 
The experience gained from defending Kaka in Week 6 should help the Union adjust to the speed of the game with Dempsey charging at them for 90 minutes.
Although the Brazilian legend was able to break free on a few occasions and combine well with Adrian Winter, the Union limited his chances when it mattered in the second half. If the defenders in the starting lineup can do the same against Dempsey, the Union could turn some heads and earn a result in Seattle.
Here are some more Union notes:
Carroll set to earn 350th MLS appearance
If midfielder Brian Carroll finds his way into the starting lineup for Saturday's road match, he will make his 350th career appearance in MLS. Curtin had high praise for the veteran midfielder.
"He's been through so many battles," Curtin said. "He knows every team. He knows every player in the league. He's a student of the game. He's a winner. You can't speak highly enough about Brian Carroll and what he means to our organization and what he's meant to the league." 
Carroll will be one of a few midfielders fighting for a starting spot on Saturday. Warren Creavalle is back from a red card suspension and Vincent Nogueira has recovered from an early season knock.
"I like consistency in a lineup," Curtin said. "I think it's important, but if you've learned something in your first year, it's to use all 28 guys is critical. To have that rotation is important. It might not seem like it now, but when you get into August and September, the minutes start to wear." 
Curtin defends free-kick setup after PRO statement
The Union manager also chimed in on Wednesday's ruling from the Professional Referee Organization (PRO), which said Tranquillo Barnetta's game-winner against Orlando City SC shouldn't have counted due to offsides.
"First and foremost, PRO coming out with a statement on it, that's not a Philadelphia Union issue, that's a PRO issue," Curtin said. "We will (try the free-kick routine again) for sure because it works and it's a distraction.
"It's not breaking the rules. It's within the rules if we execute it the right way. There's a lot of variation we can do with it now." 
PRO came out with a statement regarding the game-winning free kick, saying the Union players obstructed Orlando City goalkeeper Joe Bendik's view from an offside position.
Curtin doesn't underestimate Sounders
The Sounders come into the Week 7 clash at the bottom of the Western Conference standings with four points, but Curtin told reporters not to read too much into the early struggles of Sigi Schmid's side.
"I've warned my guys: they have winners on their team," Curtin said. "It's going to be a very difficult task. I wouldn't read too much into the early standings and power rankings."