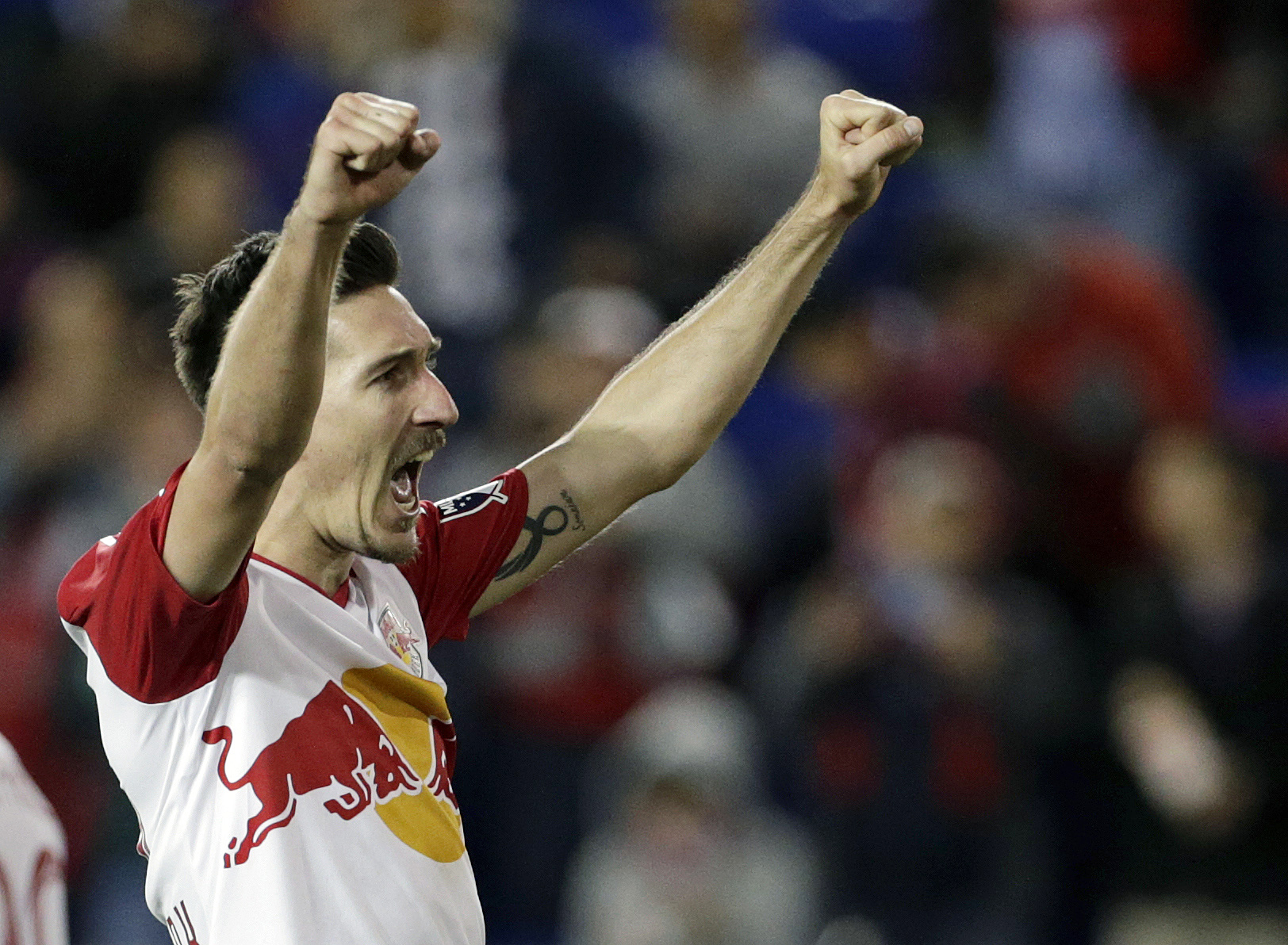 HARRISON, N.J. — It may have looked like something drawn up in FIFA 16, but the neat set piece that the New York Red Bulls scored on for the decisive goal against FC Dallas was equal parts practice and freestyle.
The Red Bulls picked up a second straight victory by overwhelming Western Conference leader FC Dallas, 4-0, at Red Bull Arena on Friday night. Jesse Marsch's side was the superior team from the onset, but it was not until the Red Bulls executed a wonderful free kick that they pulled out in front and never looked back.
In the 37th minute of the rainy and cold match, Mike Grella and Bradley Wright-Phillips both pretended to take a free kick before Sacha Kljestan clipped the ball to the back post. Sal Zizzo raced in behind FC Dallas' unsuspecting defense to nod the floated pass across goal, and Lloyd Sam took care of the rest with a simple, point-blank finish.
The play was a thing of beauty, and also the product of some preparation and on-the-fly decision-making.
"Everything we try to do here is a representation of all of us," said Marsch. "We as a staff like to do some special plays on occasion, but then it's up to the players on the field (and) Sacha, to sort of quarterback what we're going to do. The thing that's great to see is they love the special plays, too.
"The play that comes to Sal, Sal could decide to shoot it, because he was in a good spot, instead of pass it. But they stick to the plan of what the set piece is, then they try to execute it. They don't all come off, but when they do, they look pretty fantastic."
If the play looked familiar, it is because the Red Bulls also successfully pulled off a variation of it last year against Orlando City SC. That time, it was Dax McCarty who finished off the sequence with a diving header at the back post.
In the year and some change under Marsch, the Red Bulls have become the league's trickiest team on set pieces. They regularly try to pull off prepared plays on dead-ball situations in the final third, and they get the payoff like they did on Friday on occasion.
"Credit to the staff. We're always coming up with something," said Sam. "We're always trying different ones. That one actually worked last season, too, so credit to the staff. They come up with it, and then we practice it, and then when it comes off and gives us a one-goal lead, you see how important set pieces are."
Sam's goal helped pave the way for the Red Bulls' victory, but the defense also did its part in shutting down Fabian Castillo, Mauro Diaz and the rest of FC Dallas' usually-dynamic attack. Using Chris Duvall as a centerback in place of Karl Ouimette, the Red Bulls managed to piece together their most impressive defensive display of the season en route to recording their first shutout in nine games.
Recording the shutout was sought after, too.
"We wanted to now not allow a goal," said Marsch. "There were some moments late in the game where (FC Dallas) come and almost put up a play. A bunch of guys diving around, flying around the box, sprinting back to try to recover, to do everything they could to not give up goals.
"That's what we've said. We've said, 'listen, sometimes it's tactical and sometimes it's making a play, but often times it's just how bad do you not want to give up a goal. Are you willing to throw your body in harm's way? Are you willing to make a tackle? Are you going to sprint 80 yards to try to prevent someone from getting an open shot?' We saw that tonight. That's something that we needed to see, and it was really good."
With Friday's triumph, the Red Bulls won back-to-back games and improved to 3-6 on the season. There is still a lot of work to be done in order for them to get out of the big hole that they dug themselves in with their poor start to the season, but more well-executed set pieces and defensive performances like the ones that were on display on Friday will only help the club's cause.
"Right now, I think the level of concentration and commitment and the mentality right now is at a really good place," said Marsch. "We've got to just keep pushing here as we go forward."