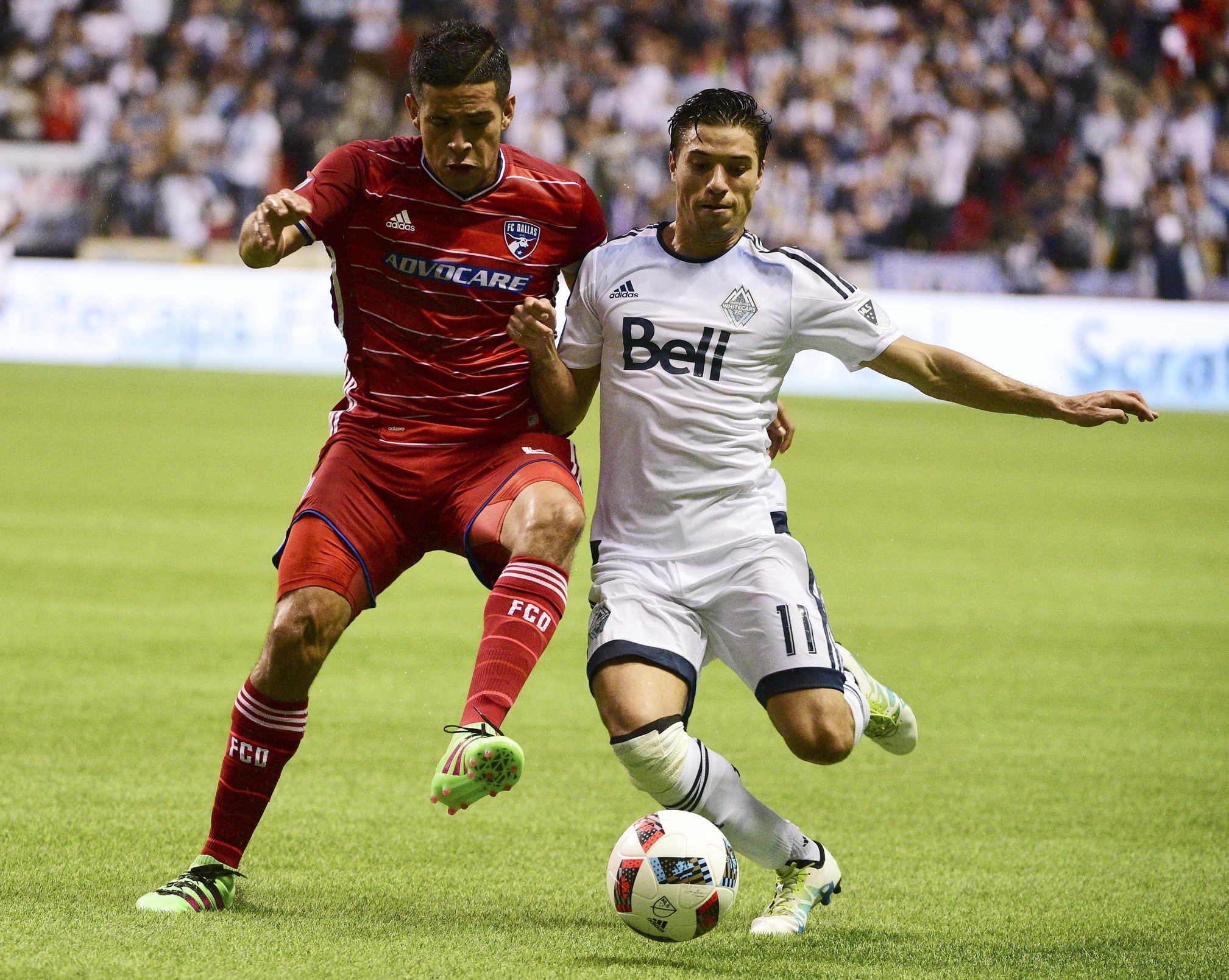 The Vancouver Whitecaps have struggled on the attacking end in recent weeks, but Saturday's performance against FC Dallas saw the end of the team's goalscoring woes.
Entering Saturday's contest, the Whitecaps had gone 337 minutes without a goal, but a trio of finishes saw the Whitecaps topple conference leaders FC Dallas, 3-0, at BC Place on Saturday.
The drought was ended in the 35th minute, although it wasn't a Whitecaps player that provided that game's opening finish.
Darting down the left side of the field, Keukta Manneh whipped a dangerous ball into the six-yard box. The cross smashed right into an onrushing Maynor Figueroa, who caromed the ball backwards and into his own net to end the Whitecaps' scoring woes in unlikely fashion.
The drought, in earnest, ended with an insurance goal from Jordan Harvey in the 63rd minute before Manneh added a tally of his own in the 77th to secure a breakout game from the Whitecaps attack.
While his teammates finally provided some sort of spark on the attacking end, David Ousted kept FC Dallas at bay in goal. The Whitecaps goalkeeper made four saves on the evening, with the most miraculous coming on a 50th minute stop of Michael Barrios from close range.
Following the team's third victory of the season, the Whitecaps prepare for a midweek clash with Sporting KC while FC Dallas visits the New York Red Bulls on Friday night.
Man of the Match
With his team in dire need of an attacking spark, Kekuta Manneh was spectacular throughout Saturday's clash. The Whitecaps speedster created the opening goal before netting the game-sealing third in a dominant effort against a tough FC Dallas team.
Moment of the Match
While the team's return to goalscoring form made a major difference, David Ousted's spectacular stop of Michael Barrios set the tone. Pushing away the shot from just feet away, Ousted maintained the Whitecaps advantage while showing FC Dallas he would be as formidable as ever in goal.
Match to Forget
Fabian Castillo tends to be a true catalyst for FC Dallas, but the Colombian star just wasn't quite there on Saturday night. Castillo missed several key chances and struggled to hit the target in what certainly wasn't his best performance.