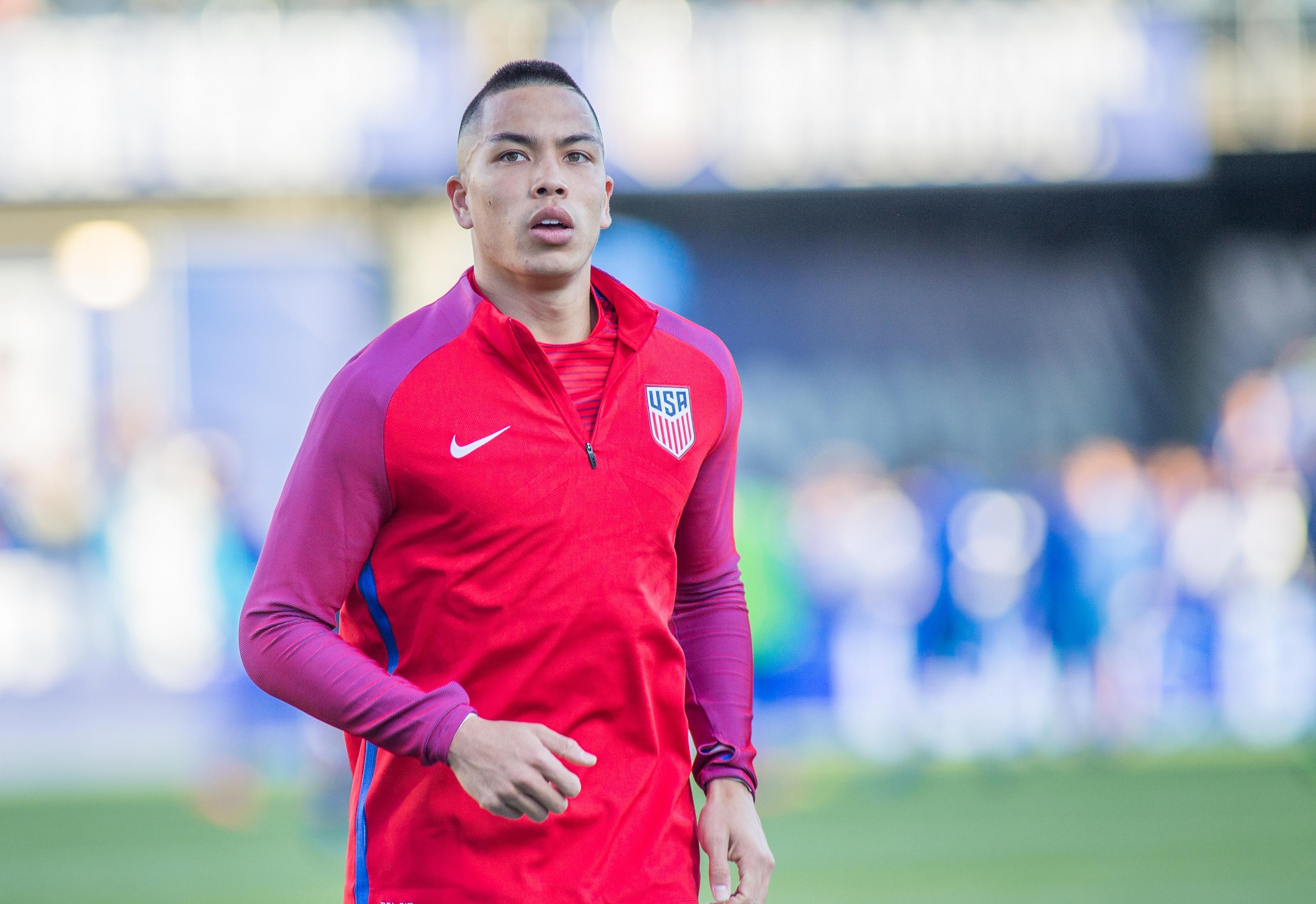 The start of Copa America is just two weeks away, and, while a major contingent won't be in attendance, Sunday's match with Puerto Rico provides some interesting storylines for the U.S. Men's National Team.
Lacking MLS players, the USMNT travels to Baymon for a match with Puerto Rico for the first match of a pre-Copa America friendly slate. Still, the roster features a unique blend of expected starters and new faces hungry for a chance to shine in a match against what should be an overmatched Puerto Rico side.
It all starts with several players expected to lead the way at this summer's Copa America, including Bobby Wood. With Jozy Altidore set to miss out, Wood is now given the chance to ascend to the role of starting striker following a star season in the Bundesliga.
Meanwhile, several youngsters will be looking to make memorable first impressions, while Emerson Hyndman will likely be given the chance to showcase his abilities before a move on the club level. Add in the continuing goalkeeping competition, and Klinsmann faces plenty of personnel decisions for Sunday's match.
Here's a look at some of the biggest USMNT storylines to watch for in Sunday's friendly:
Defense has chance to develop
With a majority of the team's defensive core already in camp, Klinsmann could use Sunday's friendly to get a look at a potential defensive unit that could be called upon against Colombia.
DeAndre Yedlin, John Brooks and Geoff Cameron are all major contenders to start when the U.S. kicks off the Copa America on June 3. Tim Ream and Eric Lichaj remain in contention at left back alongside players like Timmy Chandler and Edgar Castillo, the latter two of which have yet to join camp.
With so much of his starting core together, Sunday's friendly could present a perfect chance to develop a bit of chemistry and confidence to boot. Facing a Puerto Rico team that isn't expected to provide many challenges, a unit involving Yedlin, Brooks and Cameron could certainly be given some limited game time together ahead of more challenging friendlies.
The major question is Cameron, who enters with a slight injury. The Stoke City defender could be replaced by Michael Orozco or Matt Miazga, neither of which is a shoe-in for a Copa America spot with MLS reinforcements waiting to join camp.
As seen in last summer's Gold Cup, heading into a tournament with a defense that isn't in tune amounts to tournament suicide, and Sunday's friendly could give Klinsmann an early chance to belt a bit of rapport between his star defenders ahead of the more difficult challenges that lie ahead.
New faces could make major statements

Given the limitations of his roster, Klinsmann has brought in several new faces. While it is too late for the crop of newcomers to make an impression in time for the Copa America, there is plenty at stake for a group of players looking to forge a reputation on the senior level.
Paul Arriola, Amando Moreno, Fabrice Picault, Caleb Stanko, and Zach Steffen are among the potential debutants as each joins the USMNT for their first camp. Heading into Sunday's friendly, a Steffen appearance is the least likely, but the chance to spend a week under the tutelage of Tim Howard and Brad Guzan should prove vital for the young Freiburg keeper.
Like Steffen, Stanko, Arriola and Moreno have each proven themselves with U.S. Soccer's various youth teams, but Picault enters camp as a bit of a mystery. The St. Pauli forward was spectacular through the final weeks of the 2. Bundesliga season, drawing the praise of Klinsmann prior to his call-up to his first international camp.
Given the amount of focus on his recent form and the unknown quantity of his his game will translate to the international level, Picault is virtually a shoe-in to earn time on Sunday. Like the group of newcomers around him, Sunday's game provides what could be a major chance to break into the USMNT picture ahead of this Fall's World Cup qualifiers.
Wood looks to assume role of lead striker
Jozy Altidore isn't walking through the door anytime soon, making Sunday's friendly the start of Bobby Wood's ascension to the role of "the man".
With Altidore set to miss out on the Copa America, pressure now falls on the shoulders of Wood to assert himself as the USMNT's go-to option. Following a record-breaking season in Germany that yielded a move to Hamburg, Wood is no stranger to pressure, but now must produce on the international stage in a way befitting of a star striker.
Wood's international resume already has some impressive moments. Goals against Germany and the Netherlands stand out as pivotal ones for the young striker, but Wood has still yet to feature in a prominent international tournament. A Copa America is a whole new animal, and Wood will likely have to show well if the U.S. are to thrive in a difficult competition.
Still, Wood is not the only strike option. Jordan Morris remains a potential starter, while Klinsmann could certainly opt to play Clint Dempsey in a more forward role. However, Wood can take yet another leap forward starting on Sunday while furthering his case as Klinsmann's starting forward against Colombia in Game 1.
Hyndman has chance to impress ahead of summer club move
Emerson Hyndman is almost certainly set to leave Fulham in search of a new club. The process of finding that club, in earnest, begins on Sunday.
The 20-year-old forward has reportedly drawn heavy interest throughout Europe as it appears he is set to depart the Championship club. Although he will not feature in this summer's Copa America, Hyndman will all but certainly be given a chance to shine on Sunday in what could prove a statement performance for clubs looking to sign the young midfielder.
Fully aware of the situation ahead for Hyndman, Klinsmann will almost certainly give the midfielder every chance to show off for potential new clubs. It remains in Hyndman's, and Klinsmann's, best interest for the midfielder to make a significant leap into a starting lineup if he is to continue his development as one of the USMNT's premier midfield prospects.
Hyndman's next step remains uncertain, but a major leap forward in his career could begin with a tryout of sorts on Sunday against Puerto Rico.
GOALKEEPING SITUATION IN NEED OF CLEARING UP BEFORE COLOMBIA
Klinsmann has still yet to name a starting goalkeeper for the upcoming tournament, making Sunday's selection decision all the more interesting heading into the true start of Copa America camp.
Brad Guzan and Tim Howard both remain options to start on June 3, while Klinsmann said earlier this week that he expects to speak to the duo in the very near future. With a starter yet to be announced, it is unclear how Klinsmann will approach Sunday's game with regards to who leads from in net.
Klinsmann's choice of starter is any interesting one, given how much it will be dissected if it isn't preceded by or quickly followed by the naming of a true No. 1. With the potential centerback pairing an option for Sunday's game, the Puerto Rico match could be a chance for the eventual No. 1 to develop chemistry with those that will be playing in front of him throughout the month of June.
This much is certain: the goalkeeper debate can't drag on for much longer. With a chance to put all of the doubt and debate to the side, Sunday's match could see Klinsmann reach a decision on who will lead the team sheet heading into the Copa America.