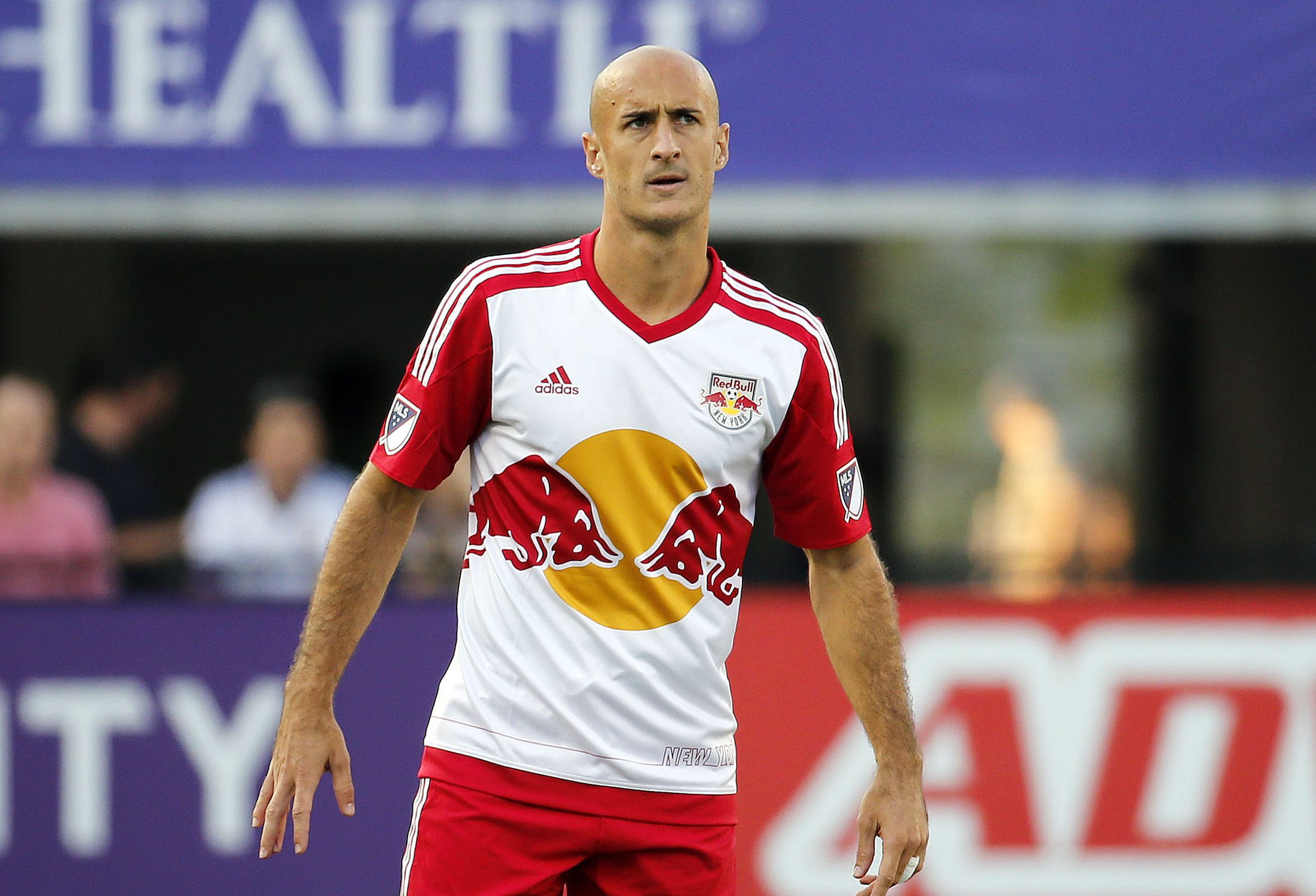 HARRISON, N.J. — Some teams might prefer to wait to throw an in-season acquisition into the fire in order to allow the player to adjust to to his new teammates, tactics, and overall surroundings.
The New York Red Bulls chose to take a more aggressive approach with Aurelien Collin. Partly because of their need for a good defensive showing and partly because of how well his qualities fit what the club is about.
Collin made his Red Bulls debut exactly one week after being traded from Orlando City by starting and going the distance in last Friday's 1-1 road draw against, fittingly enough, his old team. The 30-year-old centerback returned to Orlando to face the same club that had deemed him surplus to requirements just a season after making a deal for him, and there were plenty of emotions for Collin on the night.
There was also a sense of responsibility, of needing to be concentrated, of getting off on the right foot with a new team that also has big expectations for him.
"It was a long time that I was on the bench and I only played two games in the first nine," Collin told SBI. "I had to be very focused, especially emotionally. I love the guys, I love Orlando. It was home for me and all the love that I received, so I had to make sure to be very, very focused. I'm very happy we did a great job. We could've won that game.
"I had to move very quickly mentally to be prepared and to really move from Orlando to New York."
Moving on from a club and city that he held dear required a bit of a mental adjustment – "When I look at the picture and I was in red – I look good – but it was weird." – but not much of one on the field.
Collin was brought over by the Red Bulls because of his comfort with a high-press system, the result of his four years with Sporting Kansas City, and he quickly settled into his new surroundings because of that. In fact, it only took him a mere days of practice to make a real impression despite going through a crash course of how the Red Bulls do things.
"Halfway through last week, it felt like he had been here a long time," said Red Bulls head coach Jesse Marsch. "He's an extrovert, he's got energy, trains hard, so in all ways that part I think fits with who we are."
Those qualities are also why Collin was so quickly inserted into the starting lineup. That, his familiarity with Orlando City, and the ongoing defensive issues that have played a key part in the Red Bulls' disappointing 3-6-1 start to the season.
"We needed a big performance at centerback," said Marsch. "We knew he knew the environment and would be up for the challenge against his old team, but in general we brought him in here to be an impact player. This is a short-term and a long-term solution."
Collin sees it that way, too. At 30-years old, the Frenchman believes he is still in the prime of his career, that perfect moment when athleticism and experience levels meet eye-to-eye. He plans to use his strength, toughness, and savvy to help the Red Bulls become more solid defensively, and to build on the successes that they have had in recent seasons.
"You see two Supporters' Shield (banners at Red Bull Arena) and the two things we are missing are the Open Cup and the MLS Cup," said Collin. "I will do all my best to help as much as I can, the club, to win one or both of the cups."
Accomplishing that will be no easy feat, but the Red Bulls are starting to look more like the team that took the league by storm and won the Supporters' Shield last season. They are currently on a three-game unbeaten run, and picking up three more points on Friday on the road against D.C. United would further make the statement that the Red Bulls are back.
Collin wants to help deliver that message, especially now that he is deemed a vital member of a team again.
"Everything came slowly but perfectly" said Collin. "This opportunity to be a part right now of the Red Bulls, it's a dream for me. In Europe, when you talk about the MLS, the two big clubs are the New York Red Bulls and LA Galaxy.
"Right now I'm part of one of the two biggest clubs in the league, so I'm very, very happy and proud to be a part of it."