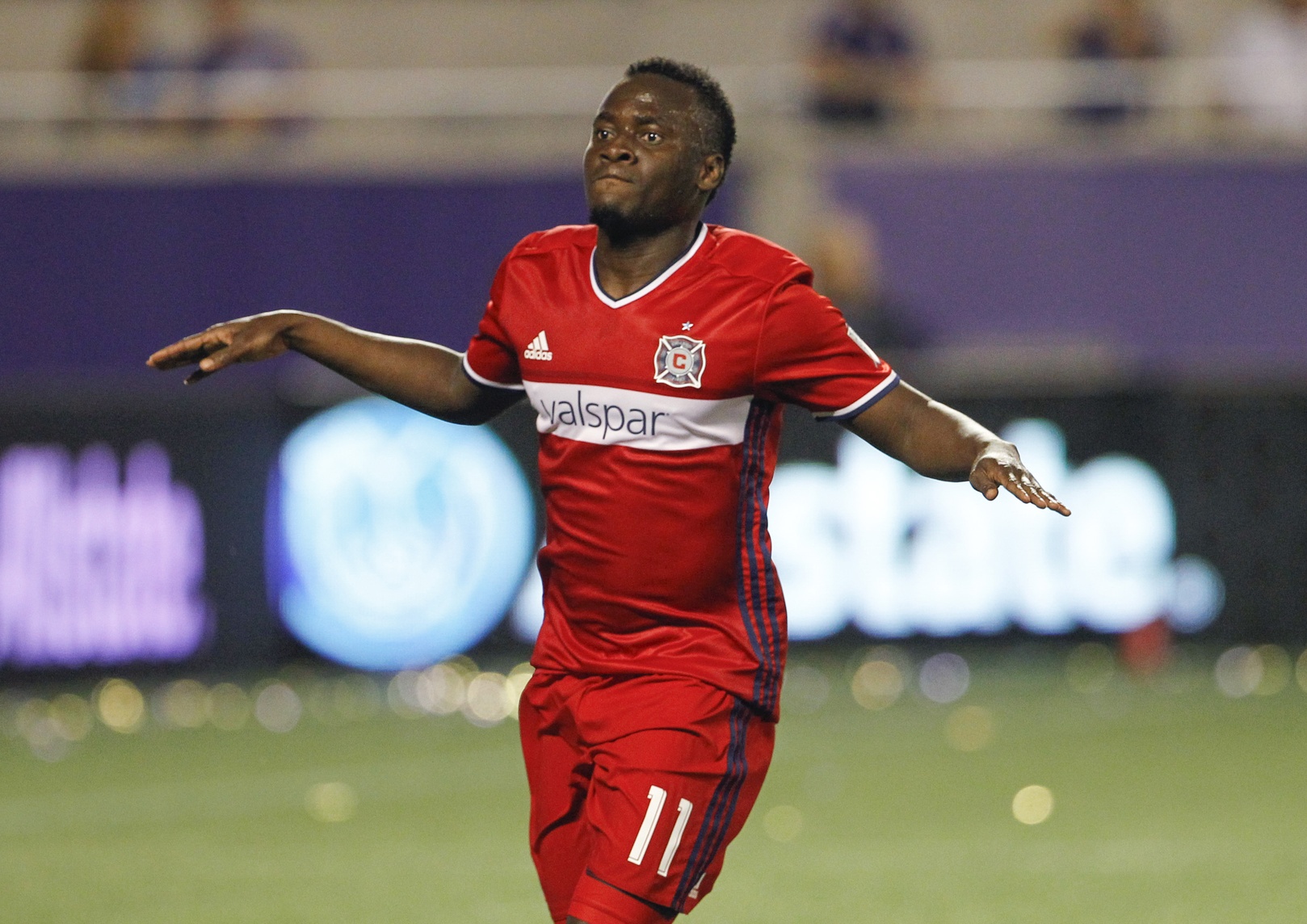 Chicago Fire forward David Accam was dressed and on the bench on Saturday for the first time since suffering the knee injury which has kept him out of the last five matches. It sounded afterward, however, like there was very little chance he would have been used.
"Yeah I mean I was ready, but of course I haven't played in like six or seven weeks, so we needed to be smart," Accam told SBI. "The coaches were smart. They don't want me to just go out and play. They need me to work hard in training, get my fitness up before I go on the pitch. So even though I was ready to play today, we were smart."
Accam did say that he's nearing a return after going more than seven weeks since he last appeared (March 11 vs. Orlando City SC).
"I'm closer to coming back full-time," Accam told SBI. "For me, even though it's disappointing, I got injured. The progress so far is really good, and I'm happy with the way things are going."
Accam registered two goals and an assist in the first two games of the season before suffering the injury, a left knee sprain which the club initially thought would only keep Accam out for one match, but has forced the 25-year-old Designated Player to miss a call to the Ghanaian national team as well as the past five MLS matches.
"It's tough, but it's a serious knee injury I had and for me, I was told eight weeks," Accam said. "Even though I wanted to come (back) earlier, I had to respect my body, know how I'm feeling and respect the doctors, so just need to be patient and let it heal naturally."
The Fire have the upcoming weekend off before playing four road games in 11 days (two of which are on turf) and Accam said he is aiming to make his return on that trip.
"That's the goal," Accam added. "I'll have a full week to work hard with the team, train harder and get fitness for the next game."
Fire set to add young defensive midfielder on loan
Hungarian club MTK Budapest announced on Monday that 22-year-old defensive midfielder Khaly Iyane Thiam is set to join the Fire on loan through the end of 2016 with an option to buy.
Thiam, a native of Senegal, began his professional career with another Hungarian club, Kaposvar, where he spent two seasons before moving to MTK. He has made 72 appearances in the Hungarian first division, scoring seven goals.
During the 2015-16 season, Thiam made 31 league appearances for MTK (27 as a starter), scoring twice, adding two assists and logging 2,392 minutes as the club finished fourth. He also played all 180 minutes of the club's two-legged UEFA Europa League qualifier.
The Fire, with a first-year head coach and general manager, have been open all season about wanting to add players, and injuries have only made the situation more pressing. Accam has missed five matches due to a knee sprain, and then preseason signing John Goossens went down with a LCL sprain last week and is expected to miss one-to-four weeks.
PAUNOVIC BELIEVES CAMPBELL IS GOOD ENOUGH FOR USMNT
Rookie center back Jonathan Campbell spent the first two months of his professional career establishing himself as a key piece in the Fire's defense, starting every game since coming on as a substitute in the season opener.
On Saturday, Campbell took a turn as the offensive star, scoring the opening goal with a neat flick on a bouncing free kick at the edge of the six-yard box.
Asked post-game about the rookie's performance thus far, Fire head coach Veljko Paunovic praised him and reasserted his belief that Campbell could be an international-caliber central defender.
"I'm very happy, he knows that, we spoke yesterday about it," Paunovic said. "What I advised him was to keep his feet on the ground, just keep on working hard, and I'm very transparent. I think we have a player for the U.S. (Men's) National Team here, but he has to work hard, he has to understand that every game is a challenge for him. He has to improve, and we will give him all the support that he needs."
JOHNSON BACK IN FULL TRAINING 
One name missing again from the Fire team sheet against D.C. United was goalkeeper Sean Johnson. After nursing a wrist injury early in the season, Johnson returned to full goalkeeping activities over the past two weeks. 
"It feels good," Johnson told SBI on Thursday after training. "I haven't really been apart from the group, so continued to do as much as I could through the injury, but it feels good to be back full swing and really just getting the repetitions."
Johnson, who has made 154 starts since being drafted in 2010, has not appeared yet this season, sitting in favor of newly signed Matt Lampson who has started all seven of the Fire's matches. Johnson was on the bench for the first three matches but has been dropped from the 18 behind Patrick McLain for the last four matches. 
"I think just continue to do what I've done since I've come to this club in 2010, and that's work hard every single day," Johnson said. "I feel like I've done a good job of holding myself to a certain standard. Pushing myself to be the best I can be every day is the only thing I'm really concerned with at this point. I'm not really concerned with anybody but myself. 
"So if I can push myself to continue doing what I have done, coming off of the national team in January into preseason I felt good, felt sharp and obviously now, it's a coach's decision on who he plays, so that's up to him. But what I will continue to do is what I've been doing since the day I stepped foot in this club is work hard."
Paunovic, when asked on Thursday, said he didn't want to answer specifically about the standing of the goalkeeper competition, a topic repeatedly brought up by reporters over the opening months of the season.
"Having Sean back is very important for our team, competitiveness increases," Paunovic told SBI. "His personality is very important, and it was even when he was injured, but it's different approach when you know you can be there and you're in competition for your spot, so that's always very, very important. He's an important guy for us and that's it."
ALVAREZ UP TOP
With the Fire's thin numbers in attack, midfielder Arturo Alvarez was listed on Saturday as the second forward beside Gilberto, his first start up top this season. Alvarez played mostly behind Gilberto or drifted out wide, but did well to provided the free kick service on the Fire's goal and nearly had a game-winning assist with a ball from the wing in the final seconds of stoppage time.
"I've played there before. I've played there, either on the right or as a second forward behind the main striker," Alvarez said after the game. "I just try to get involved, try to get on the ball as much as possible, try to connect. I think today we had some good passes and whatnot, but unfortunately the goal wasn't there."