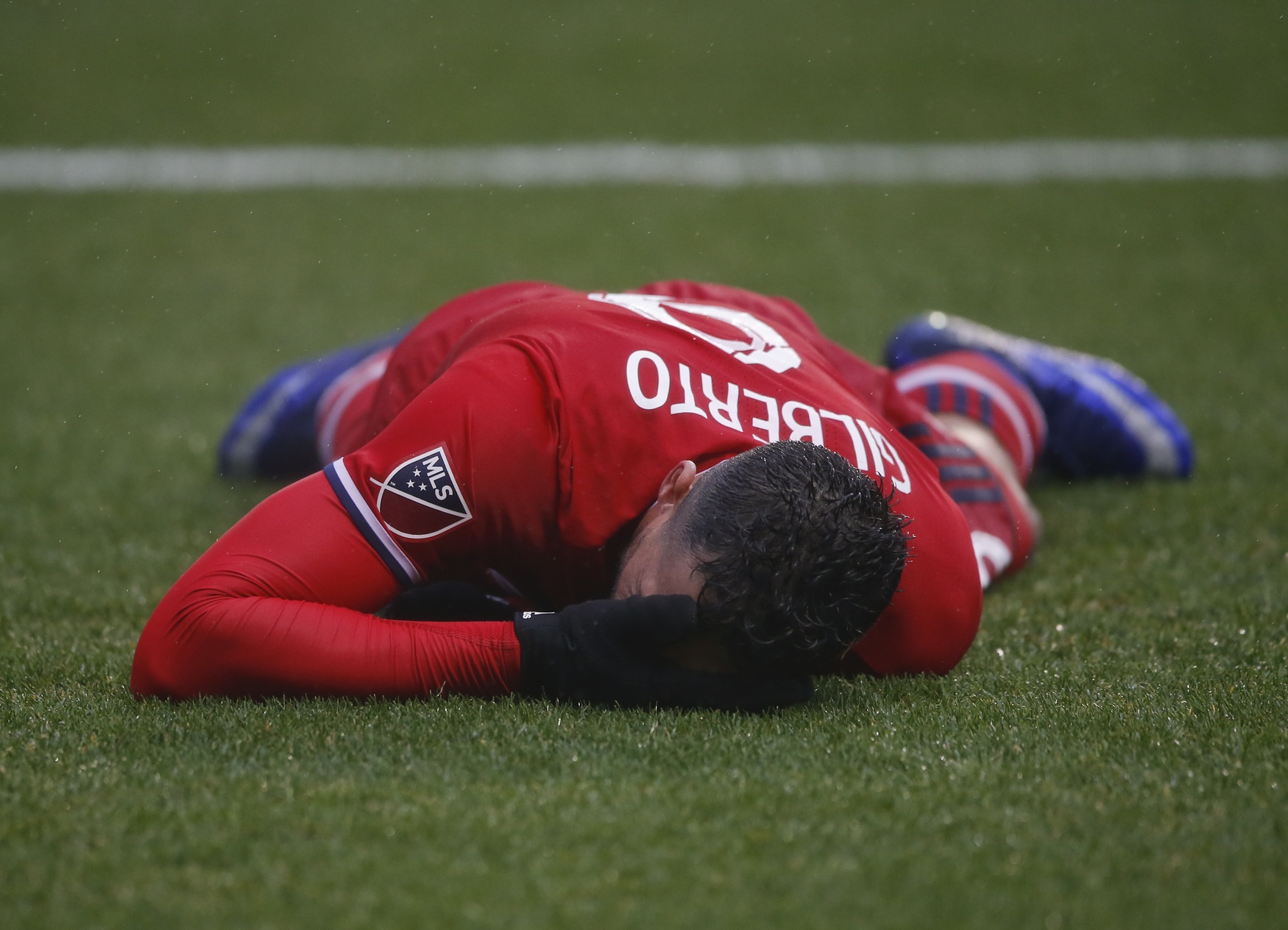 BRIDGEVIEW, Ill. – The word of the day for the Chicago Fire, written on the locker-room white board in some of the various languages – English, Serbian, Portuguese, German – spoken by members of the squad, was "victory."
On Saturday, four weeks removed from their only win of the season, the Fire had their sights set on victory, but for the second consecutive match they let it slip away.
For the second game in a row, the Fire had a lead at Toyota Park but left without all three points. Two weeks ago it was a 2-1 stoppage-time loss to the Montreal Impact, and on Saturday it was a 1-1 draw to D.C. United at the hands of former Fire midfielder Patrick Nyarko, who scored on a 64th-minute header.
"It's a bit of a disappointment," Fire forward Arturo Alvarez said. "I think we had some chances that maybe we could have finished off the game and we kind of let D.C. stay in it. And you know, from the last game against Montreal at home, the last minute goal they scored on, and now this tie at home, we'll take the point but at the same time we're at home, we want to start winning games at home and we need to."
On a cold, drizzling day, the Fire did well to control 53 percent of the possession in the first half and even if there weren't many chances before it, they took the lead in the 41st minute on rookie center back Jonathan Campbell's first professional goal. The hosts, however, didn't see the game out, letting D.C. United dominate the second half to the tune of 59 percent possession, seven shots and a 258-170 passing advantage with 75 percent accuracy.
"We wanted the game to finish as soon as possible," Chicago Fire head coach Veljko Paunovic said in his postgame press conference. "We lost the patience, we lost the control of the game. Even though in some points of the second half it was better, but still, it's normal. Of course I'd love to see our team playing the best possible way and winnings games, but I'm very confident and very, very happy with our guys because they are doing the best they can do in order to get to that next level, which is improving in all the phases of the game, and most of all, winning games."
With the loss, the Fire (1-2-4) sit last in the Eastern Conference on seven points, second-worst in the league.
"I don't think we need to dwell on it too much, we know we're capable of winning games," Alvarez said. "We've just got to make sure that we keep focusing on that and they will come, they'll come."
One way they have not put games away is by scoring again once they go ahead. Chicago has only scored multiple goals in a game once: the season-opening 4-3 loss to New York City FC. 
"It's been difficult.  I think we've got to make sure we close games. That comes with us scoring second goal, because I think being up just one goal gives the other team confidence to get back into the game,"said Alvarez, who assisted on the opening goal. "So I think we need to make sure that the opportunities that we have, we've got to finish them."
It was also a second consecutive late lapse for a defense that had previously set a club record for consecutive shutout minutes and posted three consecutive shutouts.
"It's very frustrating," Campbell said. "We take a lot of pride on the back line shutting it out, getting those shutouts and really just shutting down opponents. I really thought that we actually did a good job of that, you look back at their shots I think we did a great job, we just had one where we fell asleep on the corner kick. It's frustrating, it's something we can improve upon."
Both Campbell and Alvarez said they hope the late-game letdowns are a trend the Fire can leave behind once they get more games under their belt.
"We're still a young team. Young team, what I mean by that is a young team just as a group we still have to learn each other's' tendencies and figure each other out," Campbell said. "There's a lot of progress that we've been making but there's still more where we can close out games, keep the ball better, be able to finish, get that second goal and put a team away. I think we just have to learn to deal with those situations better and not sit back a little but too much and let teams come at us."
That it had been a point of emphasis over the bye week and happened again, however, made it all the more frustrating.
"That's where it's just, we're just learning," Campbell said, "and I think it's going to take some time but hopefully it's sooner than later."