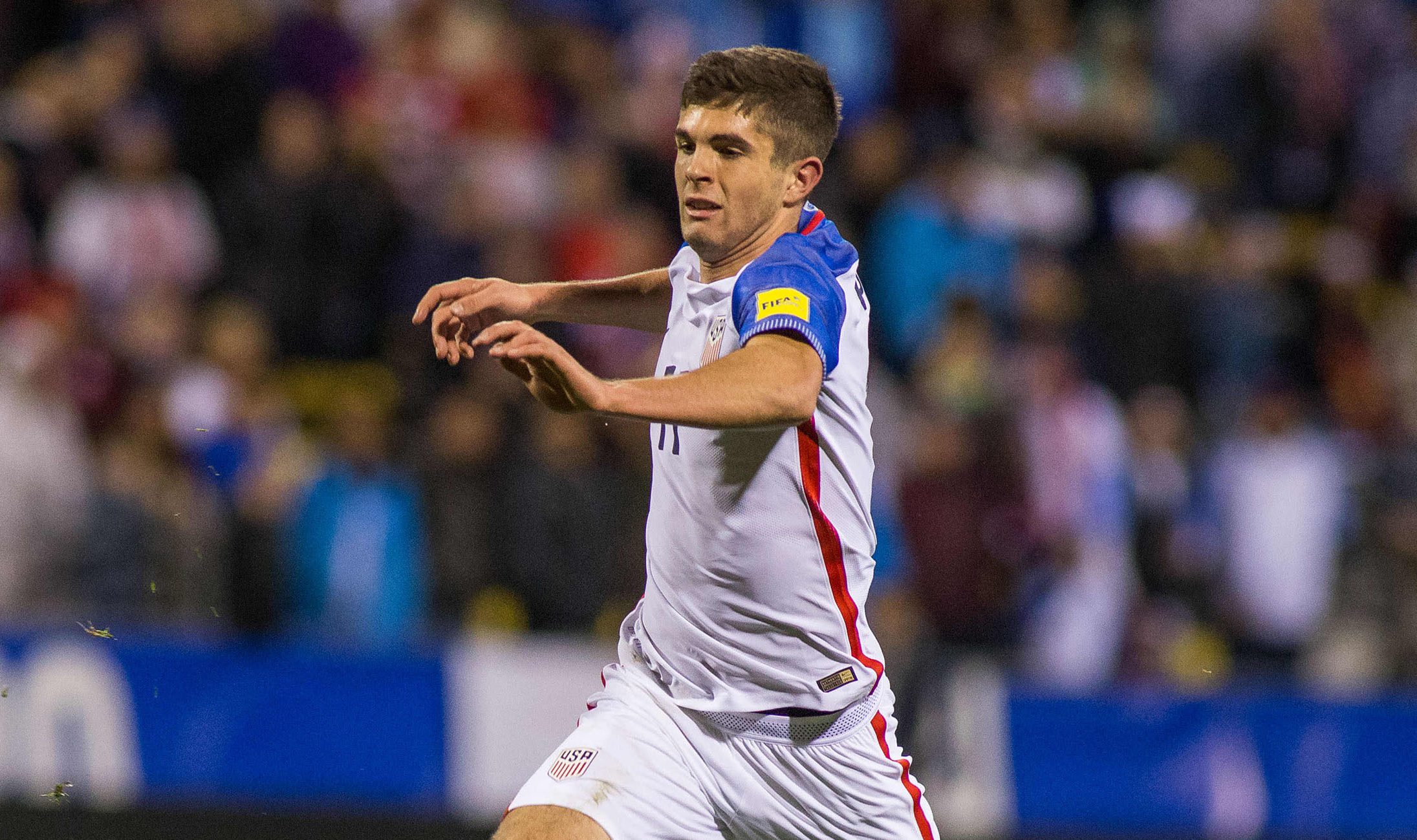 The Copa America is just around the corner, and the U.S. Men's National Team's biggest pre-tournament test comes with Wednesday night's clash against one of South America's elite.
In the second of a three-game friendly set, the USMNT takes on Ecuador on Wednesday night at Toyota Stadium. The match will all but certainly be the most challenging of the USMNT's slate of games leading up to this summer's tournament, as Ecuador enters sitting second in South America's World Cup qualifying.
Facing a team like Ecuador will give Jurgen Klinsmann and the USMNT a legitimate preview of what this summer's tournament will be like. Ecuador is a team that has looked very strong against some of CONMEBOL's elite, and a strong performance against La Tricolor would raise spirits heading into the Copa America. A poor performance, though, would show Klinsmann that there is work to do before taking on one of the world's elite in Colombia next week.
The match provides an opportunity for players to once again prove their worth to their head coach, while also giving Klinsmann a chance to tinker against a team that very much fits the mold of a Copa America contender.
Here are five things to watch out for when the USMNT takes on Ecuador:
PULISIC WATCH CONTINUES
Following a stellar season with Borussia Dortmund, Christian Pulisic is on the Copa America roster. What his role will be remains to be seen, but Wednesday's match with Ecuador will likely provide a glimpse as to how Jurgen Klinsmann expects to use the 17-year-old star.
To date, Pulisic has made just one senior national team appearance for the U.S., making him a bit of an unknown quantity on the international level. That also makes him a bit of an unknown for the Copa America, as Pulisic can be anything from a starter to young role player simply along for the ride.
Wednesday's game could spell out how Klinsmann sees Pulisic. If the youngster is given heavy minutes, it would serve as an indication that Pulisic is seen as a legitimate contributor for the upcoming tournament. If Klinsmann gives him a mere cameo or opts not to use him at all, the playmaker is likely still seen as a young prospect that could use the experience of being on the roster for a high-level tournament. However, the fact that Pulisic joined the USMNT in favor of a crucial youth match with BVB likely means that the youngster will be used in some capacity on Wednesday night.
At the end of the day, Wednesday's game will not define Pulisic's tournament, but it may offer a look at how Klinsmann defines the role he will play going forward.
BIRNBAUM GIVEN CHANCE TO PROVE HIMSELF AGAIN IN ABSENCE OF CAMERON
Geoff Cameron will not be in the lineup against Ecuador, creating an opportunity for the other centerbacks on the roster.
While the Stoke City defender recovers from injury, centerback duties will likely fall to some combination of John Brooks, Matt Besler and Steve Birnbaum on Wednesday night. Michael Orozco remains in the mix, but a lack of depth out wide means that the Tijuana defender will likely be seen as a fullback option.
To date, Klinsmann has been hesitant to deploy the left-footed pairing of Besler and Brooks. Playing two lefties is far from unheard of, but the USMNT coach has long stated his preference for centerbacks with opposing strong foots. That likely throws Birnbaum into the lineup, giving the D.C. United star a chance to build on several strong appearances with the team in January and against Guatemala.
All things considered, Birnbaum is likely the fourth centerback on the depth chart heading into the tournament, but yet another positive effort against a high-caliber opponent like Ecuador would bode well for Birnbaum's future.
GOALKEEPER ROLES DEFINED, BUT DISCUSSION FAR FROM OVER
It is done. Brad Guzan is the USMNT starter. Tim Howard is the USMNT backup. However, the debate surrounding that decision is just beginning.
Now officially the team's No. 1, Guzan is likely to get heavy minutes in the final two friendlies leading up to the Copa America. Every chance for a goalkeeper to adjust to his defenders is a valuable one, especially against a team like Ecuador that is sure to push the USMNT to the limit.
For his part, Guzan must look strong in the next two games. Heading into camp, Klinsmann himself alluded to the fact that the goalkeeping position was close to a 50-50 decision. Announcing Guzan early was done to stay as far away from a goalkeeper controversy as possible, but with Howard sitting right behind him, any struggles will only serve as fire for a new debate.
Guzan must look strong over the next two games leading to the Copa America. Ecuador will certainly test Guzan and the USMNT backline, but they must look strong if they hope to avoid reigniting a goalkeeper debate in the build-up to the Copa America.
MIDFIELD UNIT STILL UP IN THE AIR
For years, the USMNT midfield has been a puzzle. Klinsmann has assembled his pieces, but how he chooses to arrange them is up to him.
Heading into the Copa America, Klinsmann has a variety of central midfield options at his disposal. Michael Bradley and Jermaine Jones remain two of the USMNT's best players, but the duo has never truly shined when played as a pairing. Veteran Kyle Beckerman and apparent understudy Perry Kitchen headline the list of No. 6s, while Alejandro Bedoya, Graham Zusi and Darlington Nagbe can all be shuffled either centrally or out wide.
Against teams with the quality of Ecuador or tournament-opening opponent Colombia, Beckerman may be necessary as a shield in front of the backline. Despite his age and all of his attacking limitations, the Real Salt Lake midfielder is still the USMNT's best No. 6 heading into this tournament. Beckerman's inclusion would require either Bradley, Jones or Clint Dempsey to be benched if Klinsmann is not willing to sacrifice the team's width. A narrow diamond remains an option, especially with Fabian Johnson penciled in at fullback.
Klinsmann won't have his full team at his disposal in Wednesday's match, as several defenders recover from injury. However, the match against Ecuador could be a true test of how a selected midfield unit fares against top-level opposition.
WOOD CONTINUING TO GROW AS TOP FORWARD
With Jozy Altidore gone, Bobby Wood is likely to lead the line in this summer's Copa America. The opening game of camp provided a positive start, but Wood faces a true test on Wednesday night.
In Sunday's match with Puerto Rico, Wood scored his fifth international goal. It was a calm finish for the Hamburg striker, who enters the Copa America as hot as any player on the U.S. roster.
Against Ecuador, Wood now faces a defense with the tools to stop him. Currently second in CONMEBOL qualifying, Ecuador has already earned shutouts against Argentina and Bolivia while limiting Uruguay and Venezuela to one goal apiece. Ecuador may not have the names of some of their South American counterparts, but La Tricolor has proven a menace to some of the region's top teams throughout an impressive qualifying run.
Throughout his USMNT tenure, Wood has shown his ability to step up and score in big games. Friendly goals against Germany and the Netherlands have proven as memorable as any since the 2014 World Cup and, while Wednesday's match is anything but a make or break, Wood will get another chance to show his ability to step up for the USMNT.