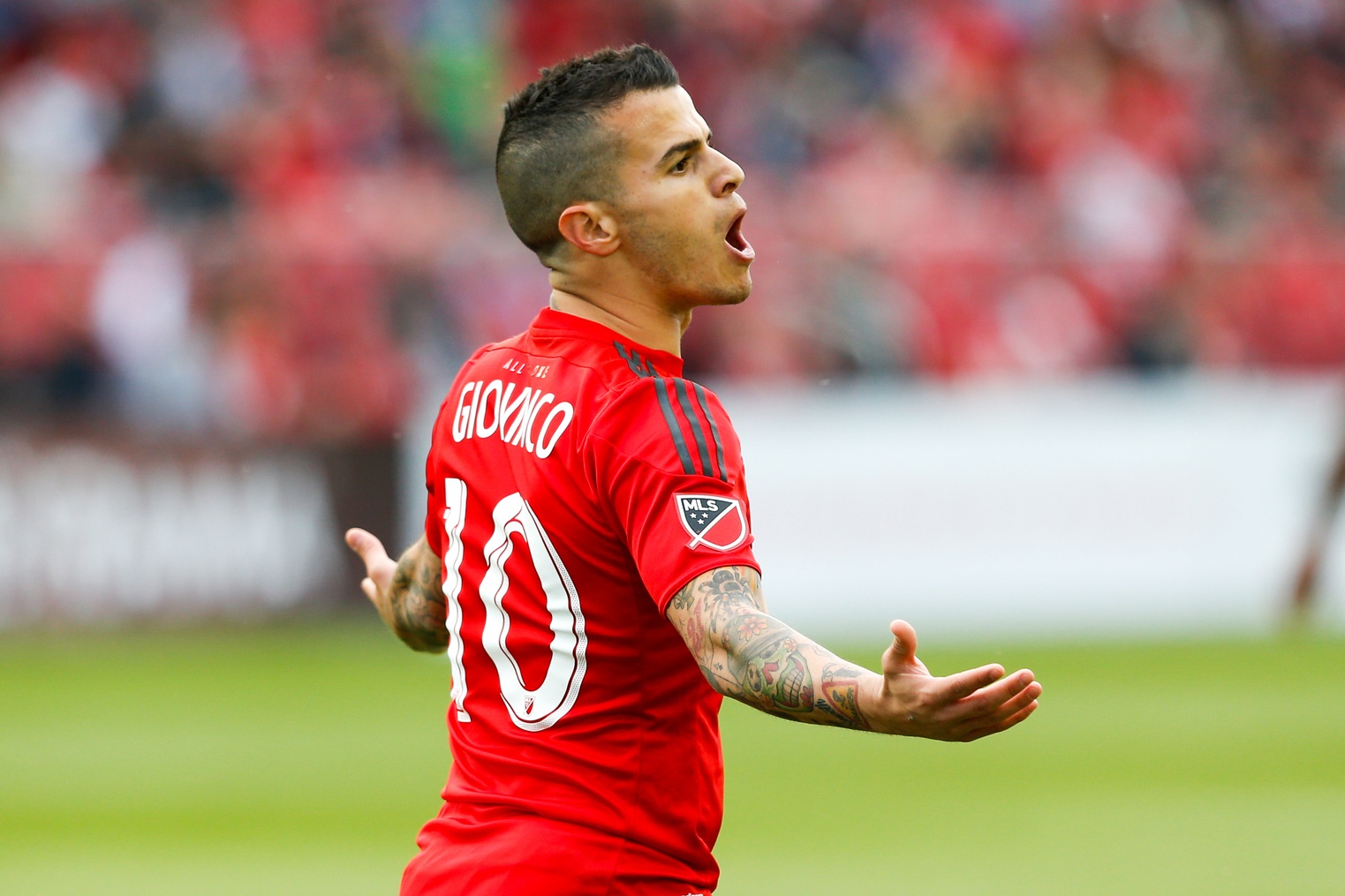 Since the day he signed with Toronto FC, Sebastian Giovinco has been touted as Major League Soccer's international posterboy. From moment one, the Italian proved that an in-his-prime star could consciously choose MLS. Giovinco's decision appeared to be a game-changing one, a move that seemed to be the first step in shifting the focus towards younger international talent.
Now, just over a year into Giovinco's on-the-field reign over MLS, it has become more apparent than ever that the league still has a way to go in the eyes of those across the Atlantic.
Despite providing 30 goals and 21 assists in his first 45 MLS contests, Giovinco's name was not among Italy's 30-man provisional roster ahead of Euro 2016. Like fellow MLS and Italy star Andrea Pirlo, Giovinco will now spend the summer at home instead of leading his nation into a premier tournament.
Pirlo's absence was always expected. With younger midfield options at his disposal, Antonio Conte has moved on from the New York City FC star and into the next generation. Giovinco's absence, however, is a message, one that states MLS domination isn't good enough to warrant selection to one of Europe's premier national teams.
Giovinco's MLS tenure has provided just that: domination. The forward is almost universally regarded as the league's premier attraction and, at just 29-years-old, Giovinco is currently at the peak of his powers. However, that domination wasn't enough to justify selection to a national team very much in transition at the forward position.
To Conte's credit, Giovinco has never truly been prolific with the national team. The diminutive forward has netted just one goal in 29 international appearances. However, when called to the team for October's qualifying run, Giovinco played a part in both goals as Italy topped Norway to qualify for Euro 2016 atop their group.
The future Chelsea manager knows Giovinco well dating back to the duo's time at Juventus. Yet, it wasn't enough to earn the forward a spot in favor of several other options around the same age.
Instead of Giovinco, Conte has opted for a series of forward options currently settled in Europe's top leagues. Despite not being a regular at Juventus, Simone Zaza made the cut with five goals in 19 games this season. Brazilian forward Eder made the roster despite scoring just one goal throughout an 11-game loan stint with Inter Milan. Southampton's Graziano Pelle and Borussia Dortmund's Ciro Immobile round out the forward options as two of just seven non-Serie A players named to Conte's preliminary roster.
Conte's selections send a message, one that resonates loud and clear: MLS domination is not worth as much as merely playing in Italy's top flight. Loads and loads of goals of assists only count in Europe, while North American successes remain too far off the map to register.
MLS is not at the level of Serie A, and it may never be. For years, the Italian program has shown a bias towards its own domestic league, once easily regarded as the best in the world. Still, with no forward options in form quite like Giovinco, Italy still sees MLS as too far outside of its comfort zone to justify a roster spot.
It's not all doom and gloom for MLS though. Laurent Ciman's selection to Belgium's squad was a positive sign, but any goodwill was immediately be demolished with Giovinco's omission. One of the league's biggest stars will not be playing international soccer this summer for reasons outside of his current control.
For MLS, there's still a ways to go. The league has improved by leaps and bounds in recent years, a fact exemplified by the signing of Giovinco in the first place. However, the next step will come in keeping players like Giovinco in the European eye.
MLS will hope to sign more Giovinco-like athletes in the coming years in an effort to further legitimize themselves in Europe and around the world. However, the message has now been sent that those signings may be coming at the expense of their national team career, as Monday's announcement shows that MLS still lags far behind in the minds of Europe's elite.