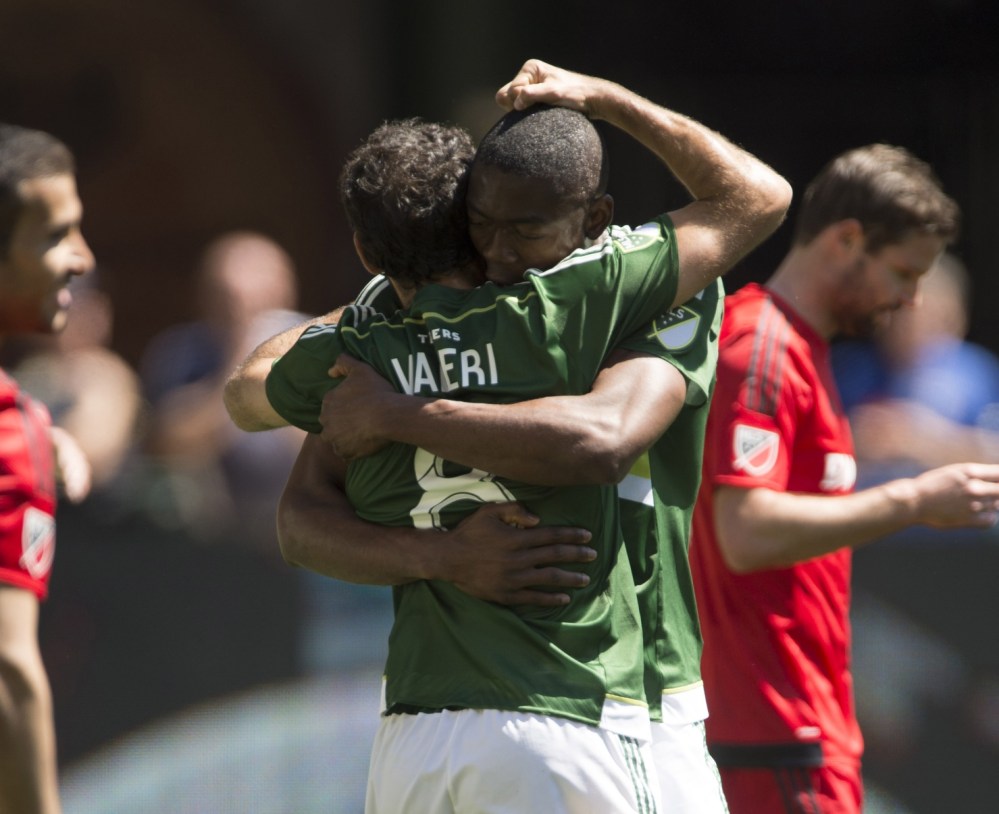 Fanendo Adi continued his fine goal-scoring form, while goalkeeper Jake Gleeson stood on his head to see the Portland Timbers fend off Toronto FC at Providence Park.
Diego Valeri pulled the strings — and scored a heart-stopping free kick in the second half — to hand the reigning MLS Cup champions a 2-1 victory on Sunday.
Fanendo Adi netted his seventh goal of the season in the 17th minute, but it was Valeri who secured the result after Will Johnson's homecoming game-tying goal. The Argentine playmaker drilled a free kick up and over the TFC wall in the 74th minute, and Clint Irwin could do nothing but watch the ball fly past his outstretched fingertips.
Adi's initial go-ahead goal was a well-worked display. Valeri combined with Darren Mattocks on the left side before the former sent a quick pass across the six-yard box for Adi to tap in.
Despite going down twice on the day, TFC put up a fight each time. Johnson, who moved to the Canadian club from the Timbers in the offseason, scored the club's first goal to level the score at one apiece in the 40th minute.
Toronto FC had point-blank chances following Valeri's sumptuous free-kick goal, but that's where Gleeson came into play. The Timbers netminder made some incredible stops on the goal line, including a denial of Johnson on the doorstep in the second minute of second-half stoppage time.
Man of the Match
Jake Gleeson, take a bow. The New Zealand national team netminder has experience at the big stage, and he put on a big-time performance on Sunday. Gleeson made four saves, including two last-ditch stops on the goal line to preserve the victory at home.
Moment of the Match
Diego Valeri lined up to take a free kick in the 74th minute, but it seemed just too far out of the Argentine's range to score. That proved to wrong. Valeri hit a perfect ball up and over the Toronto FC wall to net the game-winner in the second half.
Match to Forget
Jozy Altidore seemed invisible, at times, out on the field, and most notably was dispossessed in the final third during the 84th minute. While other U.S. Men's National Team strikers have been excelling this year, Altidore has yet to find a similar form and has yet to score a single goal this MLS campaign.