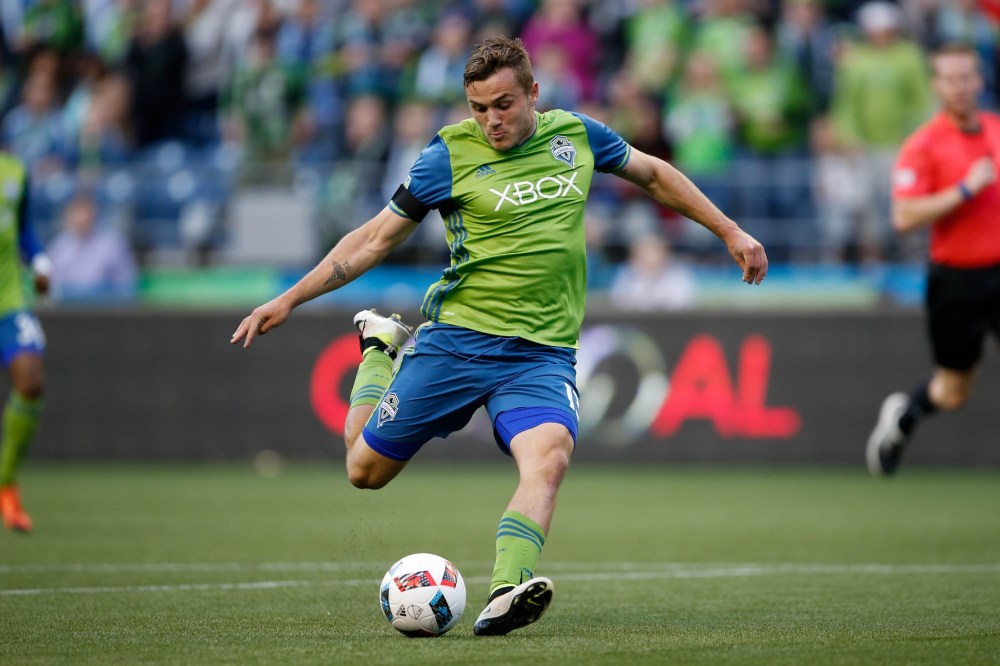 SEATTLE —  In the locker room after Saturday's match, the difference in Jordan Morris was plain. He had scored the first game-winning goal of his young career some 40 minutes earlier — an 88th-minute, left-footed slap that deflected off defender Michael Parkhurst before finding the back of the net. It was his third goal of the season, his third in three games.
And Morris, speaking to the usual media throng, seemed at ease and relaxed for the first time all season, sporting an easy smile and offering thoughtful replies.
"You get that pressure off your back," Morris acknowledged. "Each game that you aren't scoring you get more and more pressure and it kind of eats at you while you're playing. You get your first one, you can go out there — and this is the life of a forward, sometimes — but you just go out there and play a little freer and with more confidence, and then goals like the goal that happened today kind of come, where I just happened to be in the right place at the right time."
Words like "pressure" and "confidence" swirled around the rookie out of Stanford as he failed to record a goal or assist in 342 minutes spread across the first five games of the season. It didn't help that the Sounders, a preseason MLS Cup favorite, went 1-3-1 over that stretch. Nor that he had looked so at ease stepping onto the national team stage as a college kid.
"We said that once he got that first goal he'd feel better about himself," said head coach Sigi Schmid, "and that weight is off his shoulders now and he feels more confident. Even deflecting off the opponent, it still counts."
With rising confidence and shoulders unburdened, Morris is beginning to find more joy in the game.
"The games get more fun," Morris said. "You don't think as much. You're not in your head as much. You just kind of go out there and play freely like you did as a kid. Obviously there's more pressure and it's not the same. But that's the goal, to just go out there and have fun — and of course work hard — but just enjoy the game."
With only eight appearances under his belt, Morris is also beginning to adjust to the speed of the professional game, a process familiar to rookies in most any league or sport.
"It's slowing down a little bit," Morris said. "I think when you make the step up from any level to a higher level it's going to be a little fast at first. But it's definitely slowing down and hopefully it will continue to slow down."
It's an observation supported by the eye test. Extra touches so common earlier in the season are slowly evaporating; time once spent hovering over the ball is now time spent passing and sliding into seams. It's not perfect yet, but it is coming together.
Morris has also heeded advice from new teammate Herculez Gomez, signed in late March to provide scoring punch off the bench. A veteran striker with Liga MX and U.S. Men's National Team pedigree, the 34-year-old Gomez gave Morris a few words of advice from the other end of an accomplished professional career: stop thinking so much.
"I gave Jordan a piece of advice a while ago," Gomez said with a grin, "and he has taken to it and is doing really well. I told him if at any point in the game you don't know what to do, just put it in the back of the net. He's done pretty well."
In any event, Morris is beginning to look like the player who, at just 20 years of age, so coolly announced his presence on the national team stage with a goal against archrival Mexico in 2015. Like the player who dominated the 2016 NCAA College Cup and found himself courted by Werder Bremen this spring.
And that should have a lot of Sounders and USMNT fans starting to feel like kids again.