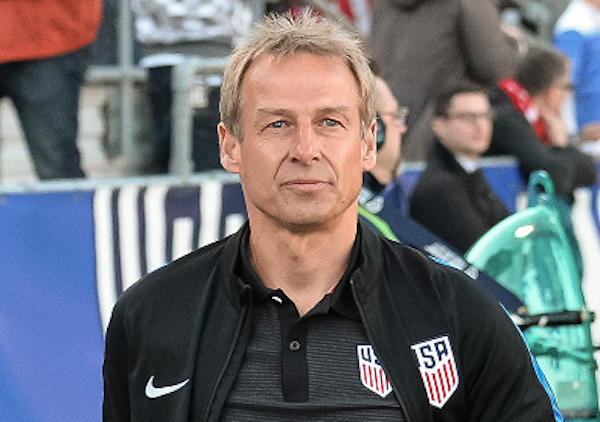 As a former forward, Jurgen Klinsmann loves goals. He scored plenty of them in his playing days, and as a coach often talks about how forward's production in front of the net is easiest way to measure their success.
Good thing for him then that several of his players have found their scoring touch ahead of this summer's big tournament.
The Copa America Centenario is less than a month away, and Klinsmann has to finalize his U.S. Men's National Team roster for it in the coming days. There is competition across every position, especially at forward given the form that some of Klinsmann's top players are in right now.
Clint Dempsey, Bobby Wood, and Jordan Morris have all found the back of the net for their clubs in recent weeks, and their goal-scoring exploits have Klinsmann more than encouraged. Not just because they give him options up top, but because they can come into next week's U.S. camp at a high level.
"You want to see them score goals, so seeing Jordan Morris scoring four (games) in a row, Clint Dempsey being back on the scoresheet, and Bobby Wood with 17 goals in the 2. Bundesliga in Germany is big," said U.S. head coach Klinsmann. "But you want them to stay hungry, to be there, and to put a stamp on the game in their club environment because you want them to come into the very short preparation period for the Copa America with a lot of energy and with a lot of confidence, but also with a level of aggressiveness that gives us the foundation for a successful tournament."
The one player who has been on a scoring tear for months is Bobby Wood. Playing for FC Union Berlin in Germany's second tier, Wood has established himself as a regular starter and one of the league's most lethal goal-scorers.
Wood has an American record 17 goals in 30 league appearances, and still has one more game this weekend in which he could add to that total. The 23-year-old forward has also scored four times for the U.S. since last summer, and seems poised for a breakout tournament this summer.
"He had a very good season at Union Berlin," said Klinsmann. "He brought them, with his 17 goals so far, into the region of sixth and seventh place, which is huge for that club. You want him to confirm that coming into the national team environment.
"You want him to not only add another goal in the last club game, but also want him to come into camp and challenge Clint Dempsey and Jozy Altidore – the strikers – for a starting spot. This is what the message is to Bobby Wood. With a strong Copa America, he improves his situation in the club environment. There are clubs in Germany right now from the Bundesliga that have an interest in him, and every kind of positive impression he leaves gives him a better shot at moving to a top team."
Klinsmann has also been impressed as of late with the nose for goal that one of his more hard-nosed midfielders is showing. Jermaine Jones has gotten off to a red-hot start with the Colorado Rapids, as he has scored three times and dished out two assists in the five games he has played in since returning from a suspension.
Jones, 34, might not be asked to have that same type of offensive production with the U.S. this summer, but he looks like he still has plenty to offer. Goals are always welcome, too.
"It's funny because obviously he ends up not only super excited to be in Colorado, back in a rhythm and part of a new challenge, but he's scoring goals," Klinsmann said. "That's why I tweeted out, "New #9 now??" – A new goal scorer?"
"You know that's not his main purpose. He's a box-to-box player. He's a midfielder that drives the energy and the aggressiveness from our end, so we are looking forward to having him for the Copa America. It's pretty exciting to see him score a couple goals."