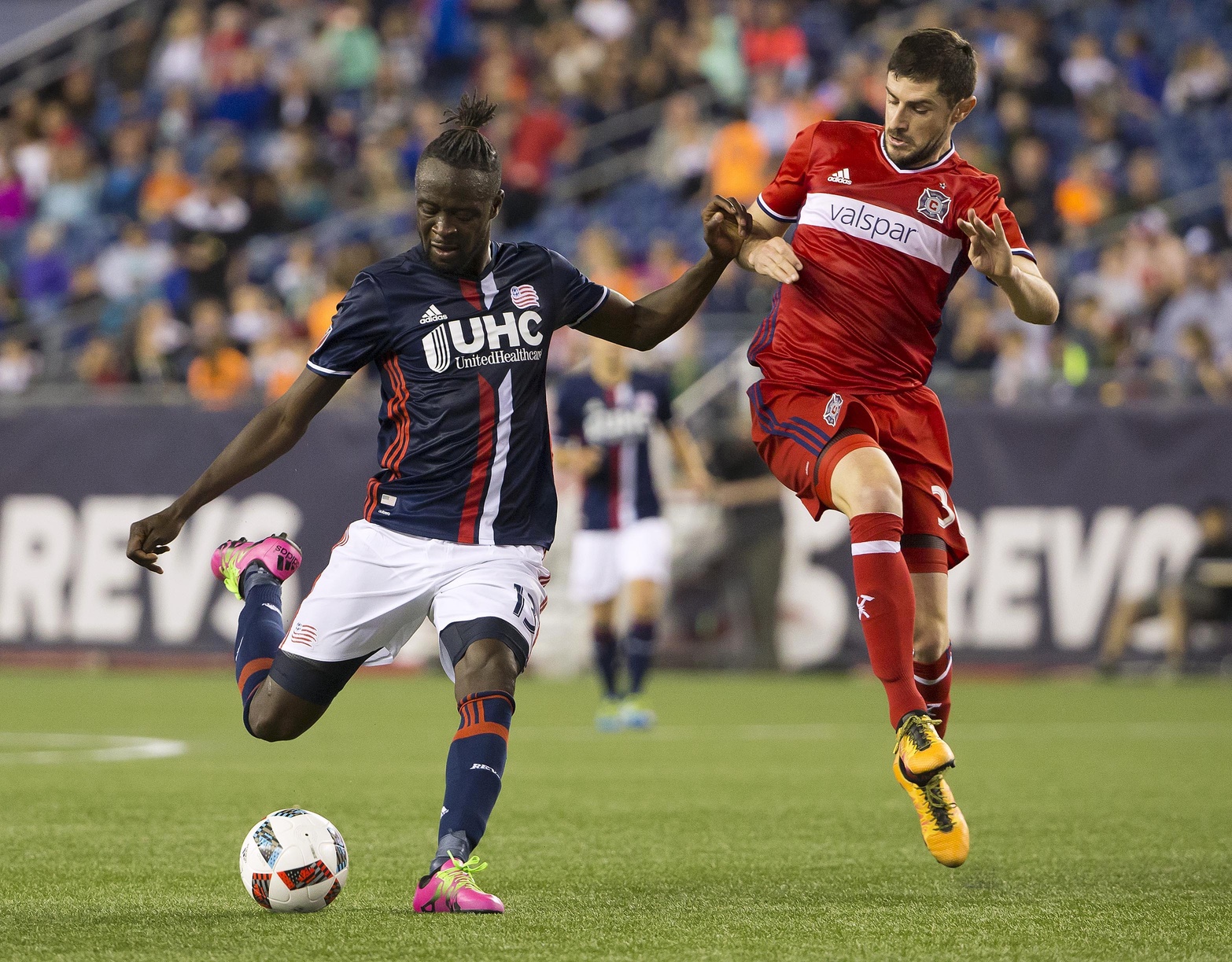 Kei Kamara may not have found the back of the net on Saturday night in his New England Revolution debut but the 6-foot-3 target man still made enough of a difference to help the Revs snap out of a six-game winless streak in front of a sizable home crowd at Gillette Stadium.
"I thought he was really good tonight," Revs coach Jay Heaps said. "Look, they're going to key on him. I thought Lee (Nguyen) had one of his better games because there was so much space there, because Kei's going to occupy two and sometimes three players and that right off the bat helps us, and then I thought Kei was excellent at keeping the plays alive."
Kamara wasn't involved in either goal, but was in close proximity as teammates ran into open space in the box nearby — first Nguyen in the 22nd minute and then rookie Femi Hollinger-Janzen in the 84th minute. Nguyen's goal was his first from the run of play this season.
"I want to thank Columbus, obviously," Nguyen joked after the game. "He's a great addition. He is so smart, so athletic, and he wins everything. You are going to have to watch him. It adds another dynamic to our attack. Now, we are lethal with crosses and we already know he can play through the middle. Now we have both."
The former Columbus Crew SC forward Kamara led everyone with six of the Revolution's 16 shots, including four on target as he combined well with Nguyen, Diego Fagundez and Juan Agudelo. Nguyen and Agudelo also had lively games, combining for six shots and two assists.
"My favorite part about tonight was how (Kamara) battled for loose things," Heaps said. "He kept things alive and then when he keeps it alive, it gets Lee in the game, Diego [Fagundez] in the game, Juan [Agudelo] in the game, and that really helped out our entire attack."
The 31-year-old Kamara had a busy past few days, getting traded to New England for a reported MLS-record $500,000 in allocation money, among other assets, on Thursday. He joined Revolution on training and then played a full 90 minutes on Saturday.
"It's really fun when you can win a game like that," Kamara said. "I'm excited to be here, but even more excited right now. I'm going to get back to my hotel room and go to bed knowing we got three points today."
Kamara said he was happy with a victory in his debut and his personal performance, given that he's still developing chemistry with his new teammates.
"It was a good game. When you're playing at home, you really have to take it to the (other) team and that's what we did," Kamara said. "Three points is what it's really all about. It's a good stretch here. When I came in, coach said we have three home games. It's a tournament, really. That's what it is. One game down, so two more to go."