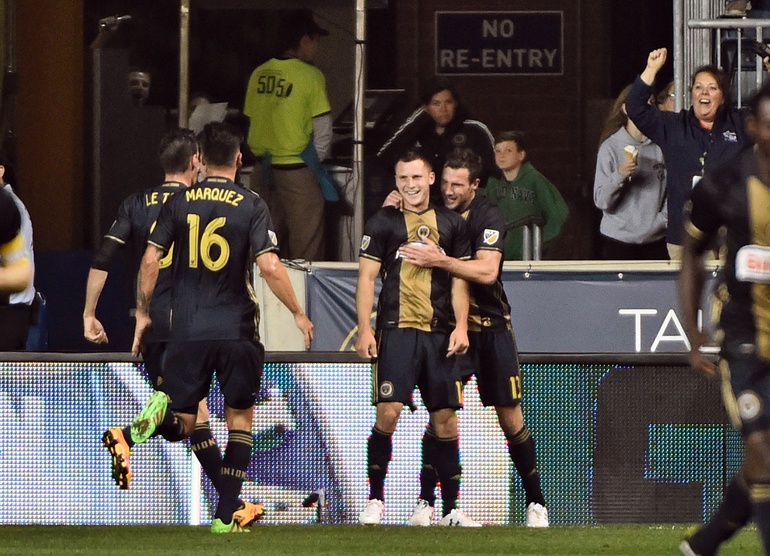 CHESTER, PA– Philadelphia Union manager Jim Curtin called his side's matchup with the LA Galaxy on Wednesday night a "big boy game". The Galaxy handed the Union back line one of their biggest challenges of the season, and despite conceding on two occasions, the Union were happy with their overall performance in defense.
No player stood out more than rookie right-back Keegan Rosenberry, who scored a 63rd-minute equalizer and made two massive stops on Giovani dos Santos and Robbie Keane in the closing stages of the final stanza.
"When you get isolated with a Dos Santos or a Keane, it's not an easy task," Curtin said. "And I think he plays wise beyond his years for sure, but again it's same thing we see in training and preseason he's brought that. He's got a good mentality, a good head on his shoulders and he's one of the young guys that are playing really well for us." 
Rosenberry and the Union back line allowed four total shots, two of which went on target, over the course of 90 minutes at Talen Energy Stadium.
Despite giving up the pair of finishes off strong team moves by Robbie Rogers and Mike Magee, the Georgetown University product believed he and his teammates produced a solid night's worth of defending.
"Obviously we gave up two and that's not ideal," Rosenberry said. "We obviously want to come away with three points and (concede) one goal at the most. At the same time, we didn't give up too many chances and we for the most part limited their special players. So again I think there's positives, but at the same time, we can always improve and limit those goals that they scored as well." 
Rosenberry found himself in the right place at the right time on the other end of the pitch on his first-career goal as he tapped in a loose ball near the center of the goalline.
"It's thrilling," Rosenberry said. "Obviously there wasn't too much into the finish, but yeah I mean right place, right time. It's just a matter of being aggressive in the box and it happened to fall right where I was." 
The tally was the first by a Union defender in 2016 and the last since Steven Vitoria's tally in the third-to-last game of the 2015 campaign.
Even though the Union felt like they could've done better at the end of the contest to finish off the match, they will carry a good amount of momentum into Saturday's Eastern Conference clash with the Montreal Impact at Stade Saputo.
Montreal may possess a few different qualities than the Galaxy do in attack, but the Union will adjust like they're supposed to do to be ready for Saturday afternoon.
"You're used to it," midfielder Chris Pontius said. "Week in and week out, you gotta change to a different team's system so I don't think it'll be too much of a jolt. You gotta be able to adapt. No big change for us."