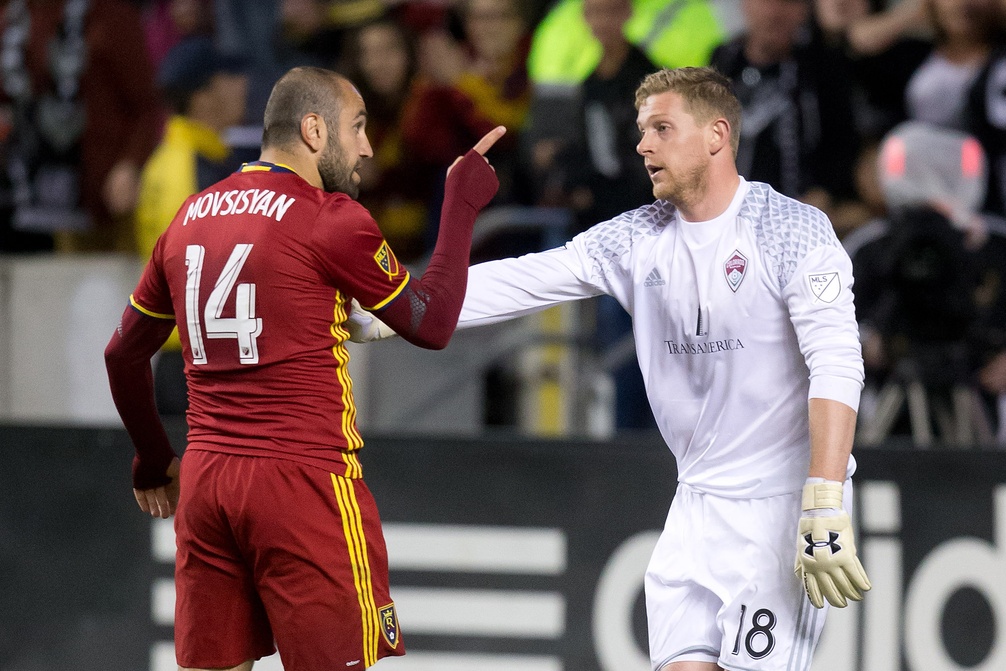 Several contenders collide over the weekend, and it's a Rocky Mountain clash that headlines this week's MLS action.
Both Real Salt Lake and the Colorado Rapids have emerged as surprise contenders out West, and the two will collide for the second time this season on Saturday. It won't be the only meeting of Western Conference contenders, as the Vancouver Whitecaps take on the Portland Timbers, while the Seattle Sounders face off with the San Jose Earthquakes.
In the East, Toronto FC returns home for an inter-conference matchup with FC Dallas, while Orlando City SC takes on the New York Red Bulls for the second time in three weeks. Finally, the Columbus Crew host the Montreal Impact as Didier Drogba looks to continue to push the Canadian club to the top of the East.
Here's a closer look at this weekend's MLS action:
ORLANDO CITY vs. NEW YORK RED BULLS (Friday, 7 p.m., UniMas) 
Just two weeks after ending their losing streak against Orlando City, the Red Bulls will look to extend their run of victories against the same opponent.
Kaka returns to the lineup for the Lions after missing several weeks, and head coach Adrian Heath will expect his Brazilian star to help lead a bit of a turnaround. Orlando City hasn't won in over a month, a stretch that includes a 3-2 loss to the Red Bulls just two weeks back.
The Red Bulls, meanwhile, are on a two-game win streak and are slowly amassing reinforcements. Aurelien Collin is now in the fold at centerback, while Gonzalo Veron and Gideon Baah could each return to the lineup for a team looking to continue its resurgence after a horrendous start.
VANCOUVER WHITECAPS vs. PORTLAND TIMBERS (Saturday, 5 p.m., MLS Live)
A shorthanded Whitecaps team will need to overcome a difficult absence in Saturday's clash with the Timbers.
Following last week's loss to NYCFC, the Whitecaps saw Kekuta Manneh hit with a one-game suspension that will take him out of Saturday's Cascadia clash. Without Manneh, the Whitecaps will look to continue a bit of an offensive hot streak, as the team has scored seven goals in the past three games.
The Timbers are a team that can score as well, especially with Fanendo Adi in the mix. The Nigerian star has netted seven goals in nine games to emerge as a Golden Boot contender while leading the Timbers back into the mix out West.
COLUMBUS CREW vs. MONTREAL IMPACT (Saturday, 7:30 p.m., MLS Live)
The Crew and Impact already met earlier this season, but the Canadian club will have a much different attacking weapon heading into Saturday's clash.
In the teams' first meeting, the Impact emerged with a 2-0 victory, even without the services of Drogba. The Ivorian star has since returned to the lineup, netting twice in his five MLS appearances this campaign.
The Crew will be happy to have Saturday's contest played at MAPFRE Stadium after falling in Montreal earlier this season. Despite all of their struggles, the Crew's home venue has proven to be a safe haven with the reigning MLS Cup runners-up claiming six of a possible nine points at home to date.
TORONTO FC vs. FC DALLAS (Saturday, 7:30 p.m., MLS Live)
After starting the season with a trying road trip, Toronto FC is finally home.
Through eight road games, TFC captured a respectable 11 points to vault all the way to third in the Eastern Conference. In the team's first game at the newly-renovated BMO Field, Jonathan Osorio remains questionable while Benoit Cheyrou is set to miss out, opening up some holes in the TFC midfield.
FC Dallas, one of the league's most dynamic attacking teams, will look to exploit those holes through the now-healthy Mauro Diaz. Still among the West's top sides, FC Dallas has tended to wilt a bit when the scoreline is against them, as the team's three losses have come by a combined 12-0 scoreline.
HOUSTON DYNAMO vs. SPORTING KANSAS CITY (Saturday, 8 p.m., MLS Live)
Brad Davis spent the best years of his career with the Houston Dynamo, but now the veteran winger will return to BBVA Compass Stadium as a member of the opposition.
Now a member of Sporting Kansas City, Davis will help his new club get back on track. After a 4-1-0 start to the season, Sporting KC is just 0-3-2 over the last five games and will need a bit of a scoring touch having scored just seven in their last seven.
The Dynamo's struggled have been much worse. Since toppling FC Dallas, 5-0, in what appeared to be a statement game, the Dynamo have just drawn once while losing five times to fall to the bottom of the table.
COLORADO RAPIDS vs. REAL SALT LAKE (Saturday, 9 p.m., MLS Live)
In a clash of unlikely contenders, the Rocky Mountain Cup takes on a bit more significance this season.
The Rapids and Real Salt Lake sit one and two in the Western Conference, as both teams have emerged as early-season surprises. The Rapids surge has been led by the introduction of Jermaine Jones, who was not available in his side's 1-0 loss to RSL last month. Since that game, Jones and company are 3-0-1.
RSL has fared equally as well, and could see a boost to their attacking corps. Joao Plata could be set to return from a nagging quad injury, adding to the firepower already boasted by Yura Movsisyan and Burrito Martinez.
SEATTLE SOUNDERS vs. SAN JOSE EARTHQUAKES (Saturday, 10 p.m., MLS Live)
Jordan Morris will have the chance to make it four in four against the Earthquakes on Saturday night.
The Sounders star has finally hit his stride, with last week's game-winner capping a strong three-game scoring streak for the Stanford product. On the other end of the field, the Earthquakes will have a surging striker of their own as Chris Wondolowski looks to build on his co-league-leading seven goals.
While Morris and Clint Dempsey lead the attack, the Earthquakes midfield will have to step up in the absence of Anibal Godoy, who will be suspended for Saturday's clash.
LA GALAXY vs. NEW ENGLAND REVOLUTION (Sunday, 3:30 p.m., ESPN)
It's a rematch of the 2014 MLS Cup final, but the return of an offseason signing could prove the most vital for the LA Galaxy.
Nigel de Jong is set to return from his suspension, although the Galaxy will likely have to battle through the absences of two of their other stars. Ashley Cole will serve a one-match suspension, while Steven Gerrard remains questionable due to a groin injury.
The Revs have won just once this season, but have earned seven draws through 10 games to lead the league in split points. Charlie Davies and Teal Bunbury remain injured, putting pressure on Juan Agudelo to lead the line against a solid Galaxy back line.
D.C. UNITED vs. NEW YORK CITY FC (Sunday, 7:30 p.m., Fox Sports 1)
Both D.C. United and New York City FC have amassed the exact same record, adding some extra stakes to Sunday's clash at RFK Stadium.
Patrick Vieira's side are riding high following a four-point double game week. Frank Lampard remains on the mend, but David Villa continues to carry the bulk of NYCFC's scoring load with players like Tommy McNamara chipping in.
D.C. United's forward pool will be without Chris Rolfe, but Fabian Espindola is likely to return after recovering from a hamstring strain. D.C. has earned four points from their past two contests as well, but will look to improve following a frustrating 1-1 draw with the Fire last week.