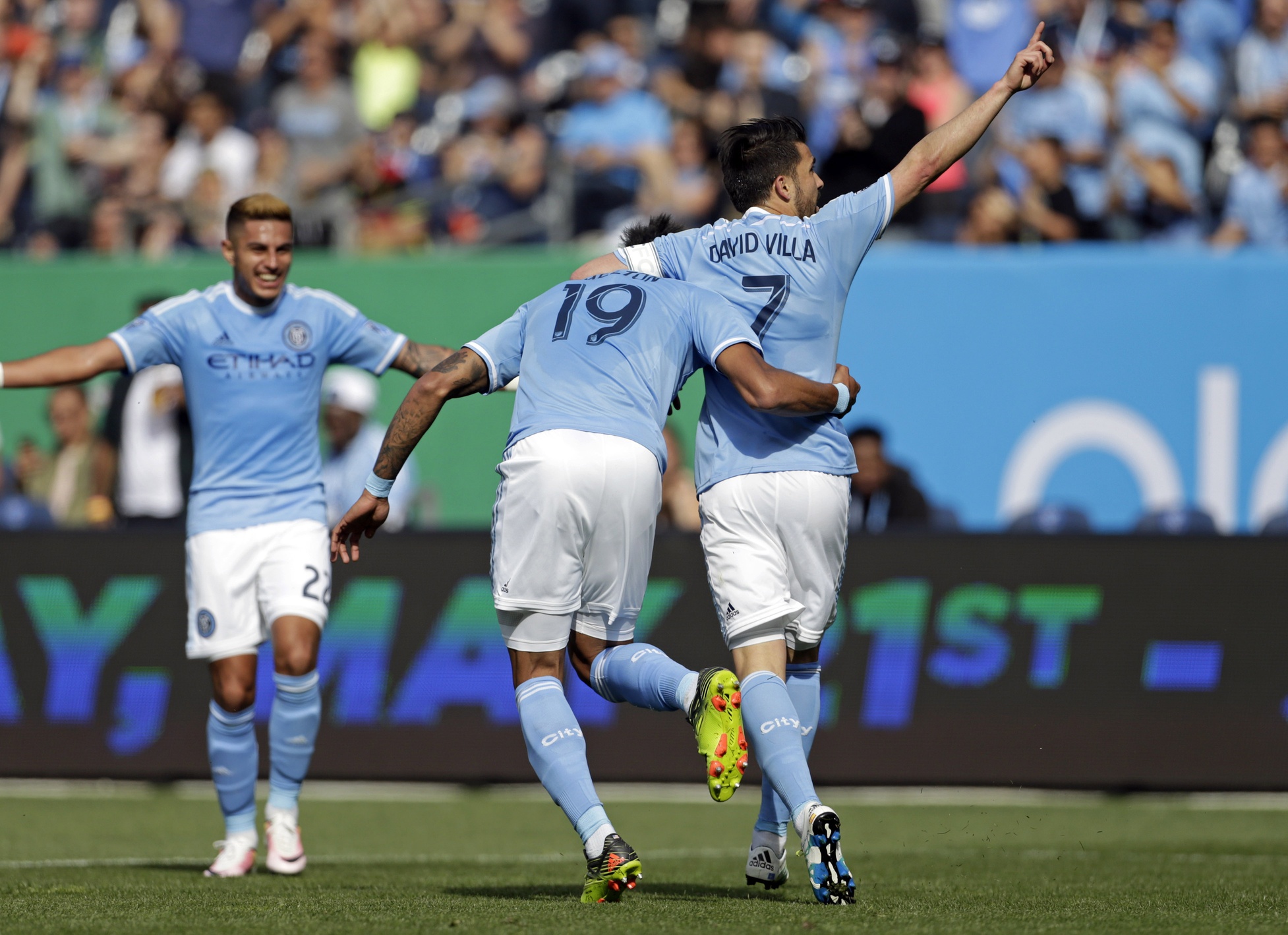 NEW YORK — David Villa dropped to the pitch after the final whistle on Saturday experiencing all kinds of feelings.
"I was tired," he said. "It was emotions from the game and obviously, this week we played three times."
Villa was tired from the battle he and New York City FC had just gone through with the Vancouver Whitecaps, tired from providing the two goals he thought were enough to help his team win at one point, and most of all, tired from not being rewarded for the efforts he and his team had put in as of late.
All that exhaustion and frustration evaporated quickly, however, and NYCFC's captain found a second wind to celebrate a victory — one that has been seven months in waiting — with the fans at Yankee Stadium.
"It's really important for a lot of things," Villa said of NYCFC's 3-2 win over the Whitecaps in the Bronx. "The first of which is that we were able to get the three points. It was the first home victory here and we were able to give that present to our fans."
Indeed, NYCFC's win on Saturday carried plenty of weight other than just three points in the standings. It not only halted a seven-match winless streak on the season for the club but also snapped a six-match winless streak — dating back to September 2015 — in front of its fans.
"I was waiting for this win for quite some time and the players as well," NYCFC head coach Patrick Vieira said after the game. "You can see from the last 10 minutes it was so tense from the players and even us from the bench. You can see it from working with the players every day, the way they work week after week. They deserve to win the game and I'm really proud of the team because when you come out of the last three games from the past couple of weeks and to manage to play the way they played physically I think it was a fantastic spirit and I am really really happy for them."
His side really had to earn it on Saturday though. After a first-minute blunder from goalkeeper Josh Saunders that put NYCFC in a bind early, Vieira's squad fought back to take a 2-1 lead — thanks to Villa — by halftime.
"When you concede a goal like that — that we gave again — early in the game, you say that you still have 89 minutes to get back in the game," Vieira said on Rivero's goal. "And I think that goal really brought us back to the game because I really didn't like the tempo at the beginning. Conceding that goal was a wake-up for us. And I think we show really good spirit because considering that goal, we stuck together and stuck to the way we want to play the game. And for me, that was a fantastic message."
"Today was a very difficult game but we had the right mentality and tried to correct what went wrong against Montreal," Villa said. "Our team never got down, we kept our heads up and we were able to come back from the early goal in the first half."
NYCFC found that grit again in the second half after Christian Bolaños scored an equalizer in the 64th minute on a penalty kick rebound. The goal had seemed to take the air out of the crowd at Yankee Stadium — most of whom were reminded of the Impact's 91st-minute equalizer on Wednesday — but a spark was provided by an unlikely source in Colombian forward and substitute, Steven Mendoza, who tallied his first MLS goal in the 74th minute to put his team ahead again, and this time for good.
"He was really good, Mendoza is working really hard," Vieira said. "In the last few weeks, he has become very frustrated because he didn't have the impact that he had but he has been believing in himself and working really hard."
NYCFC had to fend off a few late threats from the Whitecaps afterward and Saunders redeemed himself with a couple of key saves to help his team preserve this much-needed win.
"He showed his experience and his personality," Vieira said of his goalkeeper. "When you see a goal like that, that is not easy, especially that early in the game but after that he was composed and made some really good decisions. I am really pleased with his performance today. He is a leader of the team. He showed how strong he was in his mind because after the mistake he still concentrated."
The win was vital for this club in every sense of the word, but the manner in which the win came by also showed NYCFC what it had believed in itself for quite some time.
"You know, there were a lot of games where we haven't gotten the points that we think we deserved so this one felt great," midfielder Mix Diskerud said. "I think you could see it in the stands, but I think we have played most of our games with a great attitude and played positive soccer.  We have developed since last year and I want us to keep growing and getting better.
"Most games we have not had the margins with us. We wanted to get the first home win in front of the crowd; It's important because they mean so much to us. It's tough when you think you deserved more wins but we stuck together, trained hard and stuck to our philosophy. I think the attitude at training has been great this whole time."
Saturday's win may have washed away plenty of frustration from the club, but how it can help NYCFC propel forward will remain to be seen. The team went through a similar stretch last season in which it went winless in 11 consecutive games in the early going before rattling off three consecutive victories after snapping the skid. Vieira would certainly welcome that kind of bounce-back as well.
"I think it's really good for your confidence when you win," he said. "That's always good but we have to forget about it tomorrow and go back and start working on Tuesday already because you win, you lose, but what is important for us as a football club and especially for me as a coach to believe in what I try to do and what I put into place. Nothing will change, we will start working Tuesday, work really hard and prepare for our next game."