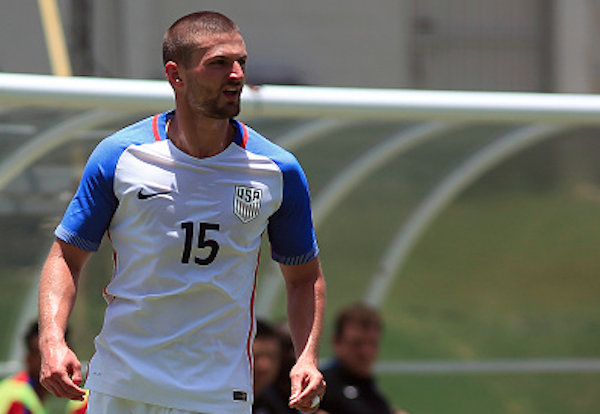 After five years in MLS, Perry Kitchen craved a new challenge. He wanted to take the next step in his career as well as have a new experience in a different part of the world, so Kitchen opted not to re-sign with D.C. United in order to explore his options as a free agent.
His patience was tested. More than he thought it would be.
Kitchen signed with Scottish club Heart of Midlothian back in March, but the move there came only after months of uncertainty. The midfielder had seen his deal with MLS expire at the end of 2015, and it took three months, almost until the end of the European season, for his future to be sorted. He was still unemployed when the MLS season began, and had some second thoughts about whether or not he wanted to pursue a career abroad when he watched former teammates and opponents play while he sat idly by.
Needless to say, it was a challenge for him.
"It's definitely not easy kind of being in limbo, not sure where you're going to be or how things are going to play out," Kitchen told SBI. "But at the same time you have to stay calm and you have to keep the faith that something right is going to happen. It dragged on a little bit longer than I thought, but Hearts came up and it all kind of fell into place."
Kitchen, 24, quickly made up for the lost time. He signed with Hearts on March 9 and settled into his new surroundings almost immediately, making his debut as a substitute a mere three days after coming to terms with the Scottish Premier League side and starting in each of the nine matches that followed.
Hearts went 3-4-3 in the 10 games Kitchen played in to close out the campaign, but still managed to finish in third place behind traditional powerhouse Celtic and Aberdeen. The run of games was a taste test of what Scottish soccer is about for Kitchen, and he found it to be demanding but also familiar to what he was used to.
"I think it's similar to MLS," said Kitchen. "The game is very fast. It's 100 miles per hour a lot of the times. There's pressure so you've got to make sure you're moving the ball quickly. It's definitely that physical game as well. Similar to MLS, guys get into challenges."
Deployed in his traditional defensive midfield role, Kitchen enjoyed his two months with the club. He credits his teammates and the coaching staff for helping him transition so effortlessly on and off the field, and is excited to get back after the summer break to play a full season.
While the 6-foot Kitchen is looking ahead at what is to come with his new team, he also looks back at his time with his old one fondly. Kitchen was also an every-game starter for D.C. United immediately upon arriving to the club to start his professional career in 2011, and helped the MLS outfit make multiple playoff appearances during his five seasons there while also claiming a U.S. Open Cup trophy three years ago.
Still, he knew his time there was up when last season ended.
"There were a lot of different things, but it really all came down to the right timing," said Kitchen of his decision to go abroad. "Looking at my age, if I were to re-sign with D.C. that puts me in late 20s (until I'm a free agent again) so it just seemed like the right timing if I wanted to give it a shot and try to continue my career in the right direction. I just liked the opportunity."
Hearts liked him, too. The club could have waited until next season to test him out and see what he is capable of, but threw him into the fire and relied on him heavily down the stretch. Kitchen finished the season playing 90 minutes in each and every game he appeared in aside from his debut, which consisted of a 17-minute cameo off the bench.
The pairing between club and player was as perfect a fit as could have been imagined.
"You always want to find a team that you want to be there and they want you there as well," said Kitchen. "That's important because you don't want to be forced into a situation. It's all worked out very well and I'm pleased with everything."
Kitchen is now looking to build on his recent success by helping the U.S. Men's National Team enjoy a strong showing at the Copa America Centenario. He was named to the final 23-man roster that will compete in the tournament in June, and looked like a player that might be able to contribute there in this past Sunday's 3-1 win over Puerto Rico.
U.S. head coach Jurgen Klinsmann started Kitchen in that friendly, and the Indianapolis, Indiana native showed his bite and tenacity playing on the right side of the American midfield. Kitchen also hit a nice range of passes to link the defense with the attack, demonstrating even more qualities that could make him the future starting No. 6 for the U.S.
It is unlikely that Kitchen gets the nod with regularity during the Copa America Centenario given that first-choice central midfielders like Michael Bradley and Jermaine Jones are on the squad, but the promising youngster is hoping to make a case for himself with whatever minutes he sees.
After all, he knows there are still plenty of big games on the horizon.
"It's obviously a huge tournament, it's a once-in-a-lifetime opportunity," said Kitchen. "I'm going to go out and do what I've always done and give my best for the team and just do what I can to help the team.
"It's a huge stage, so good performances in these kinds of tournaments can go a long way."