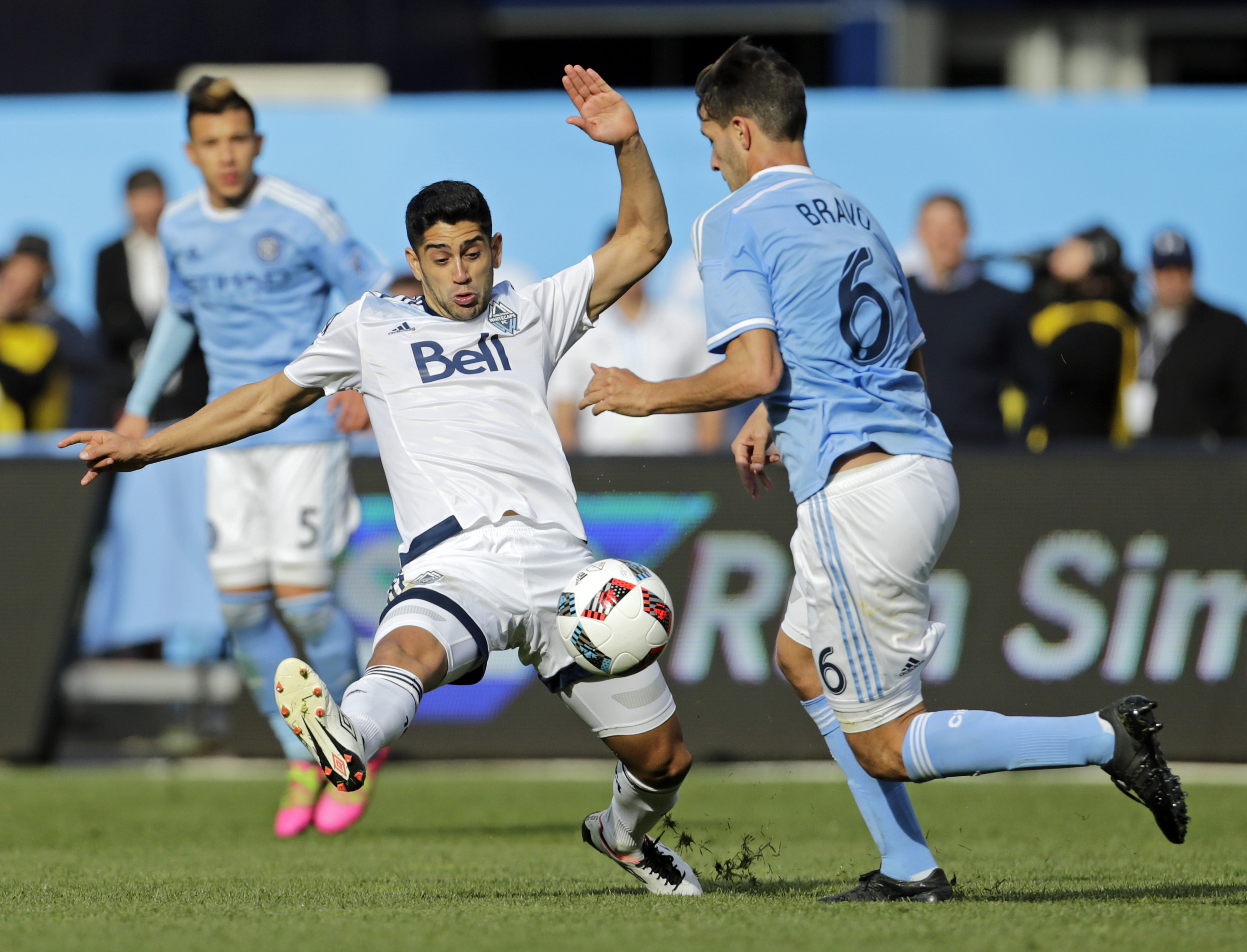 NEW YORK — The Vancouver Whitecaps have had scoring issues thus far this season, and while they did score two goals on Saturday, there was still evidence of a problem with finishing.
The Whitecaps suffered their latest setback on Saturday afternoon, suffering a 3-2 loss to New York City FC. There were good moments and things for the Canadian outfit to draw from the match at Yankee Stadium, including scoring 36 seconds in and finishing with seven shots on goal, but its inability to finish off the game proved costly.
In fact, the Whitecaps' poor finishing not only wasted their dream start, but also forced them to have to come from behind just to tie the score before ultimately surrendering a winner.
"We're upset a bit because of the chances we had that we failed to score on," Whitecaps midfielder Nicolas Mezquida told SBI. "That would've changed the result, but we're also calm in one aspect because we created chances. Still, we need to put them in the back of the net. Sometimes it looks so easy, but it's not. I expect that to change, we're working at it."
The Whitecaps had looked to be on the way to resolving their scoring woes last weekend when they pushed three past FC Dallas in a shutout win. A 1-1 draw vs. Sporting Kansas City in midweek action, and the manner in which Saturday's game played out, have once again raised some cause for concern.
Octavio Rivero scored mere seconds into the game after a nightmarish blunder from NYCFC goalkeeper Josh Saunders, but the Whitecaps failed to add to the lead from there despite having some decent looks. That allowed New York City FC to pull ahead, 2-1, via a David Villa double before halftime. It was not until Christian Bolanos scored on his own rebound following a 63rd-minute penalty kick attempt that the Whitecaps could again think about leaving the Big Apple with at least a point.
They did not, however, as more missed chances and a Steven Mendoza goal combined to give NYCFC the victory.
"We have a long way to go as a team," Rivero told SBI. "If we score two and the opposing team scores three, that means we're not doing well. We need to tighten that up, but also try to score more goals and create chances because that is most important."
While the Whitecaps admitted that they did not play to their best in certain areas of the field, they also felt aggrieved on NYCFC's second goal. On the 41st-minute play, Andrea Pirlo curled in a corner kick to the back post that an unmarked Villa acrobatically fired home with an impressive scissor kick.
Leaving a class striker like Villa so wide open can be considered criminal and deserving of punishment, but the Spaniard only shook loose of his mark because teammate Frederic Brillant held both Matias Laba and Tim Parker on the set piece.
"That's what I saw," said Whitecaps head coach Carl Robinson. "I mentioned it to the fourth official and that's what he saw. Listen, great play from NY(C)FC. You give them credit. They set a pick, but we were told at the start of the year when that happens there's going to be free kicks against you.
"It wasn't our day and we're a little bit maybe naive, but if it's a foul, it's a foul. I saw exactly what (others) saw. I saw my boy getting held, but there's no point in complaining. Credit to them for a set piece that worked."
Added Rivero: "In the first half on a corner kick, the same player blocked me and there was no call. The same thing happened on their second goal, and again it goes uncalled. Obviously, it was a foul."
Foul or not, the Whitecaps failed to close out the game even when it was 2-2. Mendoza scored with a strong finish to the near post in the 73rd minute, and the Whitecaps were unable to come up with another equalizer despite having multiple late chances.
It was yet another case of subpar finishing costing the Whitecaps.
"The game started greatly, but then we couldn't score on a few chances and some errors cost us and they took advantage," said Mezquida. "We have a young squad and players with experience, but we still need to learn how to kill off games with another goal."