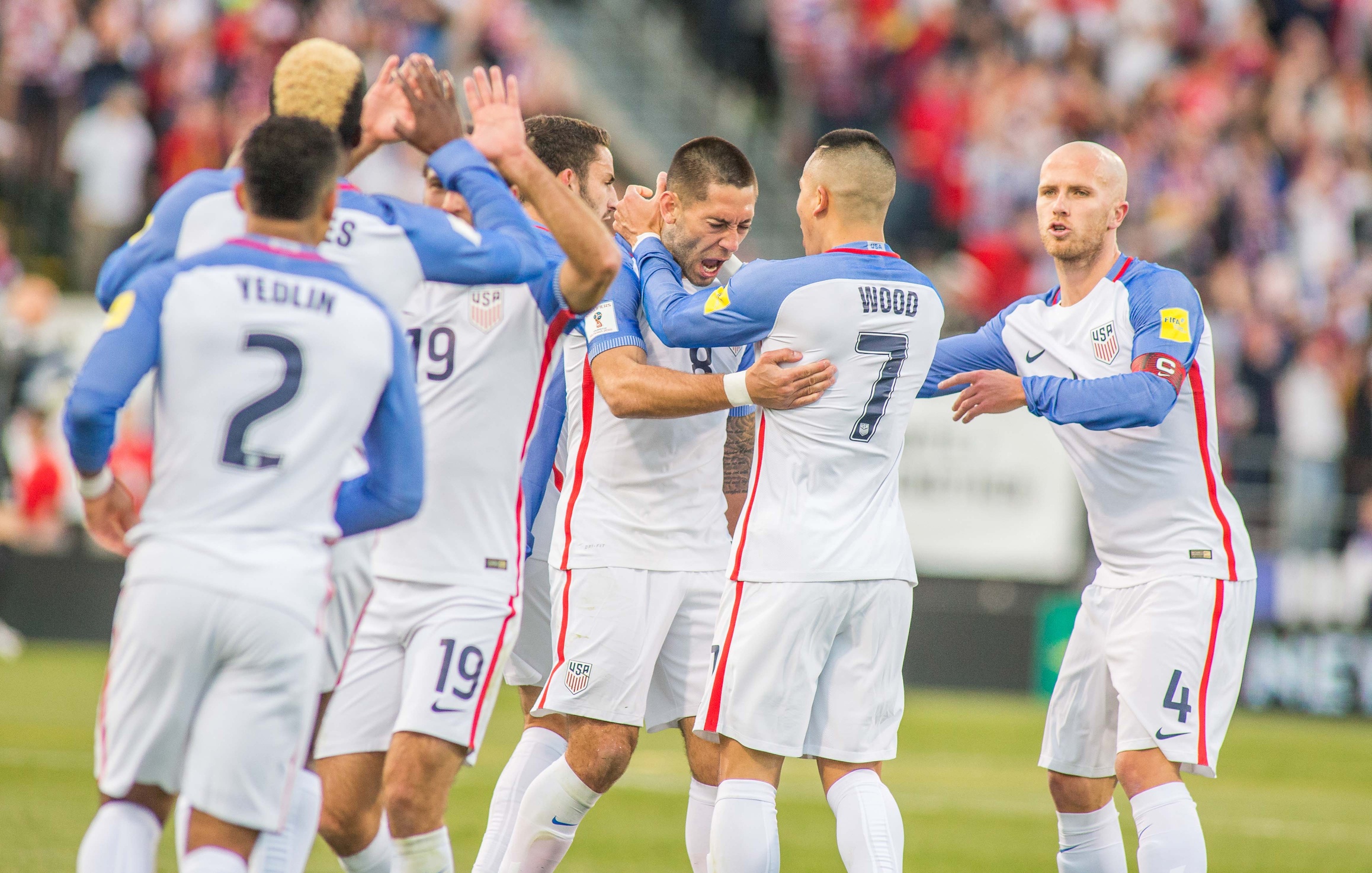 Jurgen Klinsmann offered few surprises with his 40-man shortlist, but the U.S. Men's National Team head coach must now focus on trimming that roster to 23 ahead of this summer's Copa America.
Following several months of rebuilding following a disastrous Gold Cup, the U.S. will have a chance to go at South America's best in this summer's marquee tournament. Set to face-off with Colombia, Costa Rica and Paraguay, the USMNT faces no cakewalk, and Klinsmann will be afforded little room for error in escaping such a difficult group.
While the tournament remains almost exactly a month away, Klinsmann's final roster much be confirmed by May 20. In the weeks that follow, Klinsmann must remove 17 names from his pre-tournament shortlist, while making some difficult decisions on who to leave at home.
Here are the 23 players that could make up Klinsmann's roster for this summer's Copa America.
Projected USMNT Copa America Roster
GOALKEEPERS
David Bingham, Brad Guzan, Tim Howard
Outlook- After months of duking it out for the right to be the UMSNT's No. 1, Guzan and Howard are locks for Klinsmann's roster. Although each has seen their share of struggles on the club level, both Guzan and Howard remain the USMNT's top goalkeeping options, and it will be interesting to see how Klinsmann chooses to separate them when the tournament finally begins.
Behind them, Klinsmann faces a decision. Does he go with the experience of a Nick Rimando, or the promise of a David Bingham or Ethan Horvath? In truth, Horvath is still a year or two away from claiming his spot on a true tournament roster, but should be expected to get a look in upcoming friendlies or qualifiers. Rimando has been a spectacular USMNT backup and remains one of MLS' elite, but his inclusion would be a bit of a waste given the two names in front of him.
That leaves Bingham, who brings plenty of potential and stellar club form to the third goalkeeping spot on the roster.
Missed the Cut– Nick Rimando, Ethan Horvath
——————
DEFENDERS
Matt Besler, Steve Birnbaum, John Brooks, Geoff Cameron, Edgar Castillo, Timmy Chandler, DeAndre Yedlin
Outlook- Starting with the centerback position, Klinsmann has a few obvious selections to make. Matt Besler, John Brooks and Geoff Cameron are all near certainties to make the team given what they offer, and should be expected to combine to start against Colombia in the tournament opener.
The battle truly begins for that fourth centerback position, which features several USMNT regulars jockeying for a final spot. Ventura Alvarado has played far too few games on the club level to have earned his spot, while Matt Miazga may not be fully ready to be thrown into the fire against the likes of Colombia. That leaves both Omar Gonzalez and Steve Birnbaum and, given Birnbaum's ability to play at right back as well, the D.C. United defender seems like a safe choice to join the roster.
Out wide, Birnbaum helps provide cover for DeAndre Yedlin, while the resurgent Timmy Chandler can do a job on either side of the defense. The left back position appears to be Edgar Castillo's to lose, which allows Fabian Johnson to push a bit higher up the field.
Missed the Cut– Kellyn Acosta, Ventura Alvarado, Brad Evans, Omar Gonzalez, Eric Lichaj, Matt Miazga, Michael Orozco, Tim Ream
——————–
MIDFIELDERS
Kyle Beckerman, Alejandro Bedoya, Michael Bradley, Fabian Johnson, Jermaine Jones, Darlington Nagbe, Lee Nguyen
Outlook– Headlining the midfield group is the duo of Fabian Johnson and Michael Bradley, two players that should be penciled in to the starting lineup from the get-go. The two are far and away the team's top two talents at the current moment, and each will have to be at their top level if the USMNT hopes to make a run through the tournament.
Joining Bradley in the center of the field are veteran options in Kyle Beckerman and Jermaine Jones, two players that still have plenty to offer despite their advancing age. Beckerman still holds the title of the UMSNT's premier No. 6 option, while Jones' recent resurgence with the Colorado Rapids all but guarantee him a spot on the roster. Add in a talented newcomer in Darlington Nagbe, and the USMNT should have enough depth in the center of the field, freeing Alejandro Bedoya up as a sort of utility man to play either tucked in or out wide if need be. As long as he is kept far away from a No. 6 role, Bedoya is still a key part of the USMNT and his versatility should prove helpful in assembling the midfield group.
That likely leaves one spot open in the midfield. Mix Diskerud is usually safe bet to be among Klinsmann's selections, but the NYCFC midfielder has been relegated to the bench in recent weeks. Danny Williams has fallen out of the picture following an poor showing against Costa Rica in his last appearance, while Perry Kitchen has yet to firmly solidify his spot with the USMNT ahead of such a major tournament.
That leaves Graham Zusi and Lee Nguyen as the most likely additions, and in need of a potential No. 10 off the bench should the USMNT need a goal, the Revs midfielder is likely the best option.
Missed the Cut– Mix Diskerud, Perry Kitchen, Alfredo Morales, Danny Williams, Graham Zusi
——————
FORWARDS
Jozy Altidore, Clint Dempsey, Jordan Morris, Christian Pulisic, Bobby Wood, Gyasi Zardes
Outlook- Starting up top, Jozy Altidore reclaims his spot as the USMNT's go-to forward, while Bobby Wood and Jordan Morris compete for a spot alongside him. Both Wood and Morris have been in fine form for their club's in recent weeks, making their selections an easy choice for Klinsmann.
Both Gyasi Zardes and Clint Dempsey are listed as forwards, but one would expect them to play in slightly more withdrawn roles. Dempsey will likely drift a bit deeper towards more of a No.10 position, while Zardes will all but certainly be viewed as a wide option that offers pace and athleticism of the bench.
That brings us to Christian Pulisic, whose rise through Borussia Dortmund will likely see him claim a spot on the roster at just 17-years-old. When it comes to form, Pulisic is among the hottest players in the USMNT pool, but it's not hard to envision Klinsmann being a bit tentative to throw the youngster to the wolves at such a big tournament. Even at his age, Pulisic is among the more technically proficient players on the 40-man shortlist, and could do a job either as a central or right-sided playmaker. No matter how much he plays, Pulisic deserves to come along for the ride, and the Borussia Dortmund midfielder could certainly have a part to play given his current skill set.
Missed the Cut– Ethan Finlay, Chris Wondolowski
—–
What would you think of this 23-man USMNT roster? How would you expect this roster to fare at this summer's Gold Cup? Who do you see making the squad?
Share your thoughts below.