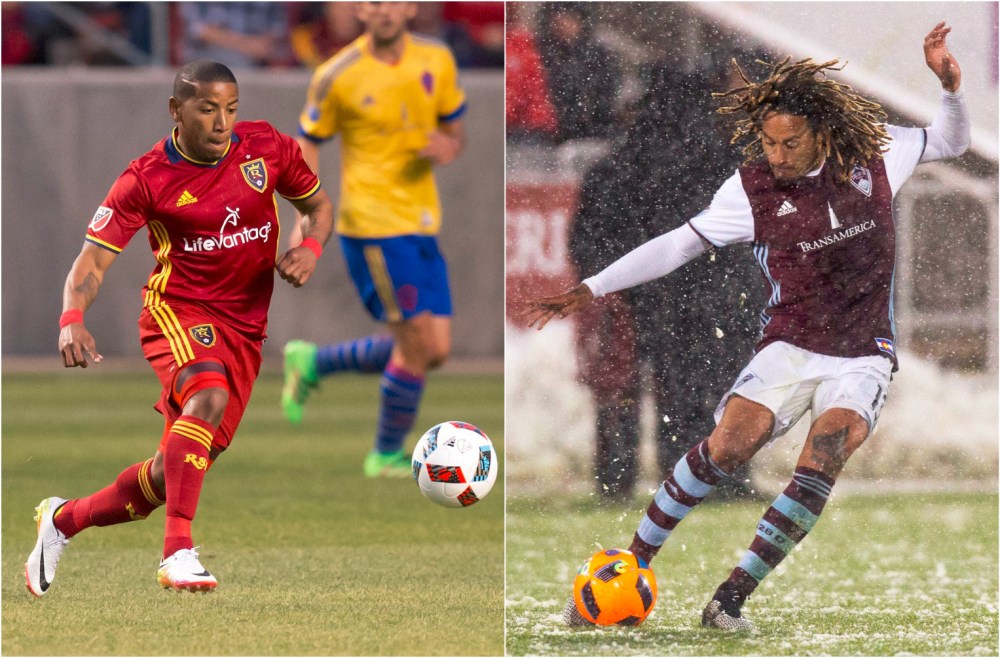 Not too many people saw this coming. Nine weeks into the 2016 MLS season, and the Colorado Rapids sit atop the Supporters' Shield standings. Tied on points with Real Salt Lake, the Rapids will look to remain unbeaten for a fifth consecutive game on Saturday.
The Rocky Mountain Cup is on line at Dick's Sporting Goods Park, as an RSL team that has looked strong on both ends of the field faces off against a Rapids team that has excelled as of late (9 p.m., MLS Live).
A win for RSL would see it leapfrog its Western Conference rival on the overall standings, and claim the derby trophy just 10 weeks into the 2016 season.
Here's a closer look at the SBI Game of the Week:
HISTORY
These two sides are meeting for the second time this season, as Real Salt Lake defeated the Rapids, 1-0, at Rio Tinto Stadium on April 9.
RSL won the last meeting at Dick's Sporting Goods Park. On Oct. 4, 2015, Jeff Cassar's men defeated the Rapids, 2-1, thanks to goals from Joao Plata and Luke Mulholland.
OUTLOOK
The tides have changed a little since these two sides last met on April 9.
The Rapids gained a veteran U.S. Men's National Team midfielder in Jermaine Jones, and confidence came with him. Pablo Mastroeni's group went on to win four games in April, enough victories to earn SBI MLS Team of the Month honors. Goals, which were hard to come by in 2015, have been flowing in recently, and Jones is a big reason why they have been so successful going forward.
Mastroeni has given Jones the freedom to move forward, and has even lined him up in the No. 10 position in order for the Rapids to maximize his ability. Jones, who U.S. Men's National Team head coach Jurgen Klinsmann uses as a defensive midfield option, has the ability to push forward and be creative on the ball. He showcased some of that potential during his time with German Bundesliga Schalke, and he has continued to display that ability with the Rapids this season.
Unlike their attack, the Rapids have not had too much success on the defensive end in recent weeks. Sure, they have conceded four fewer goals on the year than RSL, but they have given up at least one goal in their previous five games. As long as one of Luis Solignac, Shkelzen Gashi or Jermaine Jones keeps scoring, the Rapids can afford to concede one here and there.
On the other side of the ball, Joao Plata has been one of the best players in the league to date this season, and he will likely get the nod to play in the rivalry match in Commerce City, Colorado. The 24-year-old Ecuadorian international leads RSL's attack, but the club has many more weapons.
Homegrown Jordan Allen has played in many positions this season, but he thrived as the left winger against the Houston Dynamo last time out. Allen scored a goal and assisted another to help RSL earn a victory, and his performance demonstrates the many talented options the club has at its disposal. Juan "Burrito" Martinez, Yura Movsisyan and Javier Morales have all had their chances to shine this season, and one player seemingly steps up each and every week to lead RSL to points.
INJURY AND DISCIPLINE
Aaron Maund will miss this weekend's clash due to a hamstring injury, headlining absences for the Rocky Mountain rivalry.
Plata, who missed Saturday's game against the Dynamo due to injury, should be available for selection.
For the Rapids, Marco Pappa is likely miss another game as he recovers from a left MCL sprain, which was suffered in mid-April.
Jair Marrufo will be the center official for Saturday's match.
—
Who do you think will win Saturday's contest in Commerce City? What game are you most excited to see this weekend?
Share your thoughts below.