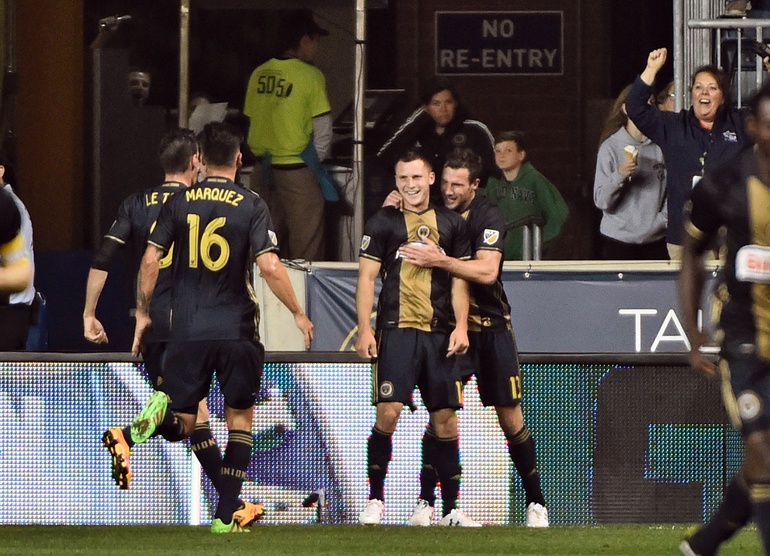 Keegan Rosenberry is forging a reputation as one of the best young defenders in MLS, and the rookie fullback provided some firepower on the attacking end in the latest of his recent strings of outstanding performances.
The Georgetown product was as strong as ever defensively in two draws against the LA Galaxy and Montreal Impact, while the addition of a goal against the former lifted the Philadelphia Union rookie to honors as SBI MLS Rookie of the Week.
Facing off with superstars like Robbie Keane, Didier Drogba, Giovani dos Santos and Ignacio Piatti, Rosenberry was set to be tested time and time again throughout a difficult double-game week. Rosenberry passed each of those tests simply and effectively, besting each of the names listed above in one-on-one situations. Rosenberry's first professional goal in Wednesday's tie with the Galaxy served as a deserved moment for a player that has shown to be a legitimate candidate for Rookie of the Year.
While Rosenberry continued to star for the Union, the defender also beat out the likes of teammate Josh Yaro, New England Revolution rookie Femi Hollinger-Janzen and Toronto FC forward Tsubasa Endoh for this week's SBI MLS Rookie of the Week honors.
What did you think of Rosenberry's performance? Which rookie stood out to you over the past week of MLS action?
Share your thoughts below.