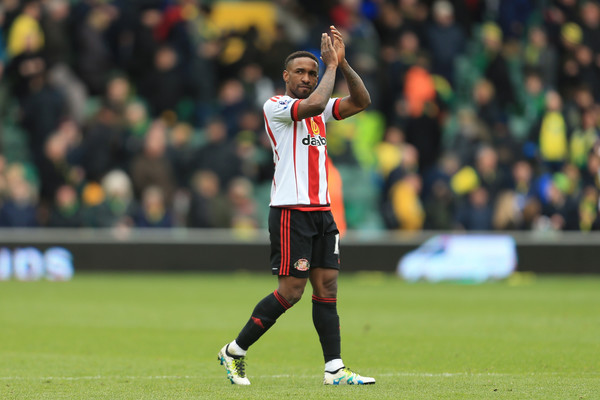 The English Premier League Title has already been decided, but the fight to stay alive is still ongoing.
Sunderland hosts Chelsea at the Stadium of the Light in an important match on Saturday. The Black Cats are currently in one of three relegation spots, sitting one point behind rival Newcastle United.
Elsewhere in England, Leicester City will be celebrating its EPL title with a game against Everton.
Bayern Munich can clinch the German Bundesliga title against FC Ingolstadt, while Borussia Mönchengladbach-Bayer Leverkusen should provide plenty of intrigue as both teams desire one of the UEFA Champions League qualification spots.
If you will be watching today's soccer, please feel free to share your thoughts, opinions and some play-by-play in the comments section below.
Enjoy the action (Today's TV schedule is below):
MAJOR LEAGUE SOCCER
5 p.m. — DirecTV/MLS Live — Vancouver Whitecaps vs. Portland Timbers
7:30 p.m. — DirecTV/MLS Live — Toronto FC vs. FC Dallas
7:30 p.m. — DirecTV/MLS Live — Columbus Crew vs. Montreal Impact
8:30 p.m. — DirecTV/MLS Live — Houston Dynamo vs. Sporting Kansas City
9 p.m. — DirecTV/MLS Live — Colorado Rapids vs. Real Salt Lake
10 p.m. — DirecTV/MLS Live — Seattle Sounders vs. San Jose Earthquakes
NASL
2 p.m. — ESPN3/NASL Live — Ottawa Fury vs. Minnesota United
7 p.m. — beIN Sports USA/beIN Sports Connect/NASL Live — Jacksonville Armada vs. Rayo OKC
7:30 p.m. —ESPN3/NASL Live — Indy Eleven vs. FC Edmonton
8 p.m. — One World Sports/NASL Live — Miami FC vs. New York Cosmos
ENGLISH PREMIER LEAGUE
7:45 a.m. — NBCSN/NBC Sports Live Extra — Norwich City vs. Manchester United
10 a.m. — NBCSN/NBC Sports Live Extra — Aston Villa vs. Newcastle United
10 a.m. — NBC Sports Live Extra — Sunderland vs. Chelsea
10 a.m. — NBC Sports Live Extra — Crystal Palace vs. Stoke City
10 a.m. — NBC Sports Live Extra — Bournemouth vs. West Bromwich Albion
10 a.m. — NBC Sports Live Extra — West Ham United vs. Swansea City
12:30 p.m. — NBC Sports Live Extra/NBC Universo — Leicester City vs. Everton
GERMAN BUNDESLIGA
9:30 a.m. — Fox Soccer 2Go — FC Ingolstadt vs. Bayern Munich
9:30 a.m. — Fox Deportes/Fox Soccer 2Go — Borussia Mönchengladbach vs. Bayer Leverkusen
9:30 a.m. — Fox Soccer 2Go — Schalke 04 vs. FC Augsburg
9:30 a.m. — Fox Sports 1/Fox Sports Go/Fox Soccer 2Go — Eintracht Frankfurt vs. Borussia Dortmund
9:30 a.m. — Fox Soccer 2Go — VfB Stuttgart vs. Mainz 05
9:30 a.m. — Fox Soccer 2Go — Hamburg SV vs. VfL Wolfsburg
9:30 a.m. — Fox Soccer 2Go — Hertha Berlin vs. Darmstadt 98
9:30 a.m. — Fox Soccer 2Go — Cologne vs. Werder Bremen
9:30 a.m. — Fox Soccer 2Go — Hannover 96 vs. Hoffenheim
ITALIAN SERIE A
Noon — beIN Sports USA/beIN Sports Connect — Inter vs. Empoli
2:45 p.m. —beIN Sports en Español/beIN Sports Connect — Bologna vs. Milan
FRENCH LIGUE 1
3 p.m. — beIN Sports USA/beIN Sports Connect — Gazélec Ajaccio vs. Paris Saint-Germain
PORTUGUESE PRIMEIRA LIGA
11:15 a.m. — Univision Deportes — Rio Ave vs. FC Porto
3:45 p.m. — Univision Deportes — Sporting CP vs. Vitória Setúbal
MEXICAN LIGA MX
6 p.m. — Univision/Univision Deportes — Cruz Azul vs. Tigres UANL
8 p.m. — Univision Deportes —Monterrey vs. Toluca
9:06 p.m. — NBC Universo — Pachuca vs. Chiapas
10 p.m. — ESPN Deportes — Dorados vs. Club León
ENGLISH LEAGUE CHAMPIONSHIP
7:30 a.m. — beIN Sports USA/beIN Sports Connect — Middlesbrough vs. Brighton & Hove Albion
SPANISH SEGUNDA DIVISION
Noon — beIN Sports en Español/beIN Sports Connect — Almería vs. Gimnàstic