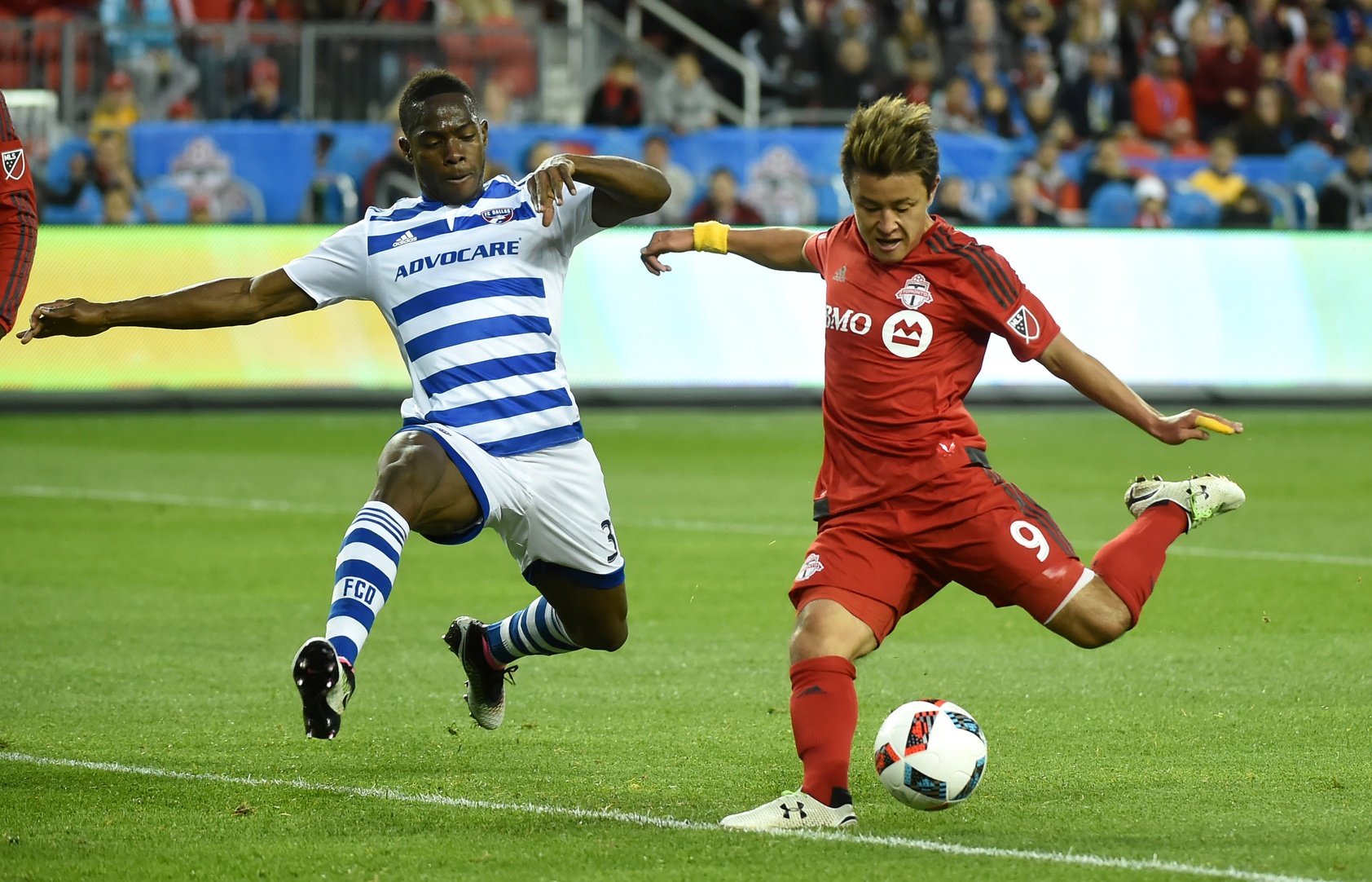 Playing within the friendly confines of BMO Field for the first time this season, Toronto FC opened their new-look stadium in style with a victory over a Western Conference contender.
Tsubasa Endoh netted Saturday's lone goal to lead Toronto FC past FC Dallas, 1-0, in the Canadian club's home opener. The victory is TFC's fourth of the season after starting the 2016 campaign with eight straight road matches, while the loss hands FC Dallas the team's third straight defeat.
Playing in front of 30,025 at the newly-renovated stadium, TFC leaned on the rookie Endoh to make the difference on Saturday night.
Endoh's game-deciding finish came 28 minutes into Saturday's contest. Following a challenge in the midfield from Michael Bradley, TFC got out on the break via Sebastian Giovinco. The Italian played a ball up and over the FC Dallas defense, who finished from close range to net his first MLS goal.
Giovinco, who has still either scored or assisted each of TFC's goals this season, was a menace throughout Saturday's affair. The reigning MLS MVP nearly chipped goalkeeper Jesse Gonzalez early in the first half, while a long-range effort in the 26th minute rattled off of the post.
Defensively, TFC largely held the normally-active FC Dallas attack at bay. Goalkeeper Clint Irwin was called upon to make just three saves on the evening, the best of which came on substitute Fabian Castillo in the second half.
TFC's victory pushes the club to 14 points through nine games. The club now moves onto the second game of a four-game home stand with a clash against the Vancouver Whitecaps next week. FC Dallas will look to break out of its current funk when the team returns home for a May 11 clash with the Portland Timbers.
MAN OF THE MATCH
Although he failed to score on any of his eight shots, Sebastian Giovinco once again proved to be TFC's engine on the field. Giovinco adds yet another assist to his stat sheet, but his performance on Saturday was more about his ability to terrorize the FC Dallas backline throughout the 90 minutes.
MOMENT OF THE MATCH
With what proved to be the game-deciding goal, Tsubasa Endoh's first half finish was an easy choice for Moment of the Match. The rookie's first MLS goal was an important one, as TFC emerged from BMO Field victorious in their home opener.
MATCH TO FORGET
Starting for just the fifth time this season, Tesho Akindele struggled to get things going on the left side. The FC Dallas forward failed to create down the left wing, and was promptly substituted at halftime for a more active Fabian Castillo.