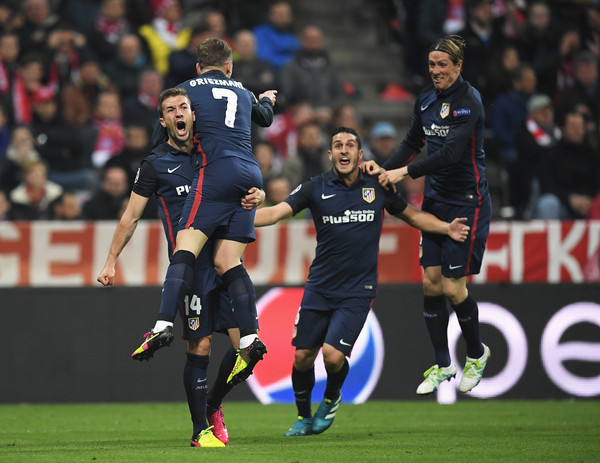 Pep Guardiola's Champions League pursuit with Bayern Munich has come to an end. Atletico Madrid's chase is set to continue.
Atletico Madrid toppled Bayern Munich on a 2-2 aggregate scoreline, advancing on away goals following Tuesday's 2-1 defeat at the Allianz Arena. For the third straight season, Bayern Munich has been knocked out of the UEFA Champions League semifinals by a Spanish team.
The game's vital goal was scored in the 54th minute by Antoine Griezmann, a player who has come up big for the La Liga club throughout the season. Following a turnover from Jerome Boateng, the Frenchman played a give-and-go with Fernando Torres before darting in alone on goal. Even the great Manuel Neuer was left helpless, as Griezmann fired what would be the decisive goal to make the score 1-1 on the day and 2-1 on aggregate.
Bayern would end up pulling one back through Robert Lewandowski, but an 88th minute save from Jan Oblak proved enough to send Atleti through to the finals.
Each side had further opportunities from the penalty spot, but both Thomas Muller and Torres saw chances to give their sides the advantage denied by the opposing goalkeeper. Muller's penalty kick, which came just three minutes after Xabi Alonso's 31st minute opener, was conceded by 21-year-old Joe Gimenez after seeing the Spanish midfielder's shot carom off his leg and in for the game's first goal.
Torres' miss proved inconsequential, as the forward's 83rd minute penalty kick flub didn't provide the insurance needed. However, Oblak's late save was enough for Atleti's second Champions League finals berth in three years.
Atletico now awaits the winner of Wednesday's semifinal matchup, which pits Manchester City against Real Madrid.