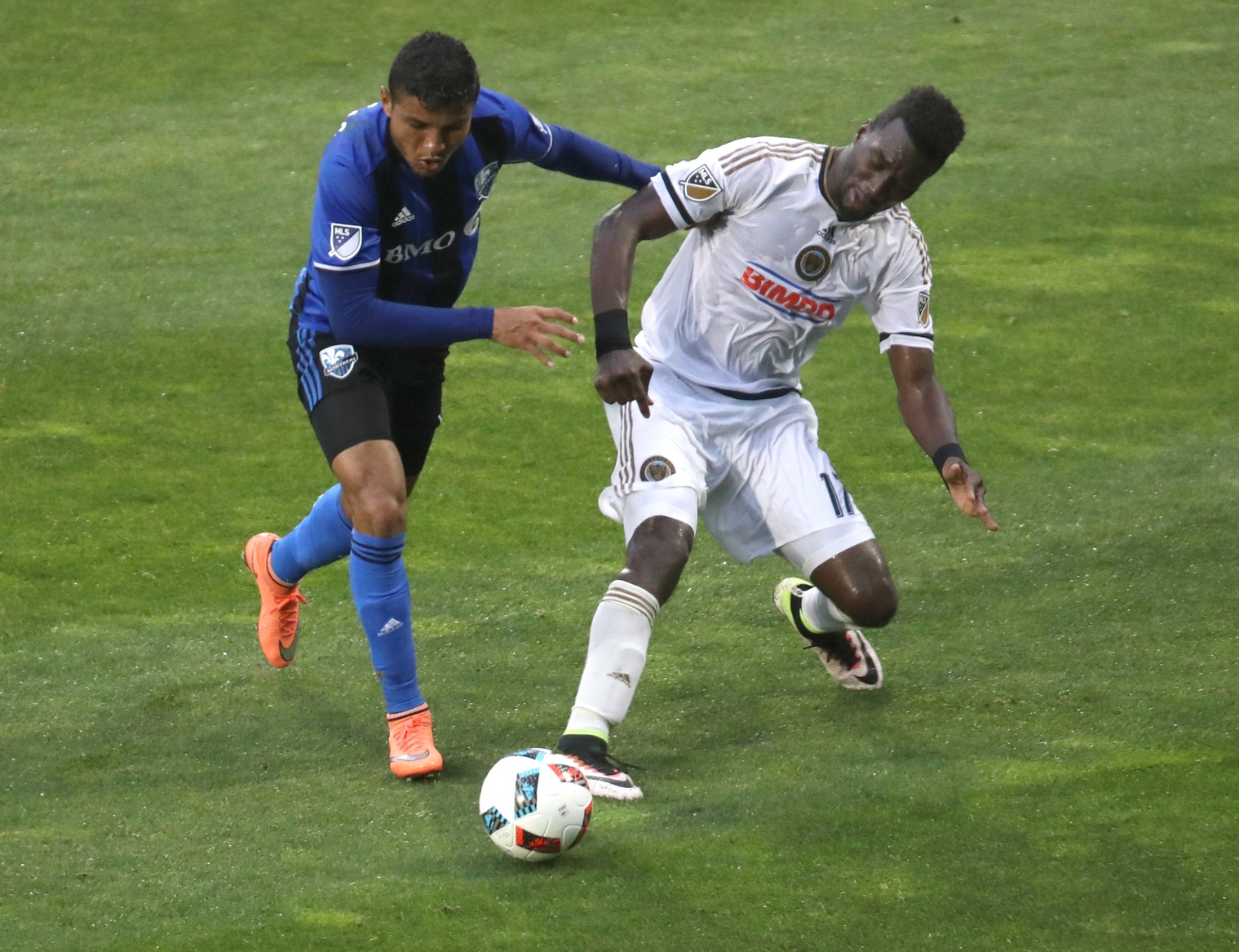 After playing a mid-week game on Wednesday, it could have been expected that the Philadelphia Union would come out a bit sluggish on Saturday afternoon away against the Montreal Impact, a match that featured the top-two teams in the Eastern Conference.
The Impact scored just three minutes in and dominated the first 10 minutes of the contest, however, the Union were able to equalize midway through the first half. The match finished with nothing between the two sides at 1-1.
The result is the fourth consecutive tie for the Impact and third tie in a row for the Union.
In the third minute, Didier Drogba scored his fourth goal of the season and third in as many games to give the Impact the early advantage.
Drogba found himself unmarked off a corner kick and C.J. Sapong's failed clearance of the initial corner fell to Drogba, who then fired a half volley into the top of the net.
Sapong would soon redeem himself, though, in the 24th minute. Impact defender Victor Cabrera was caught ball-watching inside the six-yard box, leaving Sapong wide open on the door step. Sebastien Le Toux played a cross back across the center of goal to Sapong, who calmly finished into the back of the net to tie the game.
Drogba would leave the game in the 70th minute with what seemed to be right-hip injury, although there hasn't any confirmation as to what hampered the striker.
The result was impressive for the Union, who got down early and handled a lot of pressure in the beginning of the game from the Impact. Defenseman Keegan Rosenberry played a big role for the Union, playing superb one-0n-one defense on the flanks.
The Union will play next next on Friday, May 20, against D.C. United. The Impact will return to the pitch next Saturday, May 21, when they visit Orlando City.
MAN OF THE MATCH
Union goalkeeper Andre Blake made a few key saves on Saturday night to keep the Impact at just one goal. Blake made an acrobatic save off a header and a free kick from Didier Drogba. Blake also did a great job of commanding the 18-yard box all game, grabbing any ball in the area. He finished with five saves.
MOMENT OF THE MATCH
Didier Drogba's goal in the third minute was a top-class finish from the 38-year-old Ivorian. Drogba also had many other chances on Saturday, forcing Union goalkeeper Andre Blake to make acrobatic saves.
MATCH TO FORGET
Defender Laurent Ciman had a few mishaps in the back for the Impact on Saturday that led to chances for the Union. Luckily for Ciman, the Union weren't able to capitalize on them and the game ended in a draw.