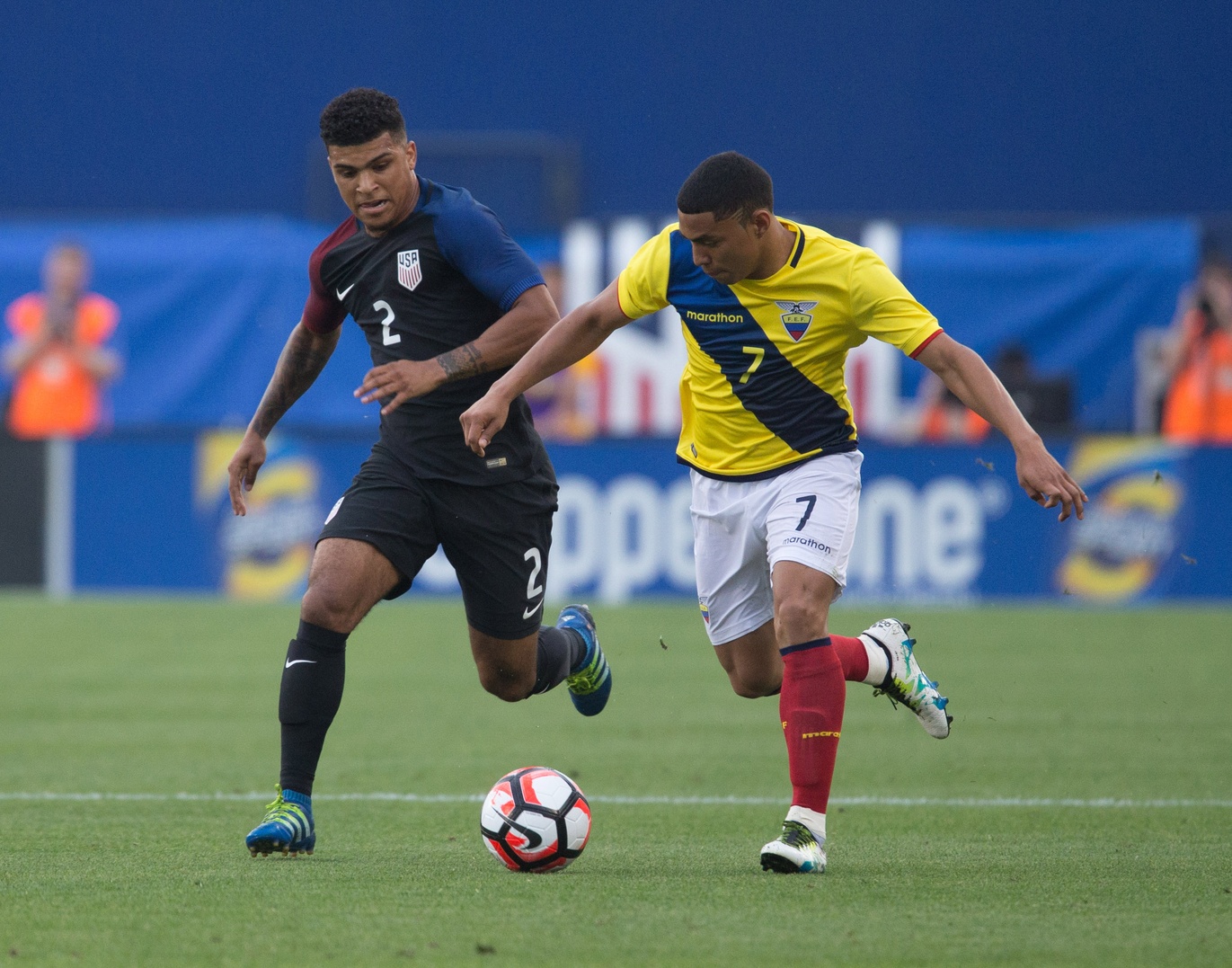 The U.S. Men's National Team's performance against Ecuador was anything but perfect, but it did answer a few burning questions heading into this summer's Copa America.
A late Darlington Nagbe winner proved the difference for the U.S., who emerged from halftime with a comprehensive second half performance in a 1-0 win. As lackluster as the first half was, the second 45 was equally as impressive as the U.S. played some of their best soccer against the South American contender.
Playing without Geoff Cameron, the defense conceded few chances against a tricky Ecuador attack, as John Brooks and DeAndre Yedlin stood out on the backline. After a disjointed first half, the USMNT midfield four their rhythm via Nagbe and Bradley, who pulled the strings behind second half substitute Bobby Wood.
Overall, Wednesday's performance was one that left plenty of improvement, but also provided several positives for Jurgen Klinsmann. Just several days away from the start of the Copa America, the USMNT's latest performance provided a peak of what could be when Klinsmann's side takes the field for this summer's tournament.
Here's a look at five takeaways from Wednesday's USMNT victory over Ecuador:
NAGBE DESERVING OF STARTING SPOT AFTER FLAWLESS PERFORMANCE
For years, the USMNT midfield has provided more questions than answers, but it appears Klinsmann has found a major answer in the form of Darlington Nagbe.
In just his sixth international start, the Portland Timbers midfielder provided his first international goal in the 90th minute to lead the USMNT to a deserved victory. A major reason that victory was a deserved one was because of Nagbe, who stepped in off the bench in the second half and proved one of several players to turn the tide.
In particular, Nagbe's efficiency on the ball was a highlight. The midfielder completed each and every one of his 33 pass attempts, as the U.S. emerged as a more in-control side as the game wore on. After struggling to maintain possession, the USMNT finally had an outlet in Nagbe, who was decisive, quick and, overall, flawless on the ball on Wednesday night.
Wednesday's performance demonstrated that Nagbe is fully deserving of a starting role moving forward. Facing a contender in Ecuador, the USMNT looked infinitely better with Nagbe on the field, and the team would be better suited for the rigors of the Copa America with the Timbers star helping to lead the charge.
BRADLEY SHOWS HE NEEDS TO PLAY AS NO. 6
Michael Bradley has never truly had a set position with the USMNT, although that should change going forward.
After a lackluster first half in front of Kyle Beckerman, Bradley spent the second 45 in a No. 6 role that has become familiar on the club level. Played a bit deeper, Bradley thrived in a position that he should be playing much more often going forward.
In total, Bradley completed 61 out of 65 passes on Wednesday night, an astonishing statistic for any playmaker. Defensively, made a pair of tackles while helping to marshall the midfield against a tricky Ecuador team that has given South America's best fits in recent months.
Heading into the Copa America, Bradley's best role is that of a No. 6, with players like Nagbe, Alejandro Bedoya and Jermaine Jones in front of him. After years of uncertainty, Wednesday provided a glimpse at what Bradley could produce when put in a position to succeed.
YEDLIN SHINES ONCE AGAIN AGAINST DANGEROUS MONTERO
DeAndre Yedlin's game grew leaps and bounds in 2016 as the fullback became a Premier League regular with Sunderland. Wednesday's matchup with a Premier League winger produced just another highlight of how far the 22-year-old defender has come.
Facing off with Swansea City winger Jefferson Montero, Yedlin was resolute throughout the opening 45 minutes. The USMNT fullback showed capably in a series of one-on-one situations, timing his moves just right against a player that has proven tricky in recent years. Just a short time ago, Yedlin would have had his hands full with the Ecuadorian star. But on Wednesday, Yedlin repeatedly outfoxed an attacker that repeatedly skinned Matt Miazga's Chelsea just over a month ago.
Yedlin showed improvement on the attacking end as well. On the decisive goal, Yedlin started the play by embarrassing his defender before whipping in a dangerous cross. Forcing the Ecuador defense into a tough situation kickstarted the sequence that led to Nagbe's finish and, ultimately, the win.
In each and every game he plays, Yedlin looks just a bit more confident and decisive on both sides of the ball, a fact that bodes well heading into the Copa America.
PULISIC JUSTIFIES MORE PLAYING TIME GOING FORWARD
The cries for Christian Pulisic will only grow louder after Wednesday's match.
Given limited minutes off the bench, Pulisic looked comfortable and confident against a legitimate team in Ecuador. On the ball, the Borussia Dortmund star was fearless, while Pulisic never looked physically overmatched against players with much more experience than he possesses.
The 17-year-old's best sequence came in the game's dying moments. On the ball deep in his own midfield, Pulisic whisked past two defenders with a combination of technique and physicality while helping the U.S. all but end the game.
It may be a bit too soon to pencil Pulisic into the starting XI against Colombia, but expect Pulisic to at least get an increased run out against Bolivia following yet another positive performance.
ZARDES BEST SUITED TO SUBSTITUTE ROLE
Gyasi Zardes has a part to play for the USMNT, but it shouldn't come in a starting role.
The LA Galaxy forward earned the start on Wednesday, and showed spurts of what make him a legitmate threat on the international stage. However, Zardes' deficiencies were also in full view against a team much like what lies ahead in the Copa America.
Once again, Zardes' speed and power proved dangerous for the U.S., but the forward's heavy touch proved his downfall on Wednesday night. Played in early by Clint Dempsey, Zardes' mistouch all but killed what turned out to be the USMNT's best attack of the first 45.
Given his physical abilities, Zardes will be able to test even the best of defenders at this summer's tournaments. However, with more technical players at the USMNT's disposal, Zardes is best suited for a role off the bench, where he can make full use of his abilities against a tired defense.