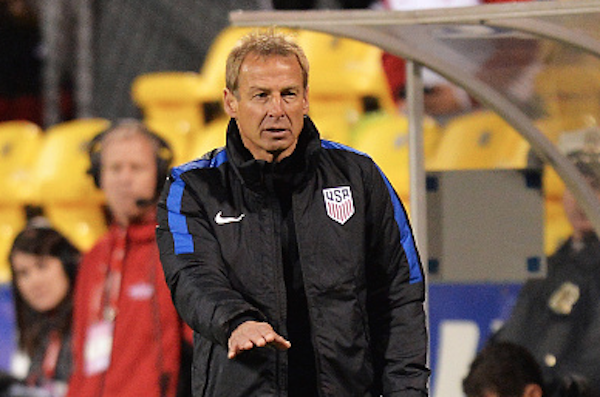 Jurgen Klinsmann still has plenty of work to do with the U.S. Men's National Team, but betting sites across the Atlantic see the German-born head coach as an surprisingly favored candidate for a Premier League job.
Klinsmann has been labeled as the odds-on favorite to emerge as Southampton's next manager as several British betting sites claim to have experienced a flurry of bets on the USMNT manager. Odds on Klinsmann plummeted from 40-to-1 to 1-3 in less than a week.
According to USA Today, over the last two days, 95 percent of bets on the next Southampton coach were placed on Klinsmann.
Klinsmann was previously linked to the Everton job that ultimately went to former Southampton manager Ronald Koeman.
UK-based betting sites have a track record of floating odds and rumors involving coaches with an American connection in an attempt to drum up business on this side of the Atlantic. Bob Bradley had previously been recognized as an odds-on favorite for the Aston Villa job, though it was eventually revealed that he was never a serious candidate, or even interviewed for the position. Klinsmann has been linked to EPL jobs in the past, but none of the links were ever proven to be real.
This latest rumor has already begun to be shot down as false.
Klinsmann and the USMNT still have a Copa America third-place game on the schedule as the U.S. takes on Colombia on Saturday. The U.S. is also in the middle of World Cup qualifying, which resumes on October.
What do you think of the rumor? Would it make sense for Klinsmann to leave?
Share your thoughts below.