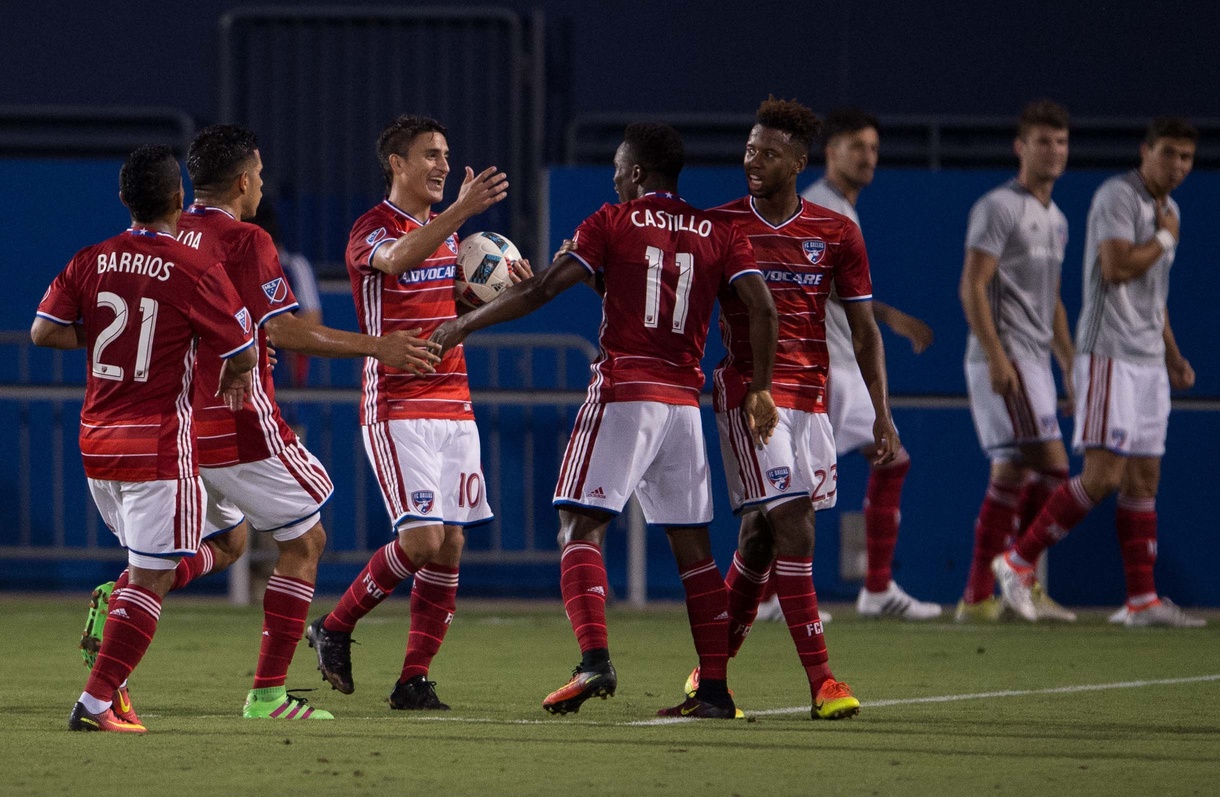 FC Dallas is among the top teams in MLS when it comes to home performance, and Oscar Pareja's side continued their fine form on Wednesday night in the U.S. Open Cup.
A late finish from Maximiliano Urruti in the 96th minute lifted Dallas past the Colorado Rapids, 2-1, to reach the Open Cup quarterfinals. The extra time winner sets up an all-Texas matchup in the next round, as Dallas will face the Houston Dynamo.
The second-half substitute picked up the ball outside the penalty area, before carrying it towards the end line. Urruti managed a shot from a tight angle, and it appeared to take a deflection off defender Jared Watts, beating keeper Zac MacMath.
After entering the match in the first half for the injured Dillon Serna, Marlon Hairston played provider for the Rapids' opener in the 38th minute, putting the road side ahead prior to halftime. The 22-year-old received the ball from Dillon Powers, following a give-and-go, and found Dominique Badji at the far post to give the Rapids the 1-0 advantage.
Dallas pulled level after the hour mark, when Mauro Diaz found the back of the net after some confusion amongst the Rapids defenders. Fabian Castillo gained possession around midfield before being surrounded by two Rapids players, however, the duo collided and allowed the speedy winger a lane in on goal, before passing it Diaz.
While both goalkeepers were active in the match, Dallas keeper Jesse Gonzalez was forced into seven saves on the night, which allowed the home team to sneak past a difficult Rapids squad.
MAN OF THE MATCH
Despite the heroics from Max Urruti in front of goal, Jesse Gonzalez stood on his head throughout the match to keep a second finish out for FC Dallas. With seven saves in all, Gonzalez played a vital role in the team advancing to the quarterfinals.
MOMENT OF THE MATCH
Max Urruti's late winner gave Dallas a spot in the final eight, after finishing from a difficult position on the right side of the penalty area.
MATCH TO FORGET
Despite playing a solid match, the extra time winner served as a second blemish on Zac MacMath's evening. It was difficult to tell if it took a deflection or not, but even if it did, it was a tough goal to give away from a poor angle.