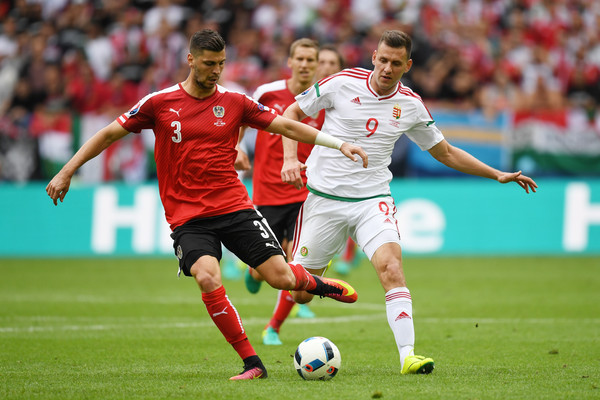 Heading into Group F play, Austria had been pegged as one of Euro 2016's dark horses and was widely recognized as a team capable of making a run. Yet, their campaign took a major hit on Tuesday in a loss to one of the tournament's minnows.
Led by an Adam Szalai finish, Hungary toppled 10-man Austria, 2-0, to leap to the top of the Group F standings in their first game of Euro 2016. Tuesday's win came in the Hungarians' first Euro match since 1972.
The Hungarians' upset began in the 62nd minute with what proved to be the game-winner. Played in by László Kleinheisler, Szalai curled home a right-footed shot from the center of the 18-yard-box to all but seal Tuesday's upset.
In the 67th minute, Austria's frustrations boiled as the favorites saw their numbers dwindled to 10. Aleksandar Dragovich was sent to the locker room with his second yellow card of the match, digging the Austrian's hole even deeper.
With just three minutes remaining in regular time, Hungary doubled their advantage and sealed the three points. On the counter attack, Hungary broke loose on a long ball from Tamas Priskin that ran right into the path of Zoltán Stieber, who chipped the goalkeeper to secure victory.
Austria fired the first shot just seconds into the match, as David Alaba unleashed a long-range shot that caromed off the post. It proved to be their best effort of the match, as the Hungarians locked down the flanks while keeping stars like Marko Arnautovic out of dangerous positions.
It proved just enough to earn a statement opening match win for Hungary, who faces off with Iceland in their next match. Austria, meanwhile, faces an even stiffer test next time out in a clash with Portugal.
MAN OF THE MATCH
While he didn't end up on the scoresheet, László Kleinheisler pulled the strings for Hungary and helped orchestrate what was a surprising effort from the underdogs.
MOMENT OF THE MATCH
Goals change games, and Adam Szalai's did just that on Tuesday afternoon. The forward's finish sealed a surprising victory against a heavily-favored Austria team.
MATCH TO FORGET
Aleksandar Dragović all but doomed his team to defeat with his dismissal. Down to 10 men, Austria couldn't find their way back into the match, making the defender's mistake all the more detrimental to the cause ahead of a clash with Portugal.