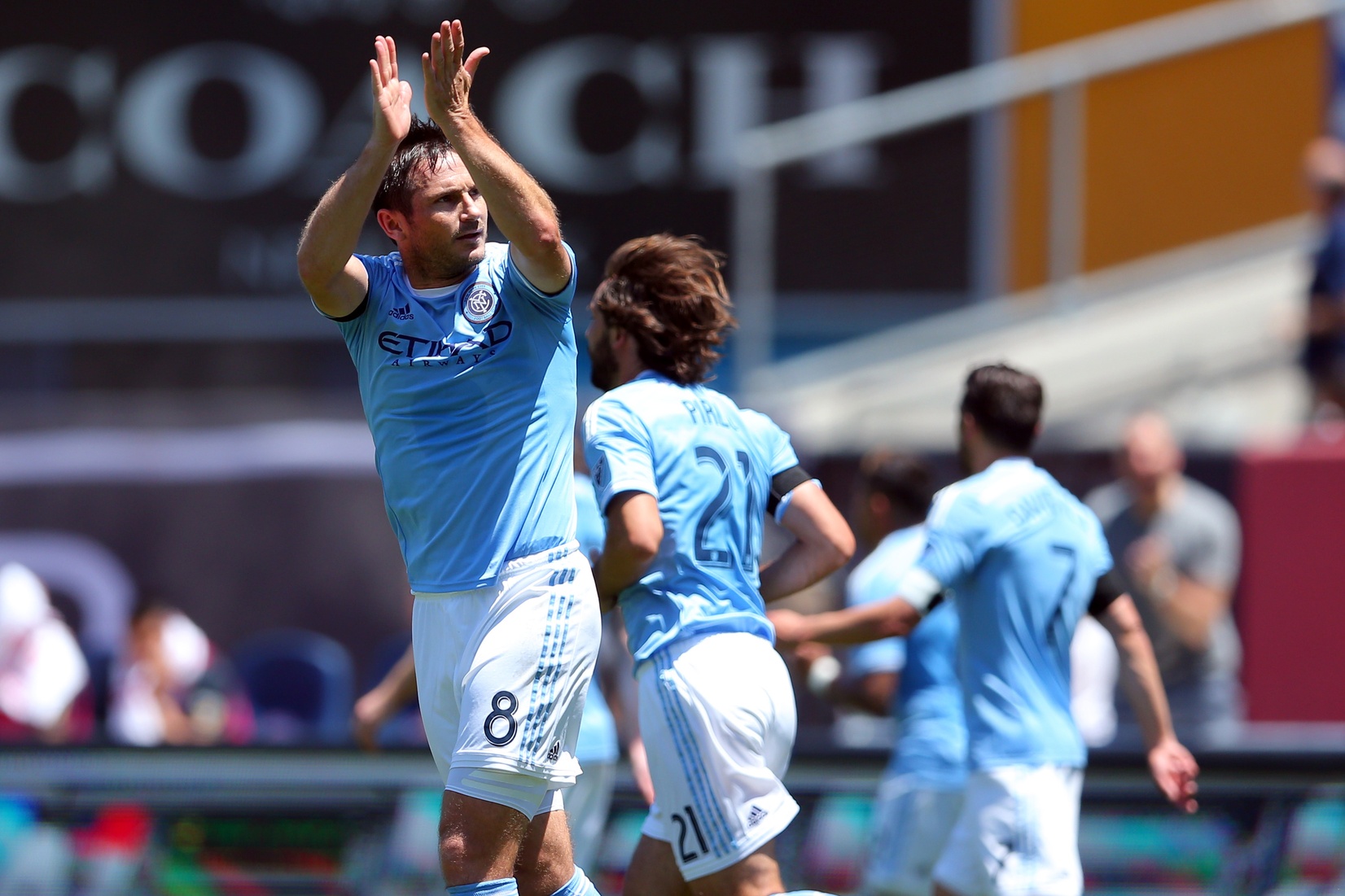 Head coach Patrick Vieira and New York City FC received an outpour of criticism following Wednesday's U.S. Open Cup loss to the New York Cosmos, but the Bronx side rebounded in a big way on Saturday afternoon despite a late push from their opponent.
Goals from all three of the team's Designated Players proved to be the difference for NYCFC, as Vieira's side won 3-2 against the Philadelphia Union at Yankee Stadium.
After a glancing header in the first minute narrowly missed to right of goal, Lampard made no mistake in the eighth minute, tapping home from close range.
Villa then doubled NYCFC's lead in the 21st minute after a brilliant counterattack led by MLS rookie Jack Harrison. The 19-year-old Englishman carried the ball from his own half into the Union penalty area, before laying the ball back to Villa, who curled the ball past goalkeeper Andre Blake.
The Spanish attacker nearly scored an unworldly finish before the quarter-hour mark, after attempting to chip Blake from about 50 yards out. Villa's effort struck the bar, before Lampard's rebound landed in the keeper's waiting arms.
Going into the halftime break with a comfortable 2-0 lead, NYCFC didn't waste any time heading into the second stanza, as Andrea Pirlo scored his first MLS goal. The Italian playmaker capitalized from a free kick opportunity about 20 yards away from goal.
From there, the game shifted drastically as the Union pulled a goal back from the penalty spot just four minutes later, although the road side couldn't couldn't complete the comeback. Roland Alberg, who played hero for the Union in their midweek Open Cup triumph against the Harrisburg City Islanders, slotted home his first goal of the season in the 55th minute.
NYCFC faced a bit of adversity in the dying moments of the match, when centerback Jason Hernandez was sent off after picking up his second yellow card of the afternoon. The Union picked up a second goal in the 88th minute after Brian Carroll's header was deflected into the NYCFC goal by defender Fredrick Brillant.
MAN OF THE MATCH
Vieira opted to rest many of his starters during the Cosmos match on Wednesday, and while there were nervy moments at the end of the game, David Villa continued his superb 2016 campaign with his 11th finish.
MOMENT OF THE MATCH
Jason Hernandez's late red card almost proved to be NYCFC's undoing on Saturday. The Union pushed for an equalizer in the dying minutes, after pulling the match to 3-2 three minutes after the centerback's exit.
MATCH TO FORGET
Getting the start for the absent C.J. Sapong, Fabian Herbers failed to make an impact for the Union attack in his first career MLS shot.