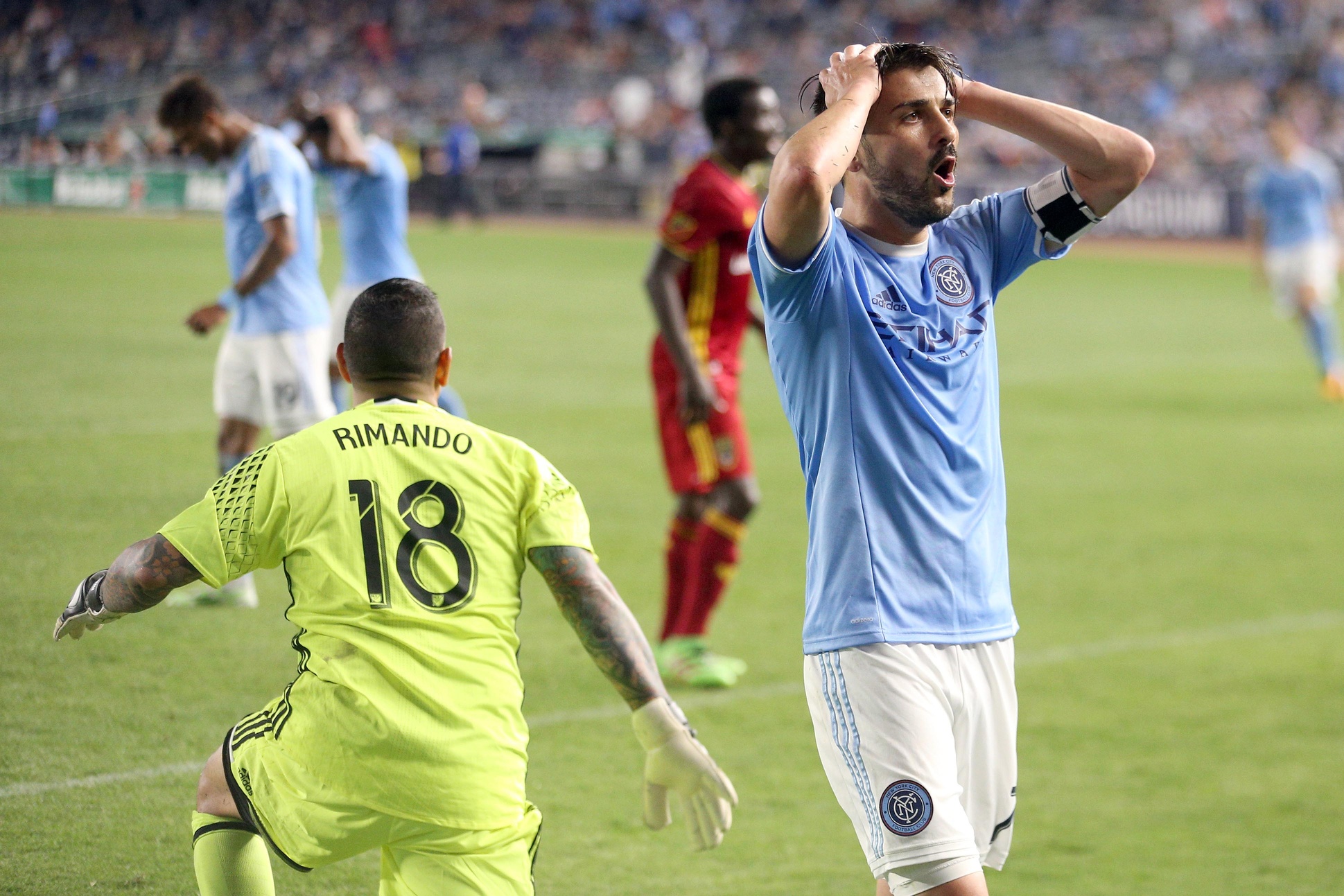 After collapsing against Orlando City last time out, New York City FC saw another self-inflicted wound doom them against Real Salt Lake on Thursday night.
Goals from Yura Movsisyan and Juan Manuel Martinez along with a Frederic Brillant own goal lifted Real Salt Lake to a 3-2 win over a sinking NYCFC at Yankee Stadium.
David Villa converted a penalty kick in the 84th minute, but the result in RSL's favor had already been earned.
NYCFC's only goals on the night came from a deflection that allowed Jack Harrison to score his first career MLS goal and Villa's penalty. The offensive production could have been much bigger, however, as NYCFC recorded 19 shots in the game.
Brillant's own goal off of a Javi Martinez cross sealed the win. RSL escaped Yankee Stadium with three points having only recorded eight shots and two on goal.
The two teams now head into the break for the Copa America, as RSL and NYCFC return for U.S. Open Cup Play on June 14 and 15, respectively.
MAN OF THE MATCH
The win was another sound defensive showing for Real Salt Lake. RSL defender Justen Glad continued his excellent form this season with this win. The two goals given up by RSL only came from a penalty and an unfortunate deflection.
MOMENT OF THE MATCH
Things haven't been easy for NYCFC as of late. After a disheartening 7-0 loss to RBNY and a disappointing 2-2 draw in the next game, NYCFC made no improvement in this game. Frederic Brillant's own goal in the 74th minute was the key play to NYCFC's growing frustration.
MATCH TO FORGET
It was another tough night offensively for NYCFC. Mix Diskerud came out in the 74th minute after failing to create anything from the midfield while conceding three goals.