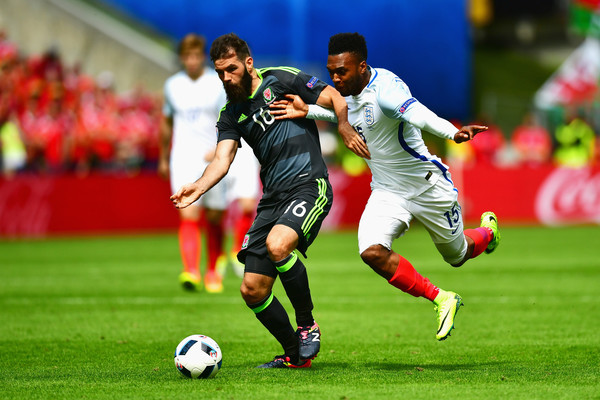 Throughout their history, England have developed a reputation for blowing it late. On Thursday, they turned it around in stoppage time as a pair of substitutes completed a comeback against a local rival.
Facing off with rivals Wales, England came from behind to seal a 2-1 victory on a stoppage time Daniel Sturridge finish. With the win, England sits on four points through two games, while Wales remains on three points.
With just moments remaining, Sturridge struck for an England team that saw their hopes killed at the death against Russia in their first match. On a scramble in the box, Sturridge pounced and fired a left-footed shot, beating the goalkeeper and signaling jubilation for the Three Lions.
Just moments before halftime, Gareth Bale struck from a free kick to begin what appeared to be a disaster for England. On a long free kick, the Real Madrid star skipped a shot in front of Joe Hart, who saw his calamitous attempt at a save unsuccessful as the ball trickled into the back of the net.
The second half prompted the introductions of Jamie Vardy and Daniel Sturridge, with the former doing the damage by netting the equalizer in the 56th minute.
On a scramble in the box, Vardy fired home from close range with a true poacher's finish. Wales appeared for offside, but further reviews revealed it was Welch defender Ashley Williams that headed the ball towards goal, keeping Vardy eligible to level the scoreline at one apiece.
Sturridge's goal came much, much later, but proved the winner as England completed the unlikely comeback.
Following the win, England wraps up the group stage against Slovakia on Monday, while Wales takes on Russia that same day.
MAN OF THE MATCH
It's not often that a fullback really makes a mark on the game, but Kyle Walker was far and away the best player on the field. The English right back repeatedly ran the right side and proved to be England's best attacking outlet throughout the match.
MOMENT OF THE MATCH
Brought in to start the second half, Daniel Sturridge repaid his manager's faith with the game-winning goal. It was a finish that saved the result and, more importantly, England's tournament.
MATCH TO FORGET
Joe Hart's error on the Wales opener was an uncharacteristically brutal mistake, one that could have put England's tournament future in doubt heading into the final group stage match.