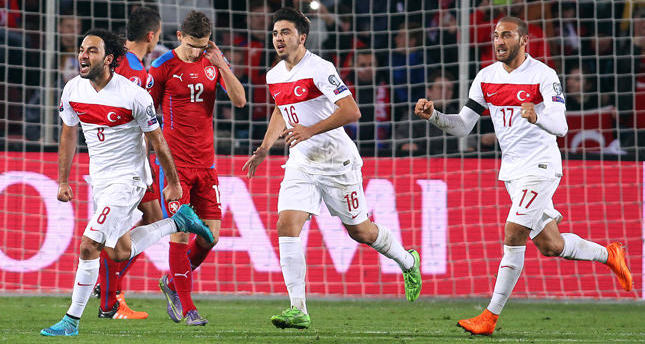 Turkey knew there was only one possible outcome that would give them a chance at continuing their road at Euro 2016, and their gritty performance was enough to at least keep their hopes alive.
Goals from Burak Yilmaz and Ozan Tufan provided Turkey with a 2-0 win against the Czech Republic on Tuesday afternoon, in their Group D finale. With the victory, the Turks will temporarily move into a top four position among the third place sides left in the competition.
Turkey will await the results from Groups E and F, though, to determine whether they'll play in the Round of 16.
It took just 10 minutes for Turkey to put its stamp on the match, when Yilmaz buried his close-range effort into the top corner. While the Czech Republic dominated possession throughout the match, the Turks put the game to bed after the hour mark, when Tufan doubled the team's lead.
MAN OF THE MATCH
Despite not finding the back of the net, Arda Turan was instrumental in the Turkey attack all afternoon.
MOMENT OF THE MATCH
The Turks found the lead after 10 minutes and never looked back. Burak Yilmaz was active in the team's attack and was rewarded with a powerful finish to give Turkey the early advantage.
MATCH TO FORGET
Scoring goals has been an issue for both teams in Euro 2016, but it was the Czech Republic backline that couldn't hold up in the most critical moments.