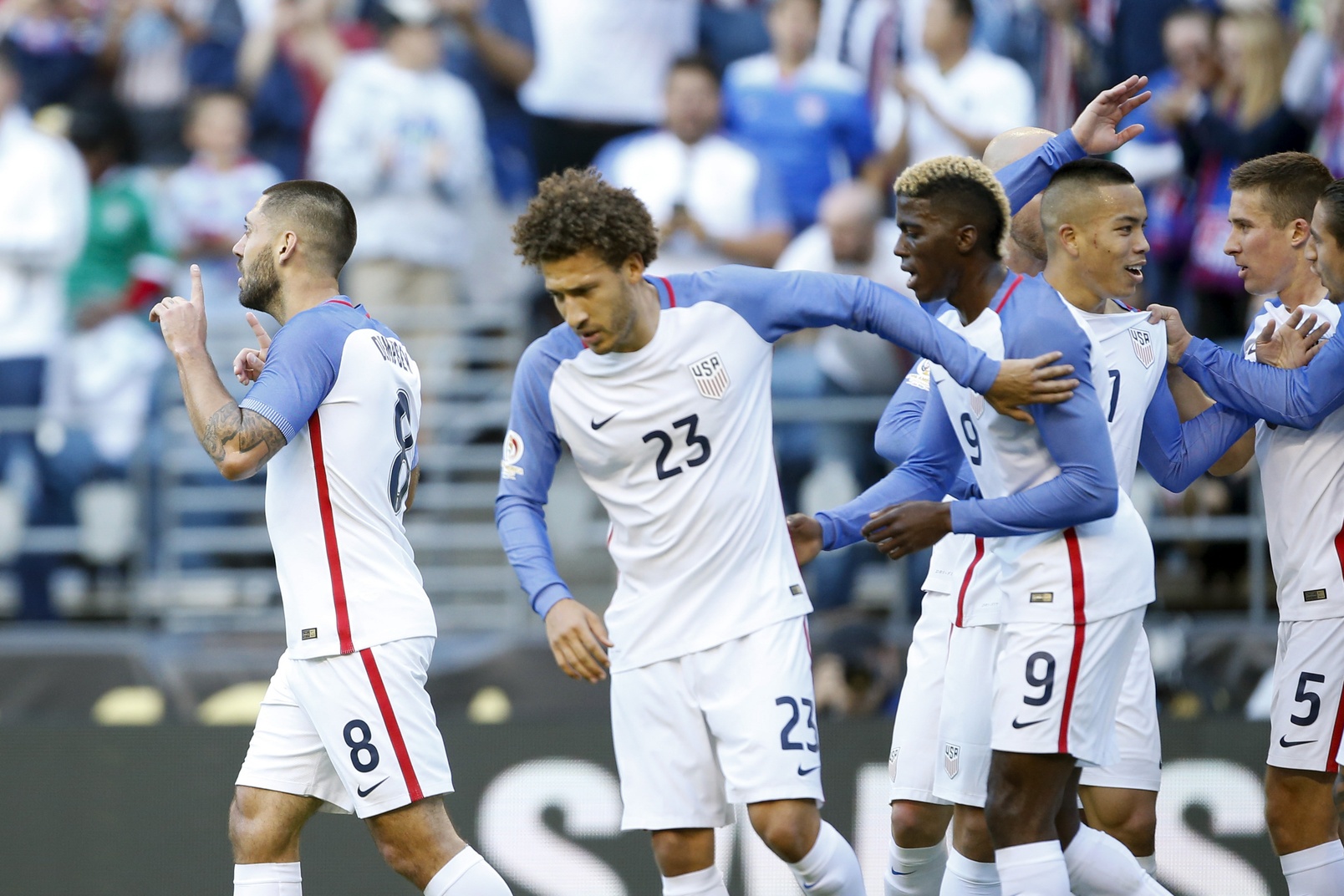 As the final whistle blew signaling victory on Thursday night, the U.S. Men's National Team rushed the field. Jubilation ensued, as the U.S. had reached their goal of a semifinal berth. Then, once the celebration had ended, the USMNT regrouped in a huddle, seemingly refocusing as the team prepared to face their next challenge.
Thursday's win was not a final. It wasn't even a semifinal. However, it was a pivotal moment for the USMNT, who emerged from the Copa America quarterfinals with a 2-1 win over Ecuador. It was just the third knockout round tournament victory over a non-CONCACAF opponent in 100 years, and was certainly one of the biggest and most gutsy performances of the Jurgen Klinsmann era.
It wasn't pretty. After taking a 2-0 lead through goals from Clint Dempsey and Gyasi Zardes, the U.S. battled throughout a second half that saw 10-on-10 soccer. They were forced to grind, and they did just that, earning a monumental victory over an opponent tougher than many will give them credit for.
A semifinal berth looms, one that will appear to be icing on the cake after the U.S. achieved their goal of a knockout round win. However, Thursday proved just another indication that the U.S. has some surprises up their sleeves. The Copa America is not over, and the USMNT will now look to clear the next hurdle after one of the team's gutsiest wins in recent memory.
Here's a look at several takeaways from Thursday's USMNT win:
LIKE DAYS OF OLD, USMNT WINS ON PURE DESIRE
Since being named USMNT head coach, Jurgen Klinsmann has preached the need to be more proactive. In the first half of Thursday's match, the U.S. ceratinly was, but the reason that the U.S. emerged victorious was a bit of old fashioned American desire.
On the international stage, the U.S. has long been recognized for being one of the most headstrong and strong-willed teams out there. Always greater than the sum of its parts, the USMNT doesn't always win on skill or technique; rather they win on heart, grit and desire, something that has led the team to great heights, but never the promised land.
Throughout the Copa America, Klinsmann's vision of proactive soccer has come to fruition. The U.S. took it to Costa Rica and looked the better side against Paraguay before a red card. On Thursday, it was more of the same, as the U.S. attacked Ecuador before a pair of red cards tipped the scaled for a rollercoaster second half.
That second half was won ugly. Call in grinding, call it CONCACAF-ing, call it whatever you like, but the U.S. did what they had to do to seal victory. It was a game that proved a blend or proactive and reactive, of push and pull, and one that, ultimately, ended in the USMNT's favor.
The U.S. may never be Spain or Germany, but it's easy to see that, technically, the team has moved forward. However, the heart and soul of the USMNT will always be just that: their heart and soul, a factor that led them to victory on Thursday night.
LACK OF COMPOSURE NEARLY TOPPLES USMNT, AND STILL COULD
Heading into Thursday's match, the USMNT knew they would have to win the mental battle if they were to topple Ecuador. In many ways, they didn't, and while it didn't cost them on Thursday night, the USMNT's lack of composure will have major ramifications heading into the semifinals.
Say what you want about Jermaine Jones' red card. You could say it was soft, because it probably was. You could say it was ridiculous because, once again, it probably was. But it was also potentially damning for a team that, to that point, was coasting. Paired with Antonio Valencia's dismissal, Jones' red card opened up the field, allowing Ecuador chance after chance to fire their way to a penalty kick shootout. Thanks to some gutsy defending and some even more wayward finishing, the USMNT survived on the night.
However, it's not just about the night. Jones, Alejandro Bedoya and Bobby Wood are set for suspension, leaving the U.S. midfield crippled against what will almost certainly be a vicious Argentina attack. Wood's yellow in particular, a display of frustration, was a disappointment, leaving the U.S. without one of their premier attacking options.
The USMNT's lack of composure did not cripple them on the night, and Klinsmann can breathe a sigh of relief because of it. But, with a semifinal looming, the USMNT will have some shuffling to do, and another game that sees the U.S. lose their heads will almost certainly be their last of the tournament.
BESLER SHOWS WELL AT LEFT BACK
Matt Besler is not a left back, but you'd be surprised to find that out given his efforts on Thursday night.
Truth be told, Besler was largely invisible throughout Thursday's match, but that's exactly what Klinsmann would have asked for from the Sporting KC defender. Besler was disciplined, reliable and sturdy at a position that his not is own. He did not attack because he did not have to. Meanwhile, he was as defensively solid as one would expect from one of the pool's elite central defenders.
Generally, Besler was exactly what he needed to be: a reliable presence on the left that wouldn't get burned time and time again. He wasn't stellar, but he was perfect for the role he was given, which was certainly a difficult one.
Is Besler the long-term answer at left back? Absolutely not. One wouldn't be surprised to see Fabian Johnson moved right back to the position with DeAndre Yedlin back in the fold. However, should Klinsmann opt to shuffle following the series of suspensions, the U.S. could do far worse than Besler at the left back position heading into the semifinal round.
WOOD IS THE REAL DEAL AT THE FORWARD POSITION
Forwards are defined by goals. At the end of the day, a forward's job is to put the ball in the back of the net as often as possible. But on Thursday, Bobby Wood showed that a forward can do so much more.
Wood did not score on Thursday night. He didn't even provide an assist. Truth be told, he only mustered a single shot. However, Wood was a star on Thursday night for doing exactly what it takes from the forward position.
It wasn't pretty, but it was effective. Wood battled and battled to loose ball after loose ball. He rode challenges and made a few of his own. Then, with time dwindling and the game on the line, Wood held onto the ball and effectively killed the game. He was never going to be covered in glory for the efforts he put forth on Thursday, but it's impossible to not recognize that Wood played his part well in the victory over Ecuador.
For years, the USMNT has looked for a forward that can do it all. Jozy Altidore is the closest they've come, a hulking presence that also provides a clinical touch in the box. On Thursday, Wood proved, yet again, that he has the physicality, speed and creativity to thrive at the forward position, one he should and could hold down for years to come.
KLINSMANN GETS USMNT TO TARGET
For all of his faults, Jurgen Klinsmann has proven a man of his word.
Prior to the Copa America, Klinsmann targeted the semifinals as the USMNT's goal. It would be tough and, at the time, it all seemed a bit unlikely, especially after an opening game defeat to Colombia. Now, weeks later, here they stand, likely preparing to take on one of the giants of world soccer in Argentina, should Lionel Messi and Co. topple Venezuela.
Throughout the past two years, Klinsmann has drawn the ire of many throughout the USMNT world and, many times, rightfully son. His tactics have almost never been perfect, while the team's performances have been up and down, to say the least, in the years since the World Cup.
Now bound for the semifinals, Klinsmann got it 100 percent right. The USMNT is looking the best they have in years, playing with a defensive grit and attacking fluidity rarely seen in this country. Before the pair of red cards, the U.S. was cruising, much like they had for a majority of the tournament when it was actually 11-on-11.
Klinsmann deserves the credit, much like he deserved the blame for failing at the Gold Cup, a tournament that seems oh so long ago. The USMNT is in a much better place than they were just several months ago, and it can only go up from here now that Klinsmann has reached the first of his targets.