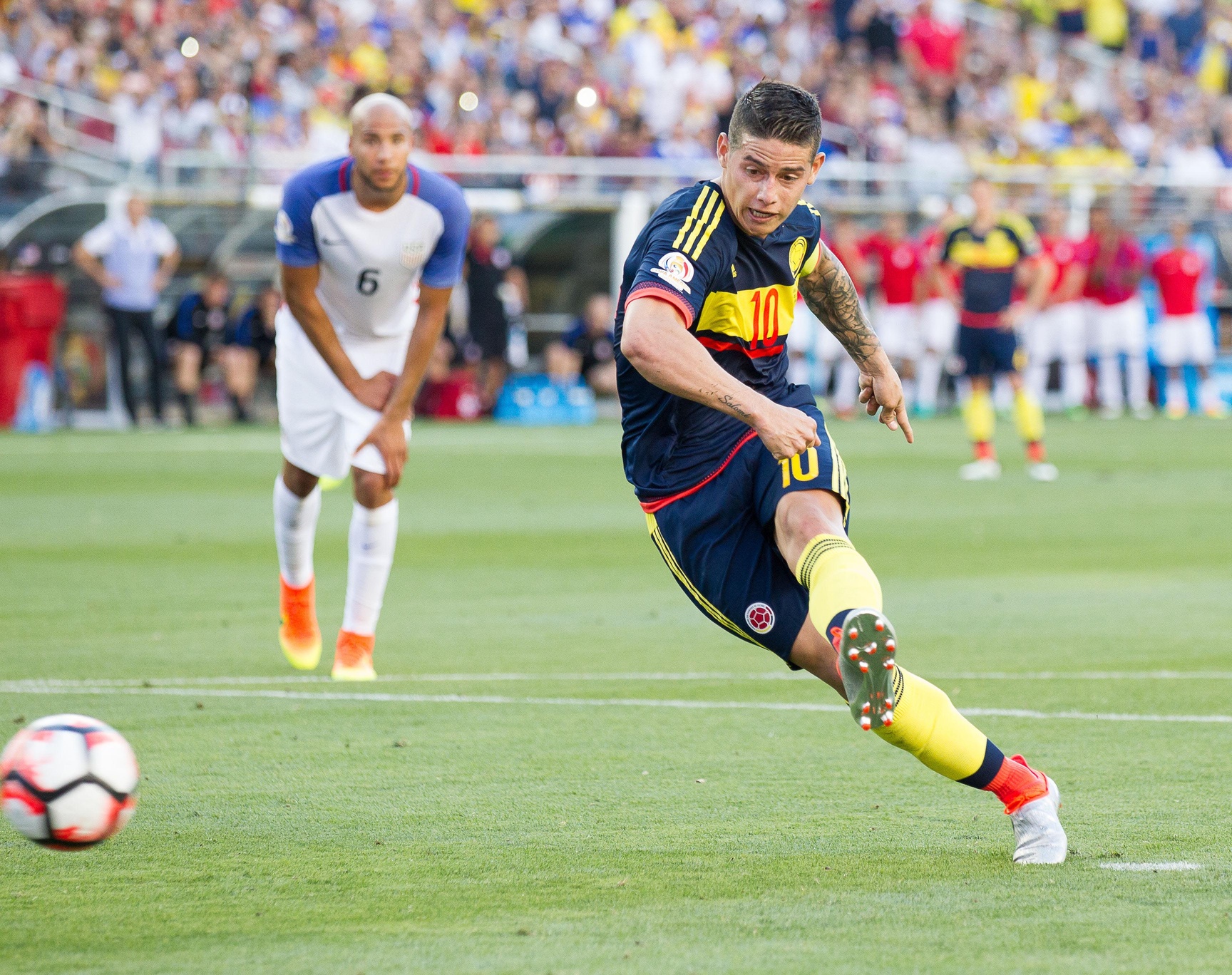 The U.S. Men's National Team's path towards the knockout stages took a major blow in Friday's Copa America opener.
Goals from James Rodriguez and Cristian Zapata doomed the U.S. in a 2-0 loss to Colombia in Friday's Copa America kickoff match. The loss sees the favored Colombia earn a huge advantage just one game in, while forcing the U.S. to earn results against Costa Rica and Paraguay as the group stage continues.
In the build-up to Friday's match, the USMNT's perceived advantage on set pieces was discussed heavily, but it was Colombia that made an early mark from a dead-ball situation.
On an early corner kick, Colombia centerback Zapata lost his marker and found open space on an Edwin Cardona ball into the box. The AC Milan defender slammed his volleyed shot with his right foot, giving Brad Guzan no chance as Colombia jumped into the lead in just the eighth minute.
The Colombians doubled their advantage just moments before halftime as the U.S. conceded a penalty kick.
Following a DeAndre Yedlin handball, Rodriguez stopped to the spot and bested Guzan to the right-hand side giving Colombia a 2-0 advantage heading into the halftime whistle.
Throughout the first half, the USMNT proved the dominant side when it came to possession. Frequently in control of the ball, the USMNT failed to muster any sort of creativity in the final third while failing to place a shot on target.
The USMNT's best chances came in the second half through Clint Dempsey, who also provided the USMNT's best chance in the opening 45 with a shot that slipped just past the left post. After seeing a header cleared off the line in the 60th minute, Dempsey's free kick was palmed away by a diving David Ospina in the USMNT's most effective spell of the match.
Yet Colombia continued to push to make it 3-0 after the introductions of Christian Pulisic and Darlington Nagbe in the second half. Carlos Bacca, in particular proved dangerous, rifling a shot off the crossbar in the 76th minute.
Following the loss, the USMNT will look to keep their tournament hopes alive on on Tuesday against Costa Rica at Solider Field, while Colombia takes on Paraguay that same day.